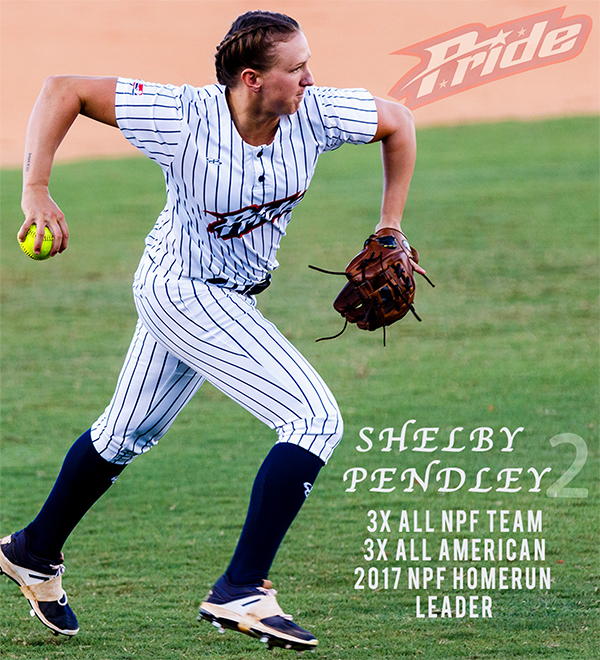 Viera, FL. (February 19, 2018) Shelby Pendley signed a one-year contract extension with the USSSA Pride for the 2018 National Pro Fastpitch (NPF) season. Pendley, the second overall draft pick in the 2015 NPF Draft and the 2015 NPF Rookie of the Year, will enter her fourth NPF season this summer.
"It's a huge blessing to sign a contract for another year playing the sport I love. It's an honor and a pleasure to be part of the USSSA organization. I'm very fortunate to get the opportunity to play in the NPF and make a living while playing softball. I'm excited for this upcoming season and can't wait to be back on the field with my teammates," said Pendley on her contract extension.
Pendley has been a force offensively and defensively during her first three seasons with the Pride. She has tallied 135 hits, 87 RBI, 29 homeruns and a .305 batting average in her NPF career. Her 13 homeruns led the NPF in the 2017 season and helped her earn her third consecutive All NPF Team award.
Don DeDonatis, Pride owner and General Manager said, "Not too many players come into this league and dominate, but Shelby has done just that. From her rookie season in 2015, to her league 'Home Run Champion' Title in 2017, she hasn't missed a beat. I am thrilled to have Shelby continuing her professional career with the Pride and look forward to what she brings to the 2018 season.
Pendley was a three time All- American at the University of Oklahoma. She sits second in career slugging percentage and fifth in career batting average in Big 12 conference history.
About National Pro Fastpitch (NPF)
National Pro Fastpitch (NPF), an Official Development Partner of Major League Baseball since 2004 provides elite female athletes with an opportunity to pursue a professional career in fastpitch softball beyond their collegiate and amateur success.  The NPF affiliate teams consist of the Akron Racers, Aussie Spirit, Beijing Shougang Eagles, Chicago Bandits, and USSSA Florida Pride for the 2018 season. National Pro Fastpitch players hail from the United States, Australia, Canada and China among which are the most accomplished and talented athletes in the sport of women's softball.
About USSSA 
USSSA is headquartered in Viera, Florida. USSSA is the world's largest multi-sport athletic organization. Founded in 1968, USSSA has grown to over 4 million participants, competing in 14 nationally sanctioned sports including Baseball, Fastpitch, Slow Pitch, Karate, Basketball, Soccer and more! For more information about USSSA, visit www.usssa.com and follow USSSA on Facebook, Instagram, and Twitter.
Stay up to date on USSSA Pride and NPF news by following  the Pride on Facebook, Instagram, and Twitter or visiting www.usssapride.com.