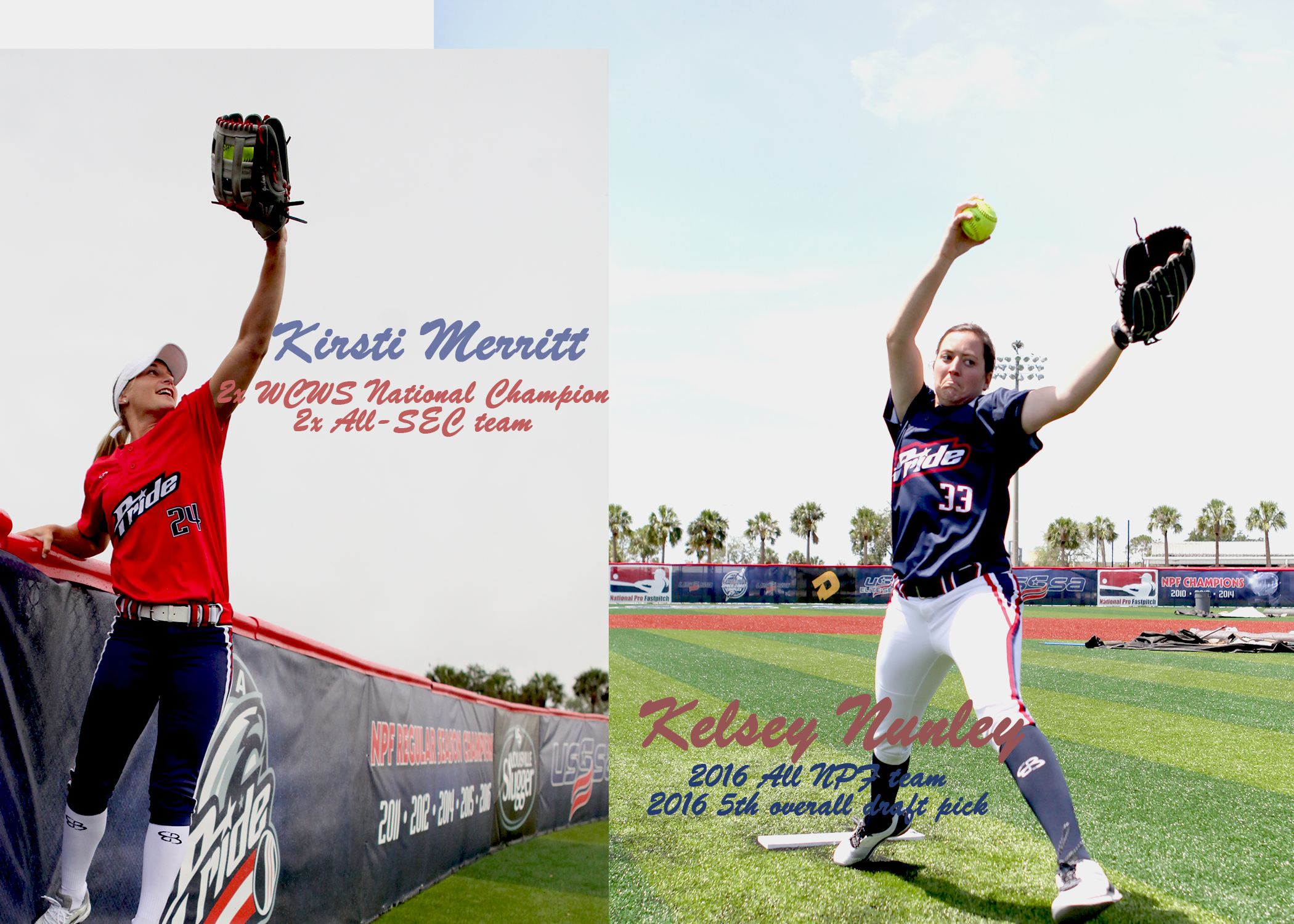 Viera, FL (February 16, 2018) Kirsti Merritt and Kelsey Nunley, both 2016 USSSA Pride draft picks, have renewed contracts with the Pride for the 2018 NPF season. Merritt is a two-time (2014-2015) Women's College World Series National Champion with the Florida Gators and Nunley is the all-time wins leader for the University of Kentucky and a 2016 All-NPF team selection.
Kirsti has played for the Pride for two seasons working her way into an everyday starting position in left field. Throughout the last two seasons with the Pride, Merritt hit for .296 career batting average with 24 stolen bases and seven homeruns.
Merritt said, "I'm honored to be able to continue my professional career with the Pride. Being drafted to the organization in 2016 was the best thing to happen to me and remaining in the program is such a blessing. I look forward to the upcoming years and many good things to come. Go Pride!"
USSSA Pride General Manager, Don DeDonatis said, "Head Coach of the University of Florida Softball Team, Tim Walton, told me in 2016 that Kirsti was one of his all-time favorite players because of the way she played the game. She did everything right. Not only was he correct, Kirsti is probably everyone's favorite player on and off the field and a true example of what the future looks like for the Pride for years to come."
Kelsey Nunley, the 2016 fifth overall draft pick and stellar right-handed pitcher out of the University of Kentucky, has made her mark on the NPF in her two seasons. Nunley is a huge asset to the Pride earning All-NPF honors in her rookie season and posting a 2.46 career ERA against the best hitters in the game.
Nunley said, "I am so excited and grateful for the opportunity to continue to play for the USSSA Pride. I love the sport of softball and playing with the best organization and players make it even more enjoyable."
DeDonatis commented on locking in Nunley, "We drafted Kelsey in the 1st round of the NPF Draft in 2016 and she has proven to be worthy of that honor and more. She puts up the numbers each game, she leaves it all on the field and I couldn't be happier to have her for 3 more seasons."
The USSSA Pride will open the 2018 season in Palm Springs, CA at the Mary Nutter Classic next weekend where the team will face the Japan National team three times and Oregon State once.
Stay up to date on USSSA Pride and NPF news by following @usssafloridapride on social media.
About National Pro Fastpitch (NPF)
National Pro Fastpitch (NPF), an Official Development Partner of Major League Baseball since 2004 provides elite female athletes with an opportunity to pursue a professional career in fastpitch softball beyond their collegiate and amateur success.  The NPF affiliate teams consist of the Akron Racers, Aussie Spirit, Beijing Shougang Eagles, Chicago Bandits, and USSSA Florida Pride for the 2018 season. National Pro Fastpitch players hail from the United States, Australia, Canada and China among which are the most accomplished and talented athletes in the sport of women's softball.
About USSSA
USSSA is headquartered in Viera, Florida. USSSA is the world's largest multi-sport athletic organization. Founded in 1968, USSSA has grown to over 4 million participants, competing in 14 nationally sanctioned sports including Baseball, Fastpitch, Slow Pitch, Karate, Basketball, Soccer and more! For more information about USSSA, visit www.usssa.com and follow USSSA on Facebook, Instagram, and Twitter.