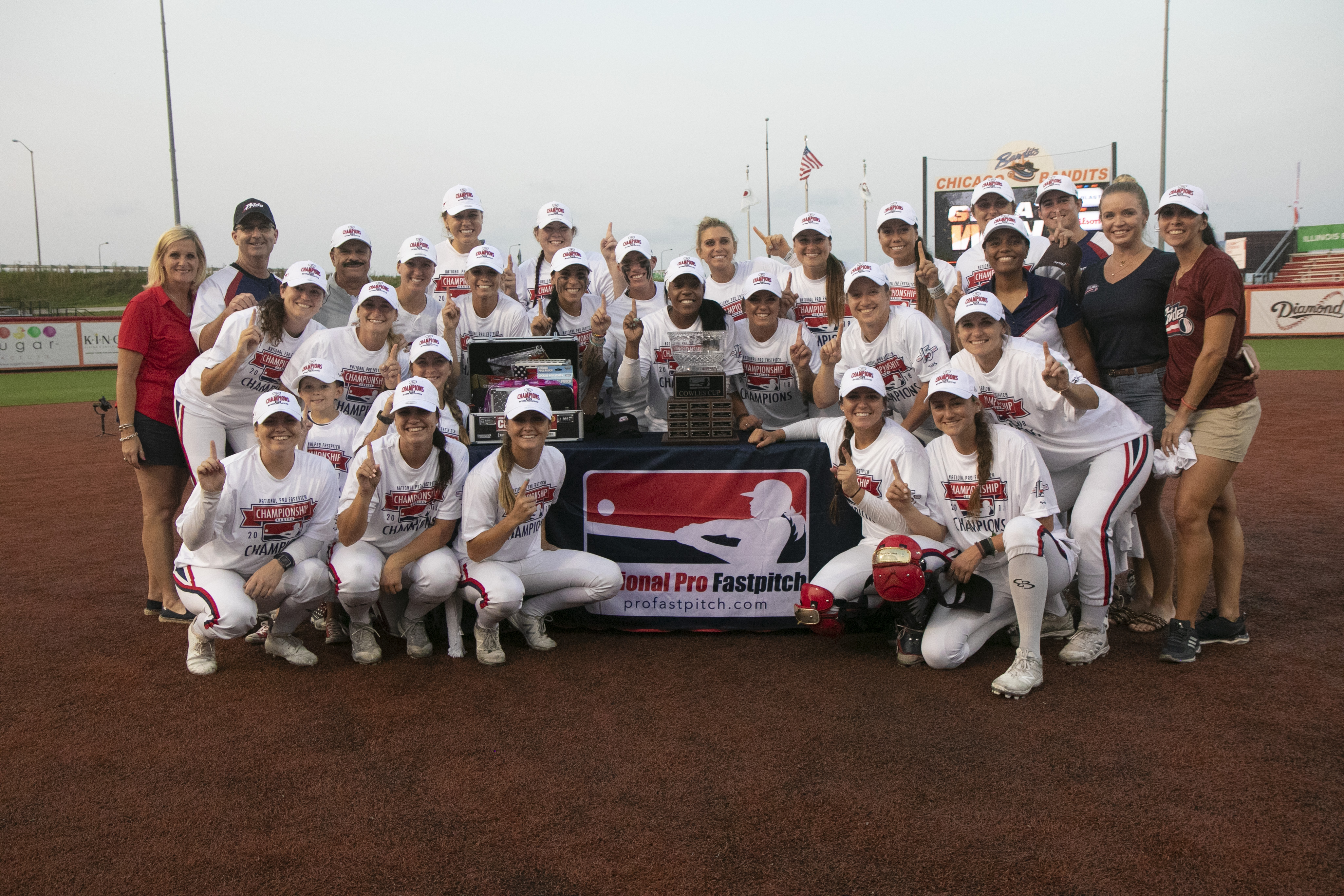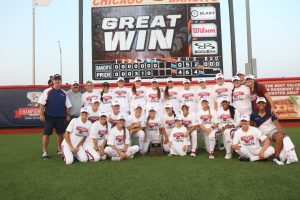 The USSSA Pride earned their fourth Cowles Cup Championship as they defeated the Chicago Bandits on August 18th. The Pride punctuated a historic regular season with a 4-0 win on Saturday night at Parkway Bank Sports Complex to secure a three-game sweep of the Bandits in the NPF Championship Series.
Jessica Burroughs started in the circle for the Pride and dominated through 4.1 scoreless innings, allowing the Pride offense to take over. USSSA Pride veteran, Kelly Kretschman, led off the bottom of the fourth inning with a stand up double before advancing to third on a passed ball. 2018 All NPF Team member Sierra Romero came to the plate and drove a RBI single through the left side of the infield to score the first run of the game. The Pride plated two more in the frame to take a 3-0 lead.
The Bandits did not go quietly, bringing the potential tying run to the on-deck circle in the top of the seventh, but the USSSA Pride defense did not wavier. Left-hander Delanie Gourley and 2018 Pitcher-of-the-Year Jolene Henderson combined for a scoreless 2.2 innings to secure the win and Championship.
The USSSA Pride hoisted the Cowles Cup for the first time since 2014. Shortstop Shelby Pendley earned the Most Valuable Player Award. Please join us in congratulating the 2018 Cowles Cup Champion the USSSA Pride! You can follow the Pride in the offseason on www.usssapride.com or on social media.
About USSSA Pride
The USSSA Pride is a women's professional softball team in the National Pro Fastpitch League that has been owned and operated by USSSA since 2009. The Pride are headquartered in Viera, FL at the USSSA Space Coast Complex. The Pride have won four NPF Cowles Cup Championships (2010, 2013, 2014, 2018) in their history.
About National Pro Fastpitch (NPF)
National Pro Fastpitch (NPF), an Official Development Partner of Major League Baseball since 2004, provides elite female athletes with an opportunity to pursue a professional career in fastpitch softball beyond their collegiate and amateur success. The NPF affiliate teams consist of the Cleveland Comets, Aussie Spirit, Beijing Shougang Eagles, Chicago Bandits, and USSSA Florida Pride for the 2018 season. National Pro Fastpitch players hail from the United States, Australia, Canada and China among which are the most accomplished and talented athletes in the sport of women's softball.