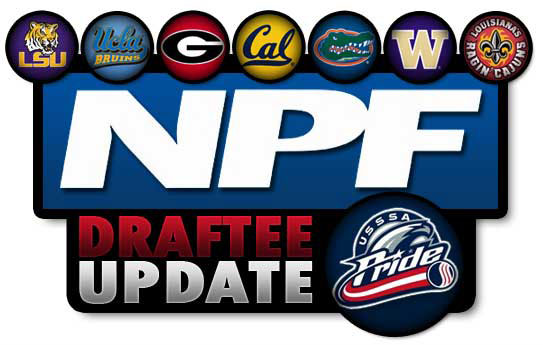 Via Matt Dunaway, Associate SID, lsusports.net:
Fico, Mack Named to NFCA All-Region Teams (5/17)
"STARKVILLE, Miss. – Rachele Fico and Brittany Mack picked up NFCA All-South Region accolades Thursday as announced by the National Fastpich Coaches Association.
"Fico collected a first team selection, while Mack came away with second team honors. It marked the fourth consecutive season that the Tigers have had a pitcher selected to the first team. LSU was one of seven programs to have two pitchers garner NFCA All-Region status."
Regionals, vs. Texas State, Texas A&M, and Bethune Cookman, May 18-20:
Game 1 (5/18): LSU 1, Texas State 0 (W)
Game 2 (5/19): LSU 2, Texas A&M 0 (W)
Game 3 (5/20): LSU 2, Texas A&M 1 (W) 
Mack, 5/18-20: W, 15-11;IP-7.0;H-3;R-1;ER-1;BB-3;SO-7;WP-2;BK-0;HBP-0;IBB-0;AB-23;BF-27;FO-1;GO-13;NP-115
Game 3:
"COLLEGE STATION, Texas – Brittany Mack put together a masterful pitching performance and the LSU softball team manufactured two runs in the fourth inning en route to a 2-1 victory over No. 8 national seed Texas A&M Sunday to claim the 2012 NCAA College Station Regional championship.
"Mack limited the potent A&M offense (41-18) to one run on three hits.
"Mack registered seven strikeouts versus three walks and improved to 15-11 for the season. The senior right-hander navigated her way through six scoreless innings before A&M rallied for a run during the seventh inning."
About USSSA Florida Pride:
The USSSA Florida Pride is a professional franchise in the National Pro Fastpitch League that is owned and operated by USSSA. The amateur organization of USSSA has multi-sport coverage and encompasses teams and players from the United States and abroad.
About NPF:
National Pro Fastpitch is headquartered in Nashville, TN. The league, created to give elite female fastpitch players the opportunity to pursue a professional career in their chosen sport, has operated since 1997 under the names of Women's Pro Fastpitch (WPF) and Women's Pro Softball League (WPSL). NPF is the Official Development Partner of Major League Baseball in the category of women's fastpitch softball since 2002.
About USSSA:
The United States Specialty Sports Association (USSSA), headquartered in Osceola County, Florida, USSSA is the World's Largest Multi-sport Athletic Organization. Founded in 1968, USSSA has grown to over 3.7 million participants, competing in 13 nationally sanctioned sports including Baseball, Fastpitch, Slow Pitch, Karate, Basketball, Soccer and more! For more information on USSSA and to register your team visit USSSA.com. Also be sure to visit USSSAToday.com for the latest USSSA News!