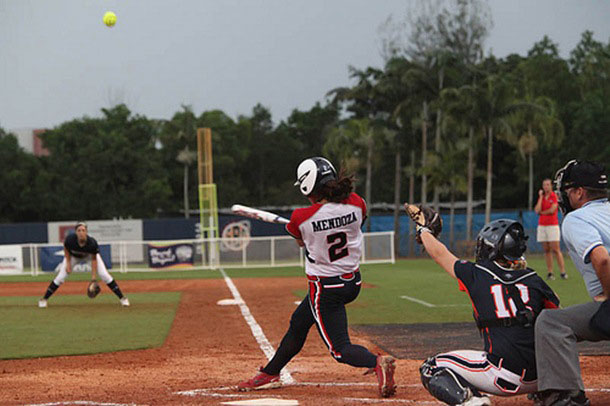 Nashville – National Pro Fastpitch announced today that all tickets for the NPF Championship Series are now available to purchase.  The Series will be played at The Ballpark at Rosemont, in Rosemont, IL  August 23-26. The event will be hosted by the Village of Rosemont in cooperation with National Pro Fastpitch.
The NPF Championship Series is the League's hallmark event and is designed to feature the League's outstanding talent in a playoff/tournament format. All four NPF teams qualify for the Championship Series and seedings are based on regular season standings.  The format is a best of 3 series between the #1 and #4 seed, along with a best of 3 series between the #2 and #3 seeds, with the winners of those two series' facing off in a best of 3 Final Series to crown the champion.
For ticket purchases, the NPF Championship Series will be broken into individual games. Although a six game package is available for purchase, the games are still ticketed individually. Games #5, #6, and #9 are "if games" in the Series format and those games will not be available for purchase until it is evident through the competition, that they will actually take place.
Thursday August 23
Game 1: #2 vs. #3 @ 6:00 p.m. Game 2: #1 vs. #4 @ 8:30 p.m.
Friday August 24
Game 3: #1 vs. #4 @ 6:00 p.m. Game 4: #2 vs. #3 @ 8:30 p.m.
Saturday August 25
Game 5: "If Necessary" #1 vs. #4 @ 11:00 a.m.
Game 6: "If Necessary"  #2 vs. #3 @ 1:30 p.m.
(If there is only one "If Necessary" game, it will be played at 11:00 a.m.)
Game 7: Championship Final TBD (approximately 7:00 pm)
Sunday August 26
Game 8: Championship Final @ 1:00 p.m.
Game 9: "If Necessary" Final @ 4:00 p.m
The Championship Series will have five different categories to choose from for seating. These categories include Lower Club, Upper Club, Lower Box, Upper Box, and General Admission.
Fans can call the National Pro Fastpitch Office at 615-232-2900 or purchase tickets online by visiting The Championship Series Website
** Individual game tickets will be priced as follows:
Lower Club – $15.00
Lower Box – $13.00
Upper Club – $12.00
Upper Box – $10.00
General Admission – $5.00
Group sales are available for groups of 15 or more.
About USSSA Florida Pride:
The USSSA Florida Pride is a professional franchise in the National Pro Fastpitch League that is owned and operated by USSSA. The amateur organization of USSSA has multi-sport coverage and encompasses teams and players from the United States and abroad.
About NPF:
National Pro Fastpitch is headquartered in Nashville, TN. The league, created to give elite female fastpitch players the opportunity to pursue a professional career in their chosen sport, has operated since 1997 under the names of Women's Pro Fastpitch (WPF) and Women's Pro Softball League (WPSL). NPF is the Official Development Partner of Major League Baseball in the category of women's fastpitch softball since 2002.
About USSSA:
The United States Specialty Sports Association (USSSA), headquartered in Osceola County, Florida, USSSA is the World's Largest Multi-sport Athletic Organization. Founded in 1968, USSSA has grown to over 3.7 million participants, competing in 13 nationally sanctioned sports including Baseball, Fastpitch, Slow Pitch, Karate, Basketball, Soccer and more! For more information on USSSA and to register your team visit USSSA.com. Also be sure to visit USSSAToday.com for the latest USSSA News!