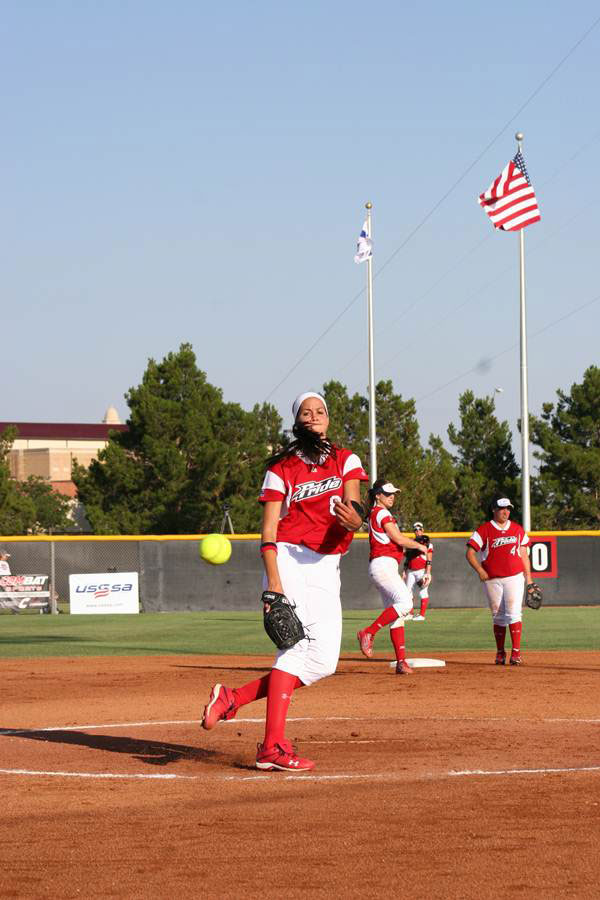 NPF All-Stars Perfect in Win
Cat Osterman and Jamee Suarez combined to throw a seven-inning perfect game in NPF's 9-0 over Arizona
TUCSON – Jennie Finch, Taryne Mowatt, Mackenzie Vandergeest, Chelsie Mesa and Caitlin Lowe returned to Hillenbrand Stadium with an incredible greeting from the 2,623 fans in a 9-0 win for the All-Stars in perfect fashion.
Cat Osterman threw five perfect innings before being relieved by Jamee Juarez in the sixth, who tossed two perfect innings of her own. Osterman struck out 11 of the 15 batters she faced Juarez struck out three of the six she faced.
Arizona pitched freshman Shelby Babcock who performed admirably against the best-of-the-best. Babcock limited the All-Stars to nine runs, eight earned, on nine hits with six strike-outs.
NPF was led by Megan Willis out of Texas who went 3-for-3 with two home runs, three RBI and four runs scored. The All-Stars also got a home run from Francesca Enea out of Florida in the fifth.
Finch went 0-for-4 and three of the outs ended innings for the All-Stars. Vandergeest fared a little better in her return, going 2-for-3 with two doubles and three RBI. Mesa was 0-for-3 and a walk. Mowatt was 1-for-2 with two walks and a run scored. Lowe didn't play as she recovers from ACL surgery.
The NPF All-Stars drew first blood with a two-out rally in the second. Willis got NPF's first hit of the night with a single up the middle. Vandergeest doubled her to third before the two advanced on a Babcock wild pitch.
In her next at-bat in the fourth, Willis homered to deep center, a two-run shot to put the all-stars up 3-0. Later that inning, two walks and a Caitlin Lever single loaded the bases for former UCLA star Andrea Duran. Babcock walked Duran, bringing in Taryne Mowatt from third. Jennie Finch stepped in with the bases juiced, but grounded out to second to end the inning with the score 4-0, NPF.
In the fifth, Chelsie Mesa crushed one to left-center that would have been a gapping extra-base hit had it not been for a web-gem-esk grab, crashing into the wall in the process. The good times were short-lived, however, as the next two batters, Enea Willis, had back-to-back home runs. It was Willis' second homer of the game and third time she crossed the plate for the All-Stars. NPF continued the threat when Babcock hit Vandergeest and gave up an infield single to Mowatt. With runners on the corners and only one out, Vicky Galindo hit a sharp liner to right field. Becca Tikey made a diving catch and doubled up Mowatt at first to end the inning.
The NPF All-Stars got on the board again in the seventh when a Vandergeest bloop-double fell safely into shallow center. The hit scored Jessica Williams from third. A Galindo walk loaded the bases for Caitlin Lever who put one between first and second bases to score a run. A bases loaded passed ball to Lever moved everyone up a bag, scoring Vandergeest and an Angeline Quiocho pop-up ended the inning.
About USSSA Florida Pride:
The USSSA Florida Pride is a professional franchise in the National Pro Fastpitch League that is owned and operated by USSSA. The amateur organization of USSSA has multi-sport coverage and encompasses teams and players from the United States and abroad.
About NPF:
National Pro Fastpitch is headquartered in Nashville, TN. The league, created to give elite female fastpitch players the opportunity to pursue a professional career in their chosen sport, has operated since 1997 under the names of Women's Pro Fastpitch (WPF) and Women's Pro Softball League (WPSL). NPF is the Official Development Partner of Major League Baseball in the category of women's fastpitch softball since 2002.
About USSSA:
The United States Specialty Sports Association (USSSA), headquartered in Osceola County, Florida, USSSA is the World's Largest Multi-sport Athletic Organization. Founded in 1968, USSSA has grown to over 3.7 million participants, competing in 13 nationally sanctioned sports including Baseball, Fastpitch, Slow Pitch, Karate, Basketball, Soccer and more! For more information on USSSA and to register your team visit USSSA.com. Also be sure to visit USSSAToday.com for the latest USSSA News!