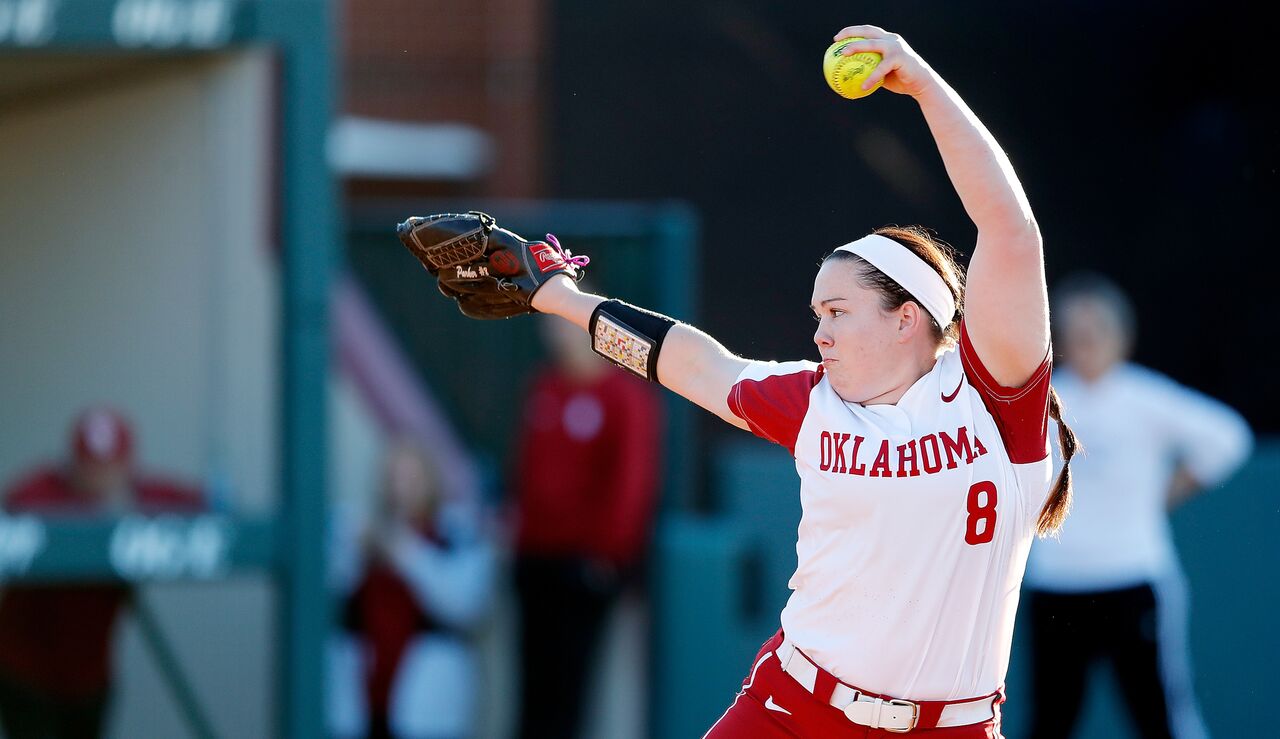 VIERA, FL (June 13, 2018) – Paige Parker has signed a two-year contract with the USSSA Pride for the 2018 season.
Parker was selected by the Pride 6th overall in the first round of the 2018 NPF Draft and joins the team after an incredible collegiate career at The University of Oklahoma.
"Paige is without a doubt one of the most successful players in NCAA history," remarked Don DeDonatis, Pride General Manager. "The last 4 years she has performed on the game's biggest stage compiling a .919 winning percentage (123/18)."
"She was a four-time Big Time Pitcher of the Year and two-time National Champion and when the WCWS television announcers compare her to the likes of Lisa Fernandez, what else can be said but that I look forward to watching her in the circle as part of the Pride for years to come," said General Manager DeDonatis.
Parker was a go-to in the circle her entire career for the Sooners. In her career at OU, she was a four-time All-American and a four-time Big-12 Pitcher of the Year, along with multiple other Big-12 and regional honors.
In her junior season, Parker led the team in ERA, wins, innings, strikeouts, appearances and starts. She ranked seventh in OU history in strikeout rate (8.72), eighth in opponent average (.179) and win percentage (.839) and tied for 10th in saves (2). Parker finished 13th in the country in strikeouts (262), 14th in wins, 16th in strikeout rate, 24th in ERA and 26th in hits/7 IP (4.53).
Her efforts in the circle helped lead Oklahoma back-to-back Women's College World Series National Championships.
Parker becomes the fifth player from Oklahoma to become a member of the Pride, joining Lauren Chamberlain (2015), Keilani Ricketts (2013), Shelby Pendley (2015) and Nicole Pendley (2018). Parker's fellow classmate Nicole Pendley recently signed with Pride as well.
About National Pro Fastpitch (NPF)
National Pro Fastpitch (NPF), an Official Development Partner of Major League Baseball since 2004 provides elite female athletes with an opportunity to pursue a professional career in fastpitch softball beyond their collegiate and amateur success. The NPF affiliate teams consist of the Aussie Spirit, Beijing Shougang Eagles, Chicago Bandits, Cleveland Comets and USSSA
About USSSA
USSSA is headquartered in Viera, Florida. USSSA is the world's largest multi-sport athletic organization. Founded in 1968, USSSA has grown to over 4 million participants, competing in 14 nationally sanctioned sports including Baseball, Fastpitch, Slow Pitch, Karate, Basketball, Soccer and more! For more information about USSSA, visit www.usssa.com and follow USSSA on Facebook, Instagram, and Twitter.