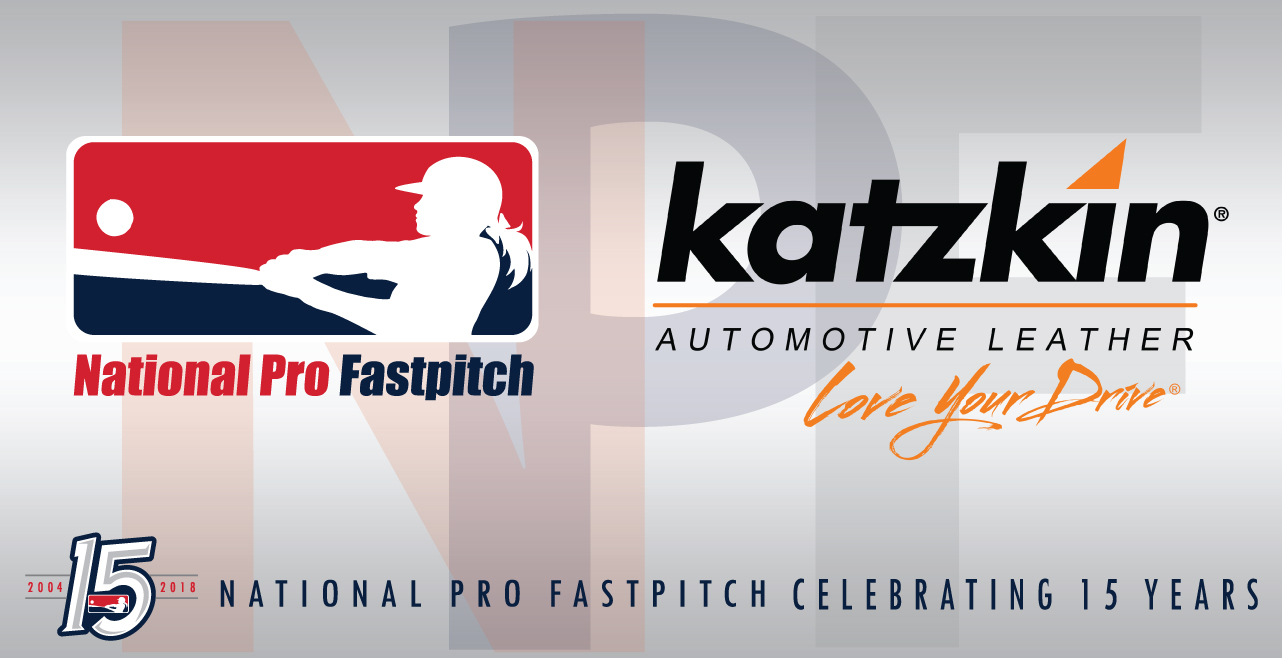 NASHVILLE – April 17, 2018 – With Spring in the air, consumers turn to softball and Katzkin Leather will be
broadening its own recognition among the tens of thousands of those fans and players when it aligns with National
Pro Fastpitch (NPF), an Official Development Partner of Major League Baseball since 2004. Beginning April 23 rd ,
with the 2018 College Draft event in Nashville, Katzkin will showcase its Rawlings-inspired leather interiors, as well
as customized interior transformations, and provide numerous opportunities for consumers to win their own leather
interior throughout the season. For digital release with video please view: http://katzkin-automotive-
leather.stories.fabl.co/katzkin-shares- licensee-rawlings- alliance-with- national-pro- fastpitch
According to Tim Clyde, CEO of Montebello, Calif.-based Katzkin, the company has held the Rawlings license since
2006, providing baseball glove inspired designs made from the brand's finest Tuscany leather bearing the official
Rawlings® patch embroidery. "Working together with and supporting the women's National Pro Fastpitch league
allows us to get in front of consumers one-on- one, rather than just through our everyday channels. Over the more
than three decades we've been in business, we've successfully built our 'affordable luxury' reputation through
dealers, restylers and automotive manufacturers. Our alignment with NPF affords us the perfect chance to get to
know consumers in a more direct way, by sharing in their interests and family routines."
NPF is the premier women's professional softball league and has been recognized for its gritty, fast-paced, 70 MPH
rise balls and competitive 7-inning nature. NPF's primary purpose is to provide family entertainment for people of all
ages, provide role models for today's youth, deliver substantial value to its partners and create an outlet for post-
collegiate athletes to continue their success in the sport.
Cheri Kempf, Commissioner for National Pro Fastpitch noted "The league is excited to introduce Katzkin to the
softball community. This is a product that will go a long way in letting fans uniquely identify themselves with their
favorite teams, from the amateur to the professional level. We look forward to the season long activations that will
include interior giveaways in each of our markets and special post season and Championship series awards for our
players."
Throughout the NPF season, Katzkin's role will include activation within a broad social media and broadcast base,
as well as presenting new leather interiors to the 2018 Rawlings Gold Glove winner, NPF Championship Series'
MVP and one consumer winner within each of the major team markets including: Cleveland, Ohio; Kansas City,
MO; Viera, FL, Daytona Beach, FL and Chicago, IL.
In addition to Rawlings, Katzkin holds notable licenses including Chip Foose and Realtree, and has ongoing
relationships with Fiat Chrysler Automotive (Dodge, Jeep, RAM) and Mopar as well as performance vehicle builders
Shelby and Roush.
"The addition of customized leather packages is a process that is easy, seamless and affordable, offering
consumers value that is more personalized to their style," said Clyde. Katzkin maintains a national network of more
than 2500 professional installers that display and sell the product to consumers throughout the nation, along with a
fully supported website for consumers to start the process, www.katzkin.com . Typical leather interior
transformations start at $1,500 and take only 24-48 hours from order to delivery.
About Katzkin Leather, Inc.
Located in Montebello CA, Katzkin Leather is the nation's premiere designer and manufacturer of custom leather
interiors. Since 1983, in partnership with our nationwide installer network of more than 2,500 restyling locations, we
have transformed over two million vehicles with luxurious and exciting premium leather interiors.  We manufacture
leather interior packages for more than 3,000 mid-market vehicles that are available in 120 colors and materials.
Katzkin offers more custom leather interior options than any other manufacturer. For more information, visit Katzkin
online at www.katzkin.com .
About National Pro Fastpitch (NPF)
National Pro Fastpitch (NPF), an Official Development Partner of Major League Baseball since 2004, provides elite
female athletes with an opportunity to pursue a professional career in fastpitch softball beyond their collegiate and
amateur success.  The NPF affiliate teams consist of the Aussie Spirit, Beijing Shougang Eagles, Chicago Bandits,
Cleveland Comets, and USSSA Pride for the 2018 season. National Pro Fastpitch players hail from the United
States, Australia, Canada and China among which are the most accomplished and talented athletes in the sport of
women's softball.