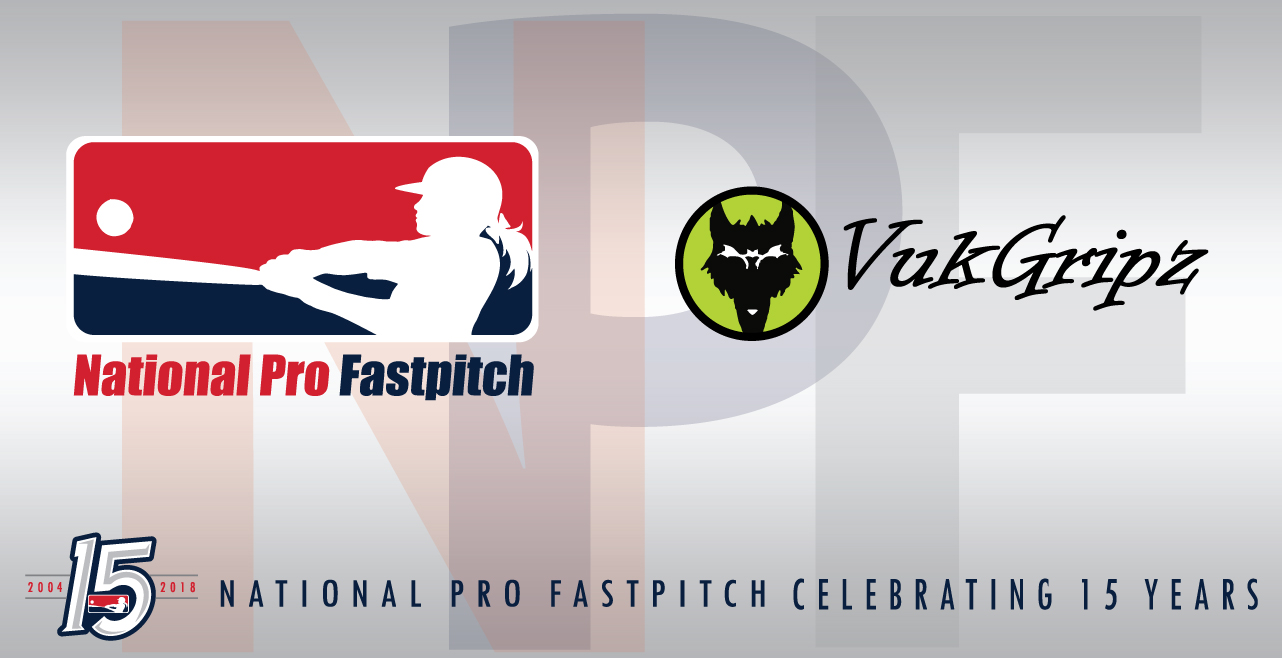 Nashville, TN (April 18, 2017) National Pro Fastpitch has added VukGripz as a new category partner beginning with the 2018 season. VukGripz will begin activation immediately by sponsoring the second round of the 2018 NPF College Draft that will take place on Monday, April 23rd.
With the partnership, VukGripz also becomes an Official Supplier of the league, opening up the option for players to choose and use name branded bat grips and batting gloves. Vukgripz recently was named "Best of Show" in Anaheim, CA at the one of the largest baseball conventions in the world, the American Baseball Coaches Convention (ABCA).
"We are very excited to be partnering with NPF and beginning that partnership right away with the 2018 NPF College Draft," said Owner, R.J. Vukovich. "Our company is looking forward to bringing great energy, performance bat grips, and performance batting gloves to the NPF and it's players. Being able to help athletes take their game to the next level is a great feeling and we are very much appreciative of NPF for giving us this opportunity!"
"The league is proud to add a quality partnership with VukGripz products," commented Commissioner, Cheri Kempf. "We are grateful that VukGripz recognizes the importance of supporting the professional level of softball and we look forward to the Draft and also in seeing VukGripz products on the field in 2018."
The 2018 NPF College Draft takes place April 23rd at 7:00 pm CST, at the ACME Feed & Seed entertainment venue located in the heart of the Nashville entertainment district. The event will be live streamed through NPF-TV and easily available on the NPF website at www.profastpitch.com.
The 2018 regular season play will lead off on May 19th, when the Aussie Spirit host the Beijing Shougang Eagles at Missouri Western State University in St. Joseph, Missouri.
VukGripz is an Ohio based company, since 2014, that has been providing the top gripping batting gloves and American Made bat grips system in the game today! VukGripz products have been used at the highest levels in baseball and now will be used at the highest level of fast pitch softball!
About National Pro Fastpitch (NPF)National Pro Fastpitch (NPF), an Official Development Partner of Major League Baseball since 2004, provides elite female athletes with an opportunity to pursue a professional career in fastpitch softball beyond their collegiate and amateur success.  The NPF affiliate teams consist of the Aussie Spirit, Beijing Shougang Eagles, Chicago Bandits, Cleveland Comets, and USSSA Florida Pride for the 2018 season. National Pro Fastpitch players hail from the United States, Australia, Canada and China among which are the most accomplished and talented athletes in the sport of women's softball.