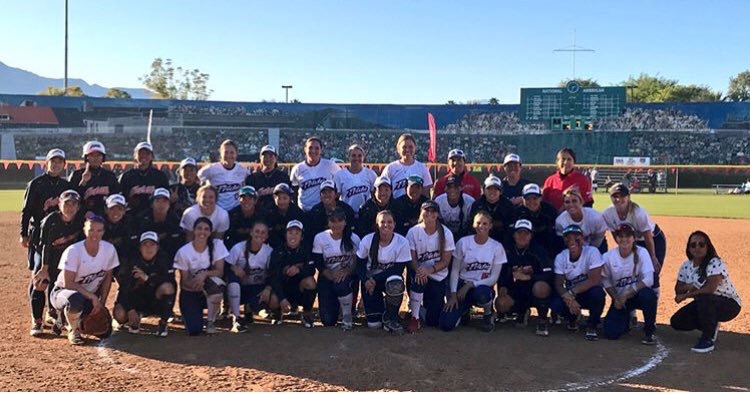 Viera, FL(March 1, 2018) The USSSA Pride spent the week in Palm Springs, California at the 2018 Mary Nutter Collegiate Classic to prepare for the upcoming 2018 season. The Pride played four games throughout the week, facing the reigning 2008 Olympic gold medalists, the Japan National Team, three times and the Oregon State Beavers once.
In the Pride's first games of 2018, the team split a double header with Japan, losing the first game 0-8 and quickly regaining momentum to win the next game 7-4. The team then faced Oregon State University the following day and beat the Beavers 4-0. The final game against Japan resulted in a Pride victory of 4-2.
The Mary Nutter Collegiate Classic is a prestigious preseason tournament for college teams. The tournament draws fans from all over the country, filling the stands and giving the Pride a prime opportunity to promote the NPF, international fastpitch and to reach new fans.
The week in California was the first time the USSSA Pride team played together since the end of the 2017 NPF season in the Championship Series at LSU in August when the Pride dropped the Championship game to the former NPF team, the Scrapyard Dawgs with a score of 5-2.
The USSSA Pride will resume play in April as they travel internationally to participate in the WBSC sanctioned European Pro Softball Series. Following their return, Pride players will report to Viera in late May to begin training for the upcoming season.
About National Pro Fastpitch (NPF)
National Pro Fastpitch (NPF), an Official Development Partner of Major League Baseball since 2004 provides elite female athletes with an opportunity to pursue a professional career in fastpitch softball beyond their collegiate and amateur success.  The NPF affiliate teams consist of the Akron Racers, Aussie Spirit, Beijing Shougang Eagles, Chicago Bandits, and USSSA Florida Pride for the 2018 season. National Pro Fastpitch players hail from the United States, Australia, Canada and China among which are the most accomplished and talented athletes in the sport of women's softball.
About USSSA 
USSSA is headquartered in Viera, Florida. USSSA is the world's largest multi-sport athletic organization. Founded in 1968, USSSA has grown to over 4 million participants, competing in 14 nationally sanctioned sports including Baseball, Fastpitch, Slow Pitch, Karate, Basketball, Soccer and more! For more information about USSSA, visit www.usssa.com and follow USSSA on Facebook, Instagram, and Twitter.