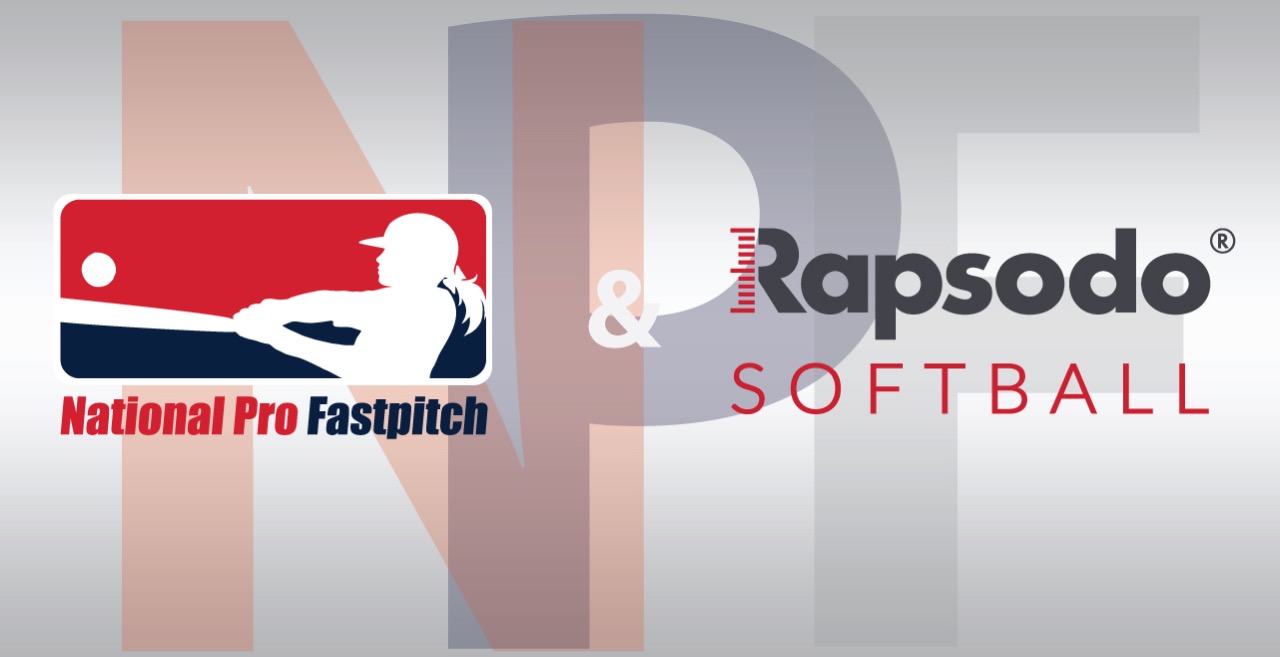 Official Ball Flight Data Partner to Deliver Performance Insights to NPF Players
Nashville, Tenn (January 16, 2018) – National Pro Fastpitch is proud to announce a new partnership with Rapsodo Inc. Rapsodo will be an Official Partner of the League in the Ball Flight Data category. The partnership will launch during spring training for the 2018 NPF season. Rapsodo, a leading developer of sports analytics technology, will focus on providing pitching analysis data in their inaugural season with the league.
Rapsodo's cutting edge camera and radar based system is the first portable solution for baseball/softball pitching analysis, delivering performance data such as total spin, true spin, spin efficiency, spin movement, break, and strike zone location, and is capable of allowing coaches to train players both indoor and outdoor.
"We are extremely proud to partner with NPF to bring our ball flight analytics to the best players in the world", says Art Chou, Rapsodo GM – North America. "Data is king; our data will help these players maximize their performance while also spotlighting their unique athletic abilities."
Through the partnership, Rapsodo will conduct player analysis sessions with each NPF team where players can monitor their pitching metrics.  The technology will yield an opportunity for the top softball players in the world to be able to measure and track ball flight stats.
"We are always interested in technology cialis 5mg prix en pharmacie and data that will help our elite athletes continue to improve their skills," commented NPF Commissioner, Cheri Kempf. "Rapsodo is a product that will provide unique and important information to our players and I look forward to beginning this partnership."
In addition to pitching data collection, Rapsodo's new hitting monitor will give NPF players more opportunity to capitalize on all of their hitting related data, including exit velocity, launch angle, total distance, and exit direction.
Rapsodo monitors are currently used by many MLB and NCAA teams; in addition, they are used for player evaluation at Player Development Pipeline (PDP) events held by Major League Baseball (MLB), the Major League Baseball Scouting Bureau (MLBSB), and USA Baseball.  Rapsodo Hitting Monitors are also used by Mizuno USA for bat fitting.
About USSSA
USSSA is headquartered in Viera, Florida. USSSA is the world's largest multi-sport athletic organization. Founded in 1968, USSSA has grown to over 4 million participants, competing in 14 nationally sanctioned sports including Baseball, Fastpitch, Slow Pitch, Karate, Basketball, Soccer and more!
About National Pro Fastpitch (NPF)
National Pro Fastpitch (NPF), an Official Development Partner of Major League Baseball since 2004, provides elite female athletes with an opportunity to pursue a professional career in fastpitch softball beyond their collegiate and amateur success.  The NPF affiliate teams consist of the Akron Racers, Aussie Spirit, Beijing Shougang Eagles, Chicago Bandits, Scrap Yard Dawgs, and USSSA Florida Pride for the 2018 season. National Pro Fastpitch players hail from the United States, Australia, Canada and China among which are the most accomplished and talented athletes in the sport of women's softball.
About Rapsodo Inc.
Rapsodo Inc. is a sports analytics company that uses computer vision and machine learning to help all athletes maximize their performance.  Their proprietary technology applications range from helping PGA Tour golfers optimize their launch conditions to allowing MLB pitchers to increase the efficiency on their breaking balls. From the diamond to the court to the tee, Rapsodo gives athletes of all ages the tools to get to the next level. For more information about Rapsodo: www.rapsodo.com.