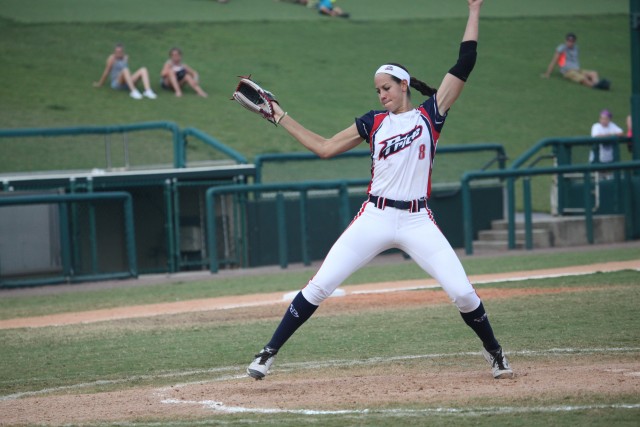 ROSEMONT, Ill. – July 28, 2015  –  The Bandits offense continued to struggle against Cat Osterman (W, 12-2) as the USSSA Pride earned a 5-2 victory at The Ballpark at Rosemont to clinch a series split. For the fourth consecutive game, the Bandits failed to score more than three runs after exploding for ten against the Dallas Charge last Thursday. Bandits right fielder Brittany Cervantes said the team's approach needs to remain stay the same.
"Hitting is contagious," Cervantes said. "We just need that one hit, especially in crucial times with runners in scoring position and the rest will follow in place."   Cervantes reiterated that the confidence level in the dugout has not fallen, despite the recent struggles at the plate.  
"I don't think our confidence has changed at all," Cervantes said. "We all know Cat (Osterman) is one of the best pitchers out there, so if we can at least work the count, make solid contact and do little things like that, it'll matter in the end."  
Osterman delivered a complete game, five-hitter for the Pride to move her mark against the Bandits this season to 4-1. The veteran southpaw put up zeros until the fifth when Danielle Zymkowitz raced home to score on a throwing error by Pride catcher Megan Willis.
 "(Osterman) just came out like she always does," Cervantes said. "She's a competitor. We know what pitches she has and she was able to work those pitches tonight and called a good game."  
After two scoreless frames to open the game, the Pride staked Osterman out to a three-run lead in the third. Bandits starter Michelle Gascoigne was able to maneuver around a leadoff double in the second, but couldn't do so in consecutive innings as the Pride's Shelby Pendley (1-for-3, 2B, R) led the frame off with a double to left-center and came around to score the game's first run on a line drive single through the right side by Natasha Watley (1-for-3, RBI). Andrea Duran (3-for-4, 3 2B, 3 RBI) doubled home two runs later in the inning to make it 3-0 Pride.  
Gascoigne, making her third start against the Pride, allowed just those three runs, but that was enough support for Osterman, who surrendered only one earned run in the game. Gascoigne was handed the loss and fell to 4-4 on the season, including a 0-3 mark against the Pride.  
The Pride tacked on two more insurance runs in the seventh to increase their lead to 5-1, but the Bandits were able to make things interesting in their final at-bats. A towering solo shot to straightaway center by Vicky Galasso (1-for-2, HR, RBI) cut the deficit to three and a pinch-hit single by Natalie Hernandez (1-for-1) brought the potential tying run to the on-deck circle. However, Osterman was able to get Tammy Williams (0-for-3) to ground into a fielder's choice to close it out.  
The Bandits and Pride will continue to battle for the top spot in the NPF with a quick two-game set at East Side Centre in Peoria, beginning tomorrow at 7:00 p.m. The Pride currently hold a 1.5 game edge in the standings, but the two teams are even in the loss column.  
For more information or to purchase tickets for any remaining Bandits home game during the 2015 NPF season, please visit www.chicagobandits.com or call the box office at 877-722-6348.  
BOX SCORE LINK: http://ow.ly/QeFUC – See more at: http://profastpitch.com/news/index.html?article_id=2399#sthash.bIL8Ihpk.dpuf
Article courtesy of Chicago Bandits
Records
Pride: (29-12)
Bandits: (25-12)
Follow the Pride all season long on Facebook, Twitter, and Instagram for all game or team updates.
About USSSA Florida Pride:
The USSSA Florida Pride is a professional franchise in the National Pro Fastpitch League that is owned and operated by USSSA. The amateur organization of USSSA has multi-sport coverage and encompasses teams and players from the United States and abroad.
About NPF:
National Pro Fastpitch is headquartered in Nashville, TN. The league, created to give elite female fastpitch players the opportunity to pursue a professional career in their chosen sport, has operated since 1997 under the names of Women's Pro Fastpitch (WPF) and Women's Pro Softball League (WPSL). NPF is the Official Development Partner of Major League Baseball in the category of women's fastpitch softball since 2002.
About USSSA:
USSSA is headquartered in Osceola County, Florida. USSSA is the World's Largest Multi-sport Athletic Organization. Founded in 1968, USSSA has grown to over 3.7 million participants, competing in 13 nationally sanctioned sports including Baseball, Fastpitch, Slow Pitch, Karate, Basketball, Soccer and more! For more information on USSSA and to register your team visit USSSA.com. Also be sure to visit USSSAToday.com for the latest USSSA.