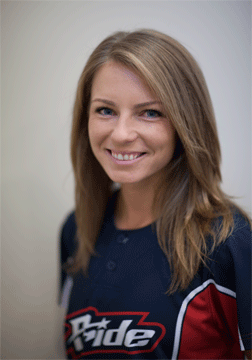 Kissimmee, FL–February 24, 2015–As we approach the 2015 National Pro Fastpitch (NPF) season, six year USSSA Florida Pride veteran Caitlin Lowe has decided to announce her retirement from the NPF.
Lowe played every one of her professional innings with the USSSA Pride. In her six seasons, she added three NPF regular season championships, three NPF Championship Series titles, and a 2012 NPF Player of the Year title to a resume that already included four NCAA All-American awards, two NCAA National Championships and an Olympic silver medal.
Caitlin decided to announce her retirement in the same way she's played the game the past 24 years—with extreme passion and respect for the game. There were no press conferences, farewell tours or public sendoffs. Instead, Caitlin decided to write a letter to her family, fans, teammates, and the entire softball community about what the past 24 years of playing softball have meant to her.
­­­­­__________________________________
My Goodbye
Today is the day I say goodbye to a huge part of my life.
I quietly stepped on to a field for the first time at 6 years old. It was back in the days of long white pants and scrunched socks, the kind with the built-in stirrups. My little mermaid underwear showed right through those pants—parents didn't tell us that back then because it was just too cute to pass up. I wore white cleats because my dad said they made me run faster. I STILL wear white cleats because they DO make me run faster. I would put puffy paint on my helmet because he said it was intimidating. I wanted to run so fast that my helmet fell off. I was obsessed. I fell in love with a game at the age of 6 and it has had my heart ever since.
The greatest thing about our sport is that it truly is a game of life. The best advice I could possibly give to the current softball world is to RESPECT THE GAME. You get what you put into it. I think that's why I fell so hard. If you respect the game in all its glory, if you do it with passion, then it will pay you back in ways you could never even imagine. Be a good teammate. There are a lot of selfish players out there who get lost in stats, lost in results, lost in themselves. Great players and great teams always see the bigger picture. We play a team sport, a selfless sport, a pure sport. Robyn Benicasa, a world champion racer once said, "You don't inspire your teammates by showing them how amazing you are. You inspire your teammates by showing them how amazing THEY are." So rip your heart out and give it to this game, give it to your teammates, give it to your coaches. When you can learn to do that, you will see that they will do the same for you. And man will you get to experience something special.
I do want to say thank you to everyone who has supported me throughout the years. My family has been by my side through it all and they will always be my biggest fans on and off the field. Thanks to my Grandma Judy for the countless turkey sandwiches on game days and to my grandpa who I know still has the best seat in the house up in heaven (probably still wearing my jersey). Thanks to my mom and dad for not just being my coaches but my parents, regardless of any game outcome. Thank you to my coaches, especially Coach Candrea, for helping me through the game of life. Thank you to Under Armour, Wilson/DeMarini, and my agent Rob who not only supported me, but who empower the female athlete daily. Thank you to my owner Don DeDonatis who kept my dream alive long past college. Thank you to my wonderful fiancé who without hesitation told me to play as long as I can. And last but not least, thank you to my amazing teammates who started as teammates, became friends, and now will forever be my family. I love you all so much.
And with that, I choose to say goodbye to my playing days the same way I said hello—quietly. I wanted to do it quietly because that's just how I operate. This game doesn't owe me anything, it's pretty much the other way around. As Joe Torre said in his Hall of Fame speech when talking about the game of baseball, "This sport is part of the American soul. And it's ours to borrow. Just for a while. If all of us who love it are doing our jobs, then those who get the game from us will be as proud to be a part of it as we were, and we are."
Thank you to softball fans and players everywhere. Remember to hustle when nobody is watching, to stay humble, and to never lose sight of that 6 year old version of yourself. Keep leaving it all on the field.
-Caitlin Lowe, #26
Caitlin Lowe set the standard for playing the game the right way and leaves all of us in the game, better.