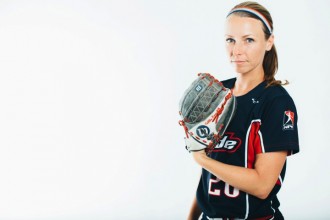 Legacy is defined as anything handed down from the past, as from an ancestor or predecessor. In sports, we often measure an athlete's legacy by how she impacted the game and people around her. Did she leave the game and her successors better than when she arrived?
Caitlin Lowe has left a legacy in softball that far transcends the outfield grass or the left-handed batters box. This week Lowe announced her retirement from the National Pro Fastpitch (NPF) as she now focuses on her coaching career at the University of Arizona. In her farewell letter, Lowe stated "I choose to say goodbye to my playing days the same way I said hello—quietly. I wanted to do it quietly because that's just how I operate. This game doesn't owe me anything, it's pretty much the other way around."
While she played the game quietly for 24 years, there is nothing quiet about the resume she built and the impact she had on the game.
"Caitlin was a game changer. Her game intensity and game speed is unmatched. She only knows one speed. You always knew what you were going to get from Caitlin and that's what makes her so fun to watch and play with," said long time professional and Team USA teammate Natasha Watley.
Within the sport, Lowe is known as one of the greatest outfielders the game has ever seen. She played the outfield with fearlessness as she crashed into outfield walls, with grace as she glided through the air snagging line drives, and with precision as she gunned down runners at home plate.
"My favorite moments of Caitlin are after she makes one of her diving catches or tracks down a ball and everyone else is amazed but Caitlin has this look of  'why is everyone making a big deal, I just caught the ball like I'm supposed to.' It's that face and those reactions I'll never forget," said fellow Olympian Kelly Kretschman who shared many professional and international innings in the outfield with Lowe.
In the box, the name Caitlin Lowe is synonymous with slapping and speed. According to her teammate Natasha Watley, Lowe "set the standard for the speed game." Watley would know as the two made up the greatest 1-2 punch a softball line-up has ever seen.
As a professional, Lowe played every inning as a member of the USSSA Florida Pride. When USSSA took over the team in 2009, it was Lowe and fellow Olympian Kretschman whom General Manager Don DeDonatis decided to build the team around.
"We knew we could build a foundation for the Pride with Caitlin and Kelly. We're honored she chose the Pride and will continue to impact the entire USSSA organization and our fastpitch program going forward," said DeDonatis.
In her six seasons with the Pride, Lowe has been a part of three NPF regular season championships and three NPF Championship Series titles. She was named to the All-NPF team three times, including this past season, and in 2012 was named the NPF Player of the Year. Lowe was also the 2013 Diamonds Spikes Award winner after swiping a NPF-best 16 stolen bases.
During her time at the University of Arizona, she won two National Championships, was named a NCAA First Team All-American four times, 2007 Pac-10 Defensive Player of the Year, 2005 Co-Pac-10 Player of the Year, 2004 Pac-10 Newcomer of the Year, and was the LOWE's Senior CLASS Award winner her senior year.
Beyond her legacy of awards and the countless moments she left everyone at the stadium saying "WOW," Lowe left a legacy as one of the hardest workers and one of the best teammates in the NPF.
"Caitlin had one of the best work ethics I have ever seen! I think I noticed during pre-game batting practice when she was taking reads in centerfield. I've never seen anyone take such pride in their "reads"…soon enough you realize if you're helping shag to get out of her way! I think Kelly (Kretschman) and (Lauren) Lappin called Caitlin's area the 'Shark Zone.' To watch Caitlin do that into her sixth professional season was inspiring, but to her, it was just the norm," said Pride catcher Megan Willis who has been Lowe's teammate and roommate the past four summers.
Lowe may have stepped on and off the field quietly, but her impact has been legendary. Even as she said goodbye, she impacted us with her words about respecting the game and playing with passion.
Caitlin Lowe has left a legacy of continuing to make the game of softball better. And for that Caitlin, we all say THANK YOU.
"Caitlin, it is bittersweet seeing you retire but I'm so thankful I had the chance to be your partner in crime. Being at the top of the lineup with you made the game fun because I knew I was never alone. Thank you for being you and always playing the game right! You're amazing and the game and I will miss you tons"—Natasha Watley.
Thank you for playing the game the right way, thank you for setting a standard, and thank you for giving our sport so much of your heart. You are leaving the sport of softball better than when you arrived. And that's a legacy all athletes desire.