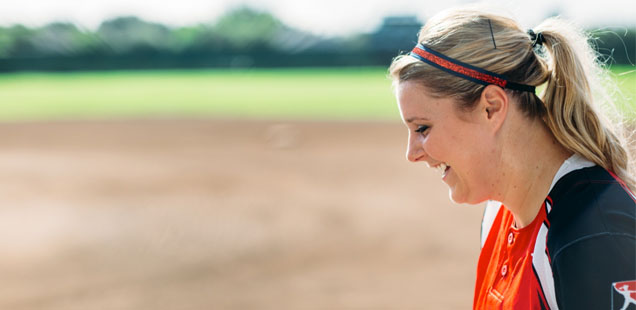 By: Jami Lobpries
Often, when an athlete slips through the cracks of a professional sport draft, experts use the term sleeper pick. When it came time for the 2013 National Pro Fastpitch (NPF) draft, Chelsea Thomas was no sleeper in the softball world, but the 2013 SEC Pitcher of the Year did slip through the cracks all the way to number 20 [the last pick] and into the hands of USSSA Florida Pride General Manager Don DeDonatis. Slipping through the cracks of the NPF draft wasn't due to a question of talent, it was more to due with questions concerning Thomas's health and whether or not she would spend the summer on Team USA. But for Thomas, slipping through the cracks is something she's been used to since her childhood days in Pleasantville, Iowa.
To fully understand the route Chelsea Thomas took to fulfill her dreams of being a college, professional, and national team softball player, then you have to fully understand the place where Chelsea grew up. Chelsea was born on January 26th, 1990 in Des Moines, Iowa. However, she lived her entire childhood in Pleasantville, Iowa, a small town of 1500 people about 40 miles southeast of Des Moines. Pleasantville, Iowa seems to resemble the town from Pleasantville the movie—a small, idyllic community where everyone knows everyone.
The Thomas family has deep roots in the Pleasantville community. Chelsea's mom Dana grew up in Pleasantville and her grandparents and many other relatives live within a mile of her family's home. Her family made up a large portion of the elementary school staff as well–mom is a kindergarten teacher, her grandmother was the school secretary, her aunts and uncles taught down the hall from pre-school to 5th grade, and her dad was her sixth grade science teacher…and high school softball coach.
It makes sense that a town called Pleasantville would remain supportive of their star athlete throughout her career. School buses filled with the "Pleasantville Fan Club" would travel the 3.5 hours to Columbia, Missouri to watch their town celebrity pitch. When Thomas and her Missouri Tigers went to the Women's College World Series (WCWS) in Oklahoma City, several Pleasantville residents came too. Then, after Thomas competed in the WCWS and for Team USA in 2011, Pleasantville honored her during the town's parade as the Honorary Grand Marshall. And even when the USSSA Pride played in Rosemont, Illinois against the Chicago Bandits this season, Thomas's family and three other Pleasantville families traveled to watch their town's first professional athlete.
It's crazy to think the Pleasantville community almost never got the chance to follow Chelsea's college and professional career as she almost slipped through the cracks at each level. If you examine the softball career of Chelsea Thomas, there's a few things that really stick out such as 2013 SEC Pitcher of the Year, 2011 and 2012 Big 12 Pitcher of the Year, 3-time NFCA All-American, and the all-time wins and strikeout leader in University of Missouri softball history. But the one thing that's not written on Chelsea's bio is which travel softball team she played on. You know, the travel softball team where all college recruiting is done. That's because Chelsea never played competitive travel ball. Mainly because her summers from 8th grade to her senior year were busy playing high school softball for her dad, Rich.
"I played on a travel ball team for two summers up until my 8th grade year. Then I went right into high school ball, so I actually played five years of high school ball, but never played travel ball once I got to high school," said Thomas.
When it came time to get recruited, Rich hired a friend and sportscaster from Des Moines to film Chelsea pitching. Chelsea and Rich sent out videos to colleges nearby. None of them wrote back. Then, almost like the mysterious remote control in the movie Pleasantville, magic hit Pleasantville, Iowa when Missouri head coach Ehren Earleywine called.
"We were a little behind in the recruiting process and Coach Earleywine had just been hired by Missouri that season so he was a little behind as well. He actually skipped practice that day to come down and watch Chelsea throw," said Rich of his daughter's recruitment.
Rich didn't tell Chelsea right away that her future college coach was coming to watch. "I was warming up to throw my bullpen and my dad was like 'oh by the way the Mizzou coach is coming to watch you today' so it was very, very stressful," said Chelsea.
She must not have been too nervous as she hit 70+ MPH multiple times.
"The first time she threw she hit 71, then I think the next pitch was like 73," said Rich. Similar to the phrase 'you can't teach speed,' you also can't teach 70 mph. Having the ability to throw in the upper 60s or lower 70s is a gift in the sport of softball and a gift that has propelled Thomas through a successful high school, college, and now professional career with the Pride.
While being from a small town never slowed Chelsea down, injuries have. Thomas redshirted her sophomore year at Mizzou due to a stress fracture in her forearm. Then, following her rookie season with the Pride (where Chelsea pitched limited innings due to the injury), she met with a specialist about the inflammation and numbness in her throwing arm. Chelsea was diagnosed with thoracic outlet syndrome, a narrowing of the subclavian vein that runs from the heart down the arm. To relieve her pain, Chelsea had a first rib resection, which is a surgery to remove her upper rib [a keepsake she's kept preserved in her apartment back home!].
In her second season in the NPF, Thomas has slid under the radar once again as she's battled through injuries and pitched on a staff with the likes of Cat Osterman, Keilani Ricketts, Danielle Lawrie, Blaire Luna, Jordan Taylor, and Olivia Galati. But as the Pride close out the 2014 season and look forward to 2015, Thomas said she's finally close to 100%–something opposing hitters might not want to hear!
"It is a complete night and day difference in how I am feeling this year compared to last. I only started throwing full speed this May, right before this NPF season started, so I am very happy with how my body is recovering from surgery up to this point. My doctor said it could take up to a year and a half to see all the benefits of the surgery, which is incredibly encouraging to me. I am very excited to get back to work and prepare for the 2015 NPF season to come back 100%—after we take the 2014 Championship trophy home, of course!"
We hear many stories of professional athletes overcoming obstacles in their childhood to make their professional sport dreams come true. The story of Chelsea Thomas is evidence that a small-town girl from the Midwest, who didn't even play competitive travel ball, can still live out her dreams of becoming a professional athlete. And more than anything her story demonstrates the sense of community that's sometimes lost in the big world we live in. From not being recruited out of Pleasantville, to overcoming injuries, to being the last player selected in the 2013 NPF draft, the Pride of Pleasantville is finally back healthy and ready to take on the NPF—all with the support of an entire community.