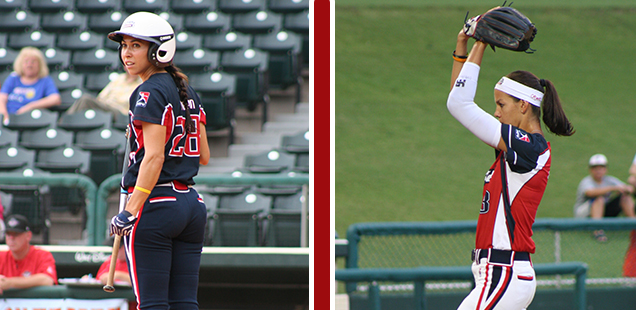 Jami Lobpries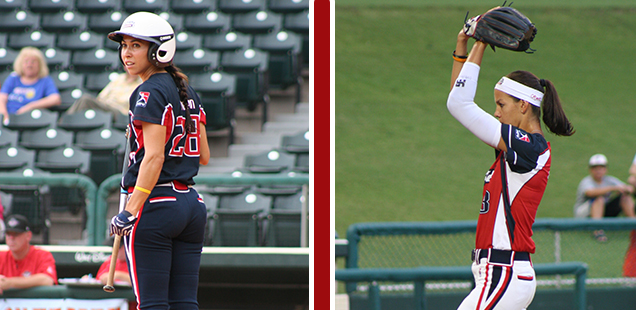 Kissimmee, FL-July 29, 2014- At what age does a female athlete reach her prime? It may depend on the sport and it probably depends on the work the athlete puts into her athletic success. During the 2014 National Pro Fastpitch (NPF) season, two USSSA Florida Pride veterans are making the case that the prime for female softball players may be around the age of 30. Mentally and physically, Cat Osterman and Andrea Duran are at their best in 2014 because they continue to put in the work necessary.
On her 30th birthday last year, Cat Osterman announced she would be retiring from softball at the end of the 2013 NPF season. Fortunately, for the Pride and for softball fans, Osterman had a change of heart mid-way through the season and decided she wasn't done playing professional softball. Unfortunately, for opposing hitters, Osterman is arguably having the best season of her career in 2014. The USSSA Pride pitcher is 12-0 on the season and is averaging 1.5 strikeouts per inning. Her 0.600 ERA and 110 strikeouts lead the NPF. With a willingness to continue to get better, Osterman even adopted a new pitch to her already dangerous repertoire—a screw ball.
"I've always jokingly talked about adding a screw ball as a different look against right handed hitters. Our pitching coach Jenny Gladding asked me to throw it one day in the bullpen and ever since then it's something her and I have continued to work with" said Osterman.
"She's been in this league for a long time and faced these batters so much that it's nice to be able to come with something different, a new look" said Gladding, the Pride pitching coach.
Being willing to adopt a new pitch is something Osterman said is necessary if you are going to have a successful career. "The longer you play, the more you have to keep recreating yourself and adapting if you want to continue being successful. Whether it's Major League Baseball or the NPF, you're always having to work on things, tinker with things, or make what doesn't work then work."
Osterman has re-written every record book from college to the Olympics to the pros, yet she still aspires to get better. She still aspires to refine her game. And she's still willing to put the work in to be the best pitcher in the world. In fact, according to Osterman, her work ethic in the off-season is a large contributor to the success she's having this season.
"The last two years I've dedicated myself to an intense and a needed workout plan in the offseason. I'm in the best shape I've been in for a long time. It was something that being younger I took for granted. Now I notice how much quicker I recover and how much stronger I am throughout the game. I feel like my mental game has always been a strong part of my game but now it's like I can almost rest with ease mentally because of the shape I'm in physically," said Osterman.
Andrea Duran celebrated her 30th birthday this offseason on April 12th and is celebrating her best statistical NPF season this summer. In her fifth NPF season, Duran leads the Pride offense with her .389 batting average and 23 runs scored. Her .491 on-base percentage leads the NPF. Always known for her s
hutdown defense at third base, Duran has proven to be the most consistent hitter on a lineup full of NCAA All-Americans and Olympians.
While Osterman credits her success the last two years to being in the best physical shape she has been in, Duran credits her success this season to her mental approach.
"The biggest difference for me is on the mental side. The last two years I've just been more relaxed. I think before I was pressing too much and this year I've just taken a much more relaxed approach and trusted the work I've done in the offseason," said Duran about what she contributes to her 2014 season. "I think it does help that I'm older and one of the oldest on the team. I think that's helped me relax more."
Reading about the mental side of the game and implementing that into her own game is something Duran has worked on since college.
"Ever since college I've been interested in the mental side of the game and have always read books on it." One of those books Duran credits is Leadersh*t by Foster Mobley, who had worked with the UCLA softball team during Duran's tenure as a player and coach. One of the quotes Duran takes from Mobley's book is "clear your stream" which helps her get rid of the negatives—something that can come often in a game based on failure.
Duran's ability to "clear her stream" and remain positive is something teammate and fellow-UCLA Bruin GiOnna DiSalvatore has noticed. "I think she approaches the game the same way all the time. She's always consistent with her approach no matter if she's having a good game or an off game."
Osterman and Duran were both members of the Team USA squad who opted to dedicate their careers full-time to the NPF. Their decision to play professionally and the avenue it provides them to continually improve their game epitomizes the need for a women's professional softball league\. If a professional softball league didn't exist, we wouldn't have the opportunity to witness Cat Osterman and Andrea Duran evolve into even greater players in their thirties. Both players had stellar collegiate careers and both played on the 2008 silver-medal Olympic team [Osterman also won gold in 2004] so neither are strangers to success. However, having the opportunity to extend their careers past the age of 30 has provided a setting for Osterman and Duran to reach their prime.
"Having a professional league does give you the avenue to keep getting better. Obviously if we didn't have the pro league then nobody would be able to watch Dre and I play anymore. Having this opportunity allows us to continue our careers and to continue to get better," said Osterman on the importance of a professional league.
Two additional players on the Pride roster are over the age of 30. Natasha Watley (32) and Kelly Kretschman (34) have continued to put up NPF-leading numbers throughout their careers and show no signs of slowing down.
The 2014 season for Osterman and Duran and the work each athlete continues to put in during the off-season should serve as a lesson to all of us—you're never too old to keep learning and you're never too old to keep getting better. Two of the greatest to ever play the game of softball are living proof that female athletes need an avenue to reach their athletic prime.
About USSSA Florida Pride:
The USSSA Florida Pride is a professional franchise in the National Pro Fastpitch League that is owned and operated by USSSA. The amateur organization of USSSA has multi-sport coverage and encompasses teams and players from the United States and abroad.
 About NPF:
National Pro Fastpitch is headquartered in Nashville, TN. The league, created to give elite female fastpitch players the opportunity to pursue a professional career in their chosen sport, has operated since 1997 under the names of Women's Pro Fastpitch (WPF) and Women's Pro Softball League (WPSL). NPF is the Official Development Partner of Major League Baseball in the category of women's fastpitch softball since 2002.
About USSSA:
The United States Specialty Sports Association (USSSA), headquartered in Osceola County, Florida, USSSA is the World's Largest Multi-sport Athletic Organization. Founded in 1968, USSSA has grown to over 3.7 million participants, competing in 13 nationally sanctioned sports including Baseball, Fastpitch, Slow Pitch, Karate, Basketball, Soccer and more! For more information on USSSA and to register your team visit USSSA.com. Also be sure to visit USSSAToday.com for the latest USSSA.