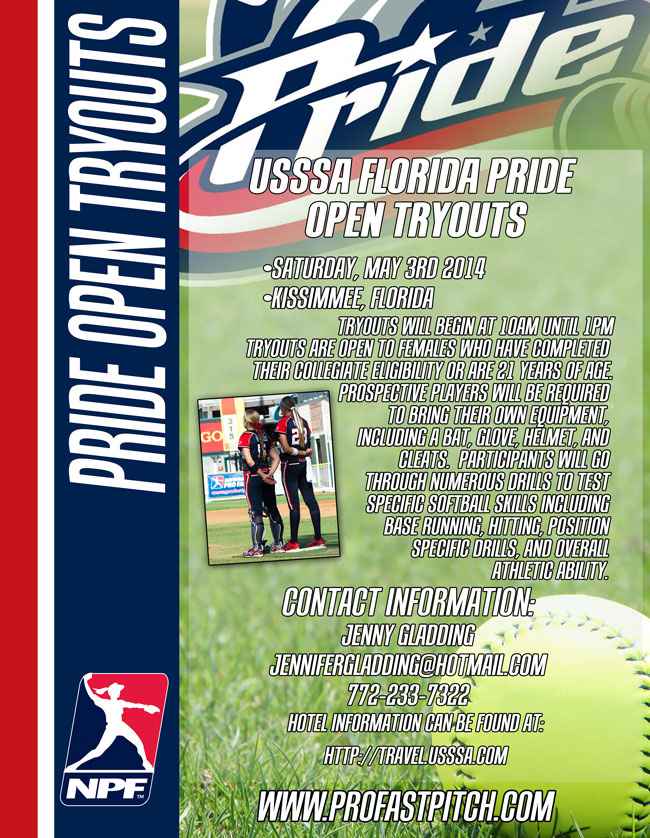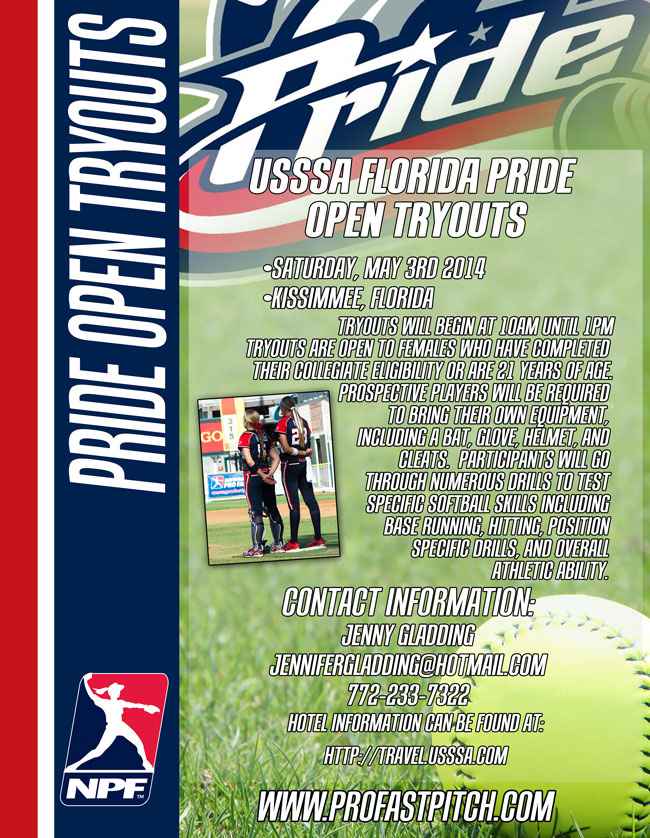 Kissimmee, FL—March 19, 2014- USSSA Florida Pride Assistant GM, Gordon Glennie announces that the Pride will be hosting an open tryout Saturday May 3, 2014 from 10am-1pm in Kissimmee, Fl.
Tryouts are open to females who have completed their collegiate eligibility or are 21 years of age.
Prospective players will be required to bring their own equipment, including a bat, glove, helmet, and cleats.  Participants will go through numerous drills to test specific softball skills including base running, hitting, position specific drills, and overall athletic ability.
Location:
TBD, Kissimmee, FL
Hotel information can be found at:
http://travel.usssa.com
Contact Information:
Jenny Gladding
jennifergladding@hotmail.com
772-233-7322
About USSSA Florida Pride:
The USSSA Florida Pride is a professional franchise in the National Pro Fastpitch League that is owned and operated by USSSA. The amateur organization of USSSA has multi-sport coverage and encompasses teams and players from the United States and abroad.
About NPF:
National Pro Fastpitch is headquartered in Nashville, TN. The league, created to give elite female fastpitch players the opportunity to pursue a professional career in their chosen sport, has operated since 1997 under the names of Women's Pro Fastpitch (WPF) and Women's Pro Softball League (WPSL). NPF is the Official Development Partner of Major League Baseball in the category of women's fastpitch softball since 2002.
About USSSA:
The United States Specialty Sports Association (USSSA), headquartered in Osceola County, Florida, USSSA is the World's Largest Multi-sport Athletic Organization. Founded in 1968, USSSA has grown to over 3.7 million participants, competing in 13 nationally sanctioned sports including Baseball, Fastpitch, Slow Pitch, Karate, Basketball, Soccer and more! For more information on USSSA and to register your team visit USSSA.com. Also be sure to visit USSSAToday.com for the latest USSSA News!