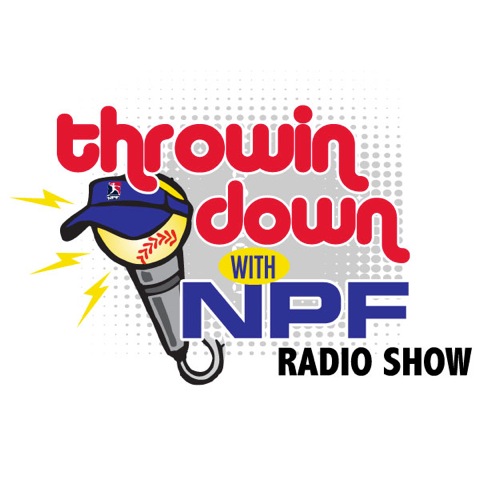 Nashville, TN –  March 3, 2014 – NPF Fans can check out the newest episode of the NPF Blog/Talk radio show, Throwin Down with NPF on Wednesday, March 5, 2014 at 8:00 ET (7:00 CT). Join host Barb Jordan and her guests Stu Williams, Owner of the Pennsylvania Rebellion and Gerry Glasco, Head Coach of the USSSA Florida Pride.
This is sure to be an exciting show as Host Barb Jordan will discuss the newest team in the NPF, the Pennsylvania Rebellion, new Head Coaches in the NPF, Georgia softball players in the pro's, NCAA Softball, and the 2014 NPF College Draft.
This week's show is presented by Bownet, Presenting Sponsor of the 2014 NPF College Draft and Co-Sponsors Espro Clean and Dick's Sporting Goods.
Throwin Down with NPF can always be found at www.blogtalkradio.com/profastpitch. Upon clicking the link, you will see the current show name and archived shows. If you miss an episode, shows are archived and can be listened to at your convenience. Make sure to "Follow" the show in order to receive updates and reminders of upcoming shows. "Follow" can be found on the show page underneath the show title.
NPF encourages listeners to call in and ask questions – the phone number to call in is (347) 945-6100; press #1 on your phone dial pad to ask questions. Listeners can also chat in a chat room while the show is live; the chat room is located on the same page as the show.
If Twitter is your interest, listeners are encouraged to follow along on Twitter and hashtag the following to interact with the show and the show guests: #profastpitchradio  – @profastpitch, @BarbJordan18, @bownet, @esproclean, @dickssportingss, @USSSAPride, @PARebellion, @GerryGlasco, @cherikempf5.
New users to Blog Talk Radio may have to set up an account to listen to the radio show.
IPHONE – The iPhone does support live streaming. When you visit the site from your phone, shows should stream right away. If not you may need to adjust your phone settings to stream live content. To adjust your settings, go to the Blog Talk Radio mobile site: http://m.blogtalkradio.com and log into your BlogTalkRadio account. There you can go to your settings and click on "YES" to My Device Can Stream Audio. Then you will be all set to stream live shows!
Throwin Down with the NPF:
National Pro Fastpitch Internet Radio show that airs live every 1st and 3rd Wednesday at 8:00 pm EST (7:00 CST). Host Barb Jordan discusses news and notes from around the league, provide pre-season and in-season updates, talks about what's next for NPF, and conduct interviews with various representatives and players from the teams, sponsors, corporate partners, league officials, board members, and suppliers.
About NPF:
National Pro Fastpitch is headquartered in Nashville, TN. The league, created to give elite female fastpitch players the opportunity to pursue a professional career in their chosen sport, has operated since 1997 under the names of Women's Pro Fastpitch (WPF) and Women's Pro Softball League (WPSL). NPF is the Official Development Partner of Major League Baseball in the category of women's fastpitch softball since 2002.
About USSSA:
The United States Specialty Sports Association (USSSA), headquartered in Osceola County, Florida, USSSA is the World's Largest Multi-sport Athletic Organization. Founded in 1968, USSSA has grown to over 3.7 million participants, competing in 13 nationally sanctioned sports including Baseball, Fastpitch, Slow Pitch, Karate, Basketball, Soccer and more! For more information on USSSA and to register your team visit USSSA.com. Also be sure to visit USSSAToday.com for the latest USSSA News!