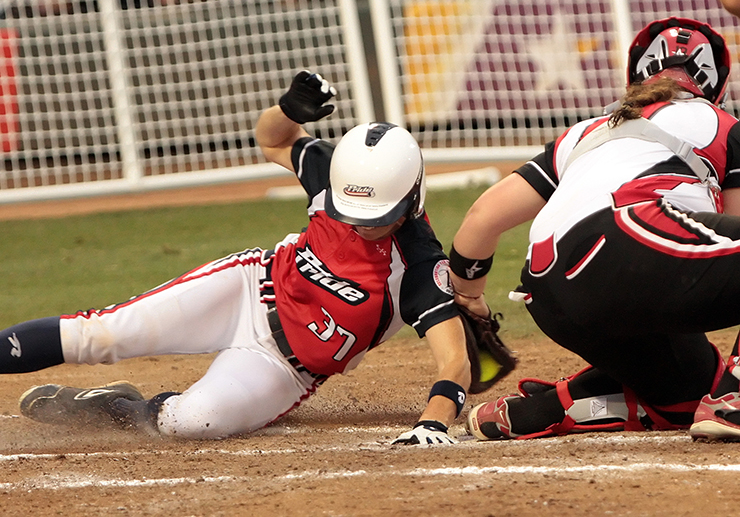 Pride: 8
Racers: 4  
Corpus Christi, TX- The Pride took down the Akron Racers in an 8-4 win at Whataburger Field in Corpus Christi, Texas Thursday night, claiming the top spot in the NPF standings.
Pride pitcher Sarah Pauly threw five shutout innings until the Racers scored their first run in the sixth. Pauley, who played college softball for Texas A&M – Corpus Christi and is the Islanders' pitching coach, allowed one run on six hits. She finished the night without a walk and stuck out three.
The Pride scored their eight runs on ten hits against Akron pitcher Ivy Renfroe. It was a big night at the plate for Andrea Duran and Ashley Charters; half of the Pride's runs came from their combined four RBIs.
Rookie pitcher and former University of Texas star Blaire Luna took the circle in relief in the seventh inning, making her professional debut. It was a rocky start for Luna, allowing two walks and three runs on three hits, including a two-run homerun to Brigette Del Ponte, but she did earn her first two NPF strikeouts, sending Aja Paculba and Brianna Turang home swinging.
The Pride take on the Racers again tomorrow night in Corpus Christi at 8:05 p.m. EST. Tune in to usssalive.com for live coverage.
About USSSA Florida Pride:
The USSSA Florida Pride is a professional franchise in the National Pro Fastpitch League that is owned and operated by USSSA. The amateur organization of USSSA has multi-sport coverage and encompasses teams and players from the United States and abroad.
About NPF:
National Pro Fastpitch is headquartered in Nashville, TN. The league, created to give elite female fastpitch players the opportunity to pursue a professional career in their chosen sport, has operated since 1997 under the names of Women's Pro Fastpitch (WPF) and Women's Pro Softball League (WPSL). NPF is the Official Development Partner of Major League Baseball in the category of women's fastpitch softball since 2002.
About USSSA:
The United States Specialty Sports Association (USSSA), headquartered in Osceola County, Florida, USSSA is the World's Largest Multi-sport Athletic Organization. Founded in 1968, USSSA has grown to over 3.7 million participants, competing in 13 nationally sanctioned sports including Baseball, Fastpitch, Slow Pitch, Karate, Basketball, Soccer and more! For more information on USSSA and to register your team visit USSSA.com. Also be sure to visit USSSAToday.com for the latest USSSA News!