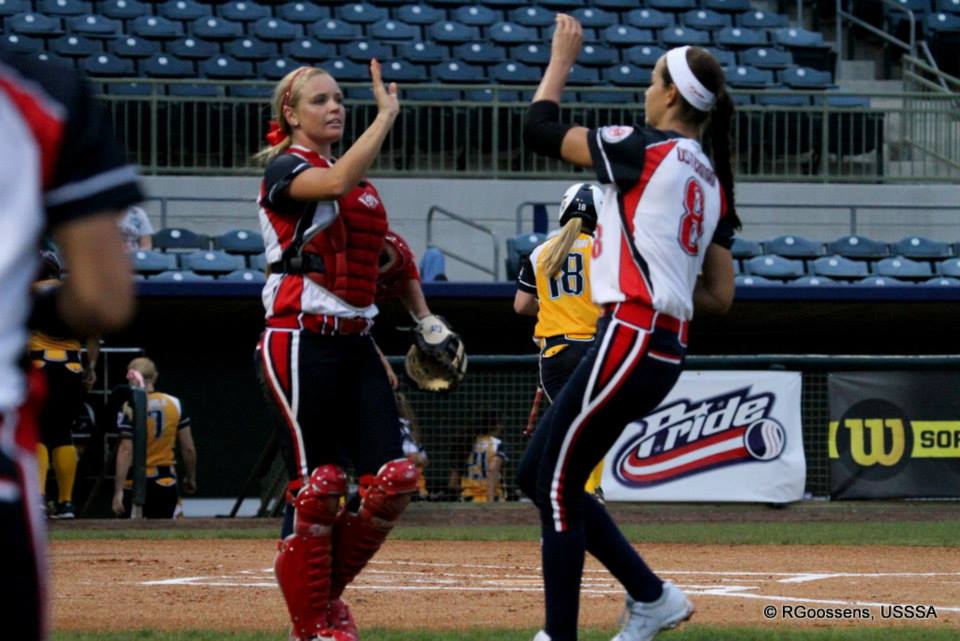 Pride: 17
Comets: 0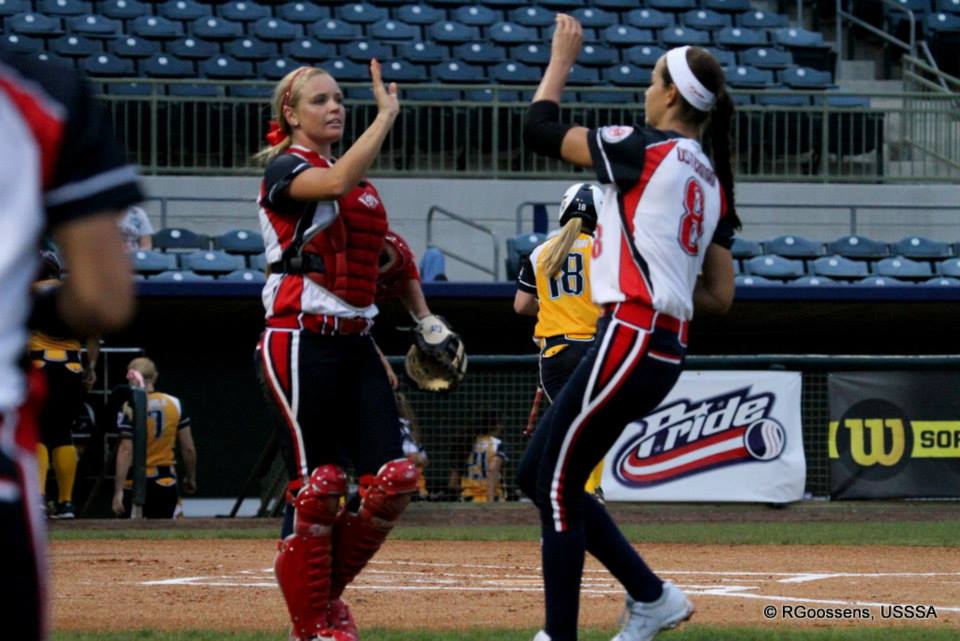 The final game of the four-game opening series against the NY/NJ Comets Tuesday night was a walk in the park for the USSSA Pride (3-1). Cat Osterman threw a no-hitter in the Pride's 17-0 dominating win, striking out 14 batters in her second complete game in as many starts in the circle.
Osterman allowed just five base runners all night, walking three Comets (Bianca Mejia in the first and sixth and Courtney Liddle in the third) and hitting two (Kelsi Weseman in the fourth and Liddle in the fifth). There was a close call in the bottom of the seventh inning when Pride third baseman Jenn Salling made a low throw to first after a hard-hit ball from Amy Hooks, but GiOnna DiSalvatore dug it out for the out. It was otherwise smooth sailing for Osterman, who will retire at the end of the season.
The Pride hitters certainly gave Osterman a lead to work with, scoring 17 runs on 13 hits, 15 of those runs coming in the first three innings alone.
Pitching was the downfall for the Comets; starter Sarah Plourde walked four batters and gave up eight runs before being replaced by Taryne Mowatt in the first. Mowatt didn't fair much better, allowing five runs and two hits before the inning was over. Angel Bunner took over in the second and finished the game, recording five strikeouts, but allowing seven hits and four runs.
Former Oklahoma Sooner Jessica Shults made her NPF debut, going 0-2 for the night.
Tuesday night's win put the Pride in a two-way tie for first place with the Chicago Bandits.
The Pride take on the Akron Racers Thursday night in Corpus Christi, Texas at 8:05 p.m. EST. Tune in to usssalive.com for live coverage.
About USSSA Florida Pride:
The USSSA Florida Pride is a professional franchise in the National Pro Fastpitch League that is owned and operated by USSSA. The amateur organization of USSSA has multi-sport coverage and encompasses teams and players from the United States and abroad.
About NPF:
National Pro Fastpitch is headquartered in Nashville, TN. The league, created to give elite female fastpitch players the opportunity to pursue a professional career in their chosen sport, has operated since 1997 under the names of Women's Pro Fastpitch (WPF) and Women's Pro Softball League (WPSL). NPF is the Official Development Partner of Major League Baseball in the category of women's fastpitch softball since 2002.
About USSSA:
The United States Specialty Sports Association (USSSA), headquartered in Osceola County, Florida, USSSA is the World's Largest Multi-sport Athletic Organization. Founded in 1968, USSSA has grown to over 3.7 million participants, competing in 13 nationally sanctioned sports including Baseball, Fastpitch, Slow Pitch, Karate, Basketball, Soccer and more! For more information on USSSA and to register your team visit USSSA.com. Also be sure to visit USSSAToday.com for the latest USSSA News!