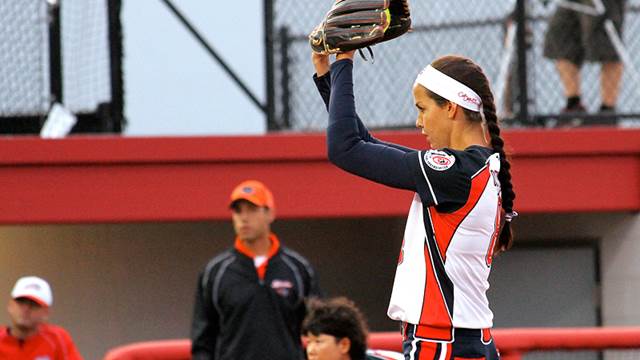 Salisbury, MD – May 30, 2014- The USSSA Pride picked up their first win of the 2014 NPF season against the Pennsylvania Rebellion at Perdue Stadium in game 1 of the 4-game series. The Rebellion got on the board first in the top of the 1st inning when two walks and a hit-by-pitch loaded the bases, BB Bates followed up by reaching 1st base on a dropped 3rd strike allowing Jenn Salling to score for Pennsylvania.
The Pride rallied back in the bottom of the 3rd to score the tying run when Andrea Duran led off  the inning with a single to right field. Madison Shipman, making her NPF debut, followed with an infield single. Caitlin Lowe loaded the bases for the Pride after being hit by pitch. The Pride finally pushed the first run across when Brigette Del Ponte grounded out to the shortstop to score Duran.
The game was tied in the bottom of the 6th inning when Kristyn Sandberg led the inning off with a line-drive double in the right-center gap, and GiOnna DiSalvatore followed that by singling and then advancing to second on a ball to shallow left field on a miscommunication between the shortstop and left fielder. The Pride pushed across the go-ahead run two batters later when NPF veteran Kelly Kretschman hit a deep sacrifice fly to left field scoring Sandberg giving the Pride a 2-1 lead.
Cat Osterman picked up her first win of the 2014 season throwing a complete game, she allowed two hits, and collected 15 strikeouts while allowing 1 unearned run. Duran led the offense for the Pride going 2 for 3 scoring a
run. Sandberg went 1-3 with a double and 1 run scored. DiSalvatore finished the game with 2 hits in her 3 at-bats.
Pride will face off against the Rebellion in game 2 tomorrow May 31st at 7:05 PM at Perdue Stadium. Tickets are available on dev.usssapride.com Bernie Guenther, Barbara Jordan, and Kristen Bedard will call the contest on ESPN3.com.
Links to ESPN 3