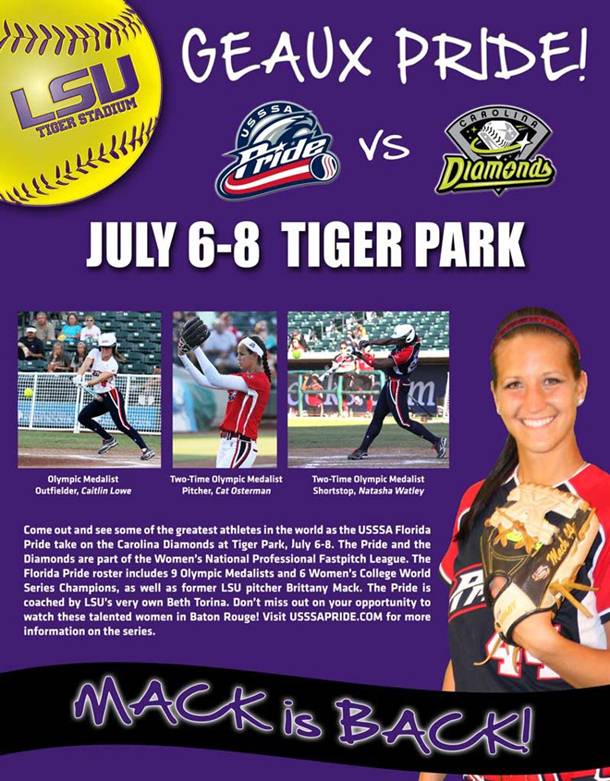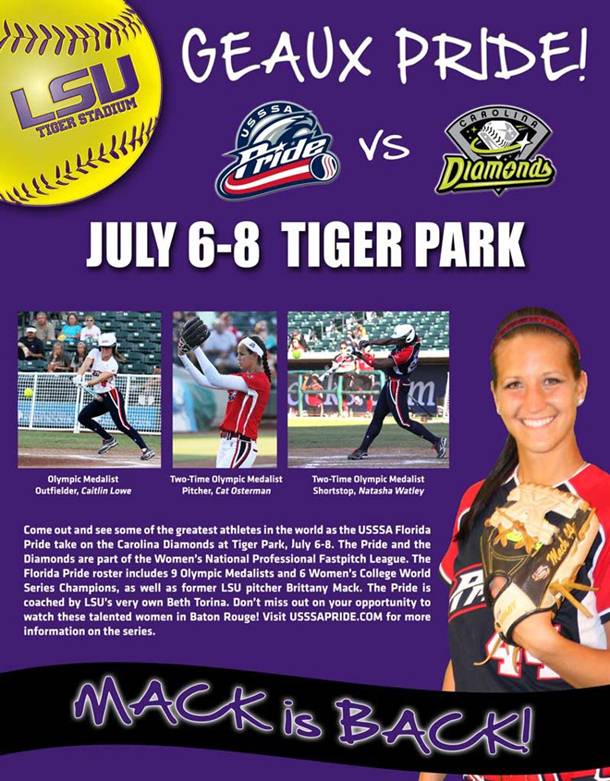 The USSSA Florida Pride travel to Louisiana State University, home of Head Coach Beth Torina and Women's College World Series star Brittany Mack to take on the Carolina Diamonds as part of the National Pro Fastpitch League
FOR IMMEDIATE RELEASE
PRLog (Press Release)
 – 
Jul 05, 2012
 –
That's right Pride fans! The USSSA Florida Pride are back on the road and are on their way to Louisiana to take on the Carolina Diamonds yet again!They are back in action starting Friday, July 6th with a game at the prestigious Tiger Park softball stadium at the beautiful Louisiana State University (LSU) campus in Baton Rouge, LA. Returning to LSU is former Tigers Softball pitcher Brittany Mack along with the current head coach, Beth Torina.
The Pride have a 4 game series with the Diamonds this weekend. The first game of the series starts tomorrow at 7:05 PM Central Time, then there will be a double header on Saturday the 7th starting at 12:05 PM (CT), and the final game of the series will take place on Sunday at 2:05 PM (CT).
So come on down to Tiger Park at LSU to see Brittany Mack play once again on home turf. Remember that USSSA Pride has some of the best softball players in the world on it's roster including numerous Olympic Gold Medalists such as famed Pitcher Cat Osterman, ESPN Color Analyst Jessica Mendoza and many more! Don't forget the Pride is also home to Danielle Lawrie, brother of MLB Toronto Blue Jays Star Brett Lawrie!
If you can't make it out to Tiger Park, you can watch the games live here at http://www.dev.usssapride.com/live as well as purchase your USSSA Pride official merchandise at http://www.usssapridestore.com
About USSSA Florida Pride:
The USSSA Florida Pride is a professional franchise in the National Pro Fastpitch League that is owned and operated by USSSA. The amateur organization of USSSA has multi-sport coverage and encompasses teams and players from the United States and abroad.
About NPF:
National Pro Fastpitch is headquartered in Nashville, TN. The league, created to give elite female fastpitch players the opportunity to pursue a professional career in their chosen sport, has operated since 1997 under the names of Women's Pro Fastpitch (WPF) and Women's Pro Softball League (WPSL). NPF is the Official Development Partner of Major League Baseball in the category of women's fastpitch softball since 2002.
About USSSA:
The United States Specialty Sports Association (USSSA), headquartered in Osceola County, Florida, USSSA is the World's Largest Multi-sport Athletic Organization. Founded in 1968, USSSA has grown to over 3.7 million participants, competing in 13 nationally sanctioned sports including Baseball, Fastpitch, Slow Pitch, Karate, Basketball, Soccer and more! For more information on USSSA and to register your team visit USSSA.com. Also be sure to visit USSSAToday.com for the latest USSSA News!