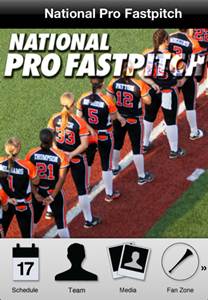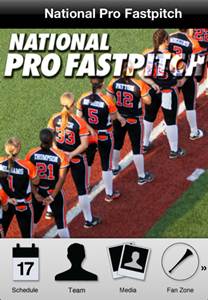 NPF App Now Available for Download
Nashville- Available now in the Apple App and Google Play stores is the National Pro Fastpitch app. Using this app, developed by Onseeker Technologies, fans can receive information on their favorite teams and players. One of the apps most interesting features is the ability to stream all of the games live.
This app will allow fans to stay alert and up to date with the latest that National Pro Fastpitch has to offer. Features available with the release of this app will include: rosters for each team, player bios, full 88 game league schedule, latest NPF news, and more. Fans can also use the app to directly connect with Fastpitch's Facebook and Twitter pages.
"The NPF app was designed with fan interaction in mind and will be a great addition to the overall experience," stated Gaye Lynn Wilson, NPF Vice President of Development, "We were looking for a way to link fans and players in a more seamless fashion and this application does exactly that."
The 2012 NPF regular season opens on Thursday June 7. The regular season consists of 88 total games. The season culminates with a Championship Series that takes place in Rosemont, IL August 23-26.
Click here to download the NPF App for the iPhone.
Click here to download the NPF App for the Android.
About USSSA Florida Pride:
The USSSA Florida Pride is a professional franchise in the National Pro Fastpitch League that is owned and operated by USSSA. The amateur organization of USSSA has multi-sport coverage and encompasses teams and players from the United States and abroad.
About NPF:
National Pro Fastpitch is headquartered in Nashville, TN. The league, created to give elite female fastpitch players the opportunity to pursue a professional career in their chosen sport, has operated since 1997 under the names of Women's Pro Fastpitch (WPF) and Women's Pro Softball League (WPSL). NPF is the Official Development Partner of Major League Baseball in the category of women's fastpitch softball since 2002.
About USSSA:
The United States Specialty Sports Association (USSSA), headquartered in Osceola County, Florida, USSSA is the World's Largest Multi-sport Athletic Organization. Founded in 1968, USSSA has grown to over 3.7 million participants, competing in 13 nationally sanctioned sports including Baseball, Fastpitch, Slow Pitch, Karate, Basketball, Soccer and more! For more information on USSSA and to register your team visit USSSA.com. Also be sure to visit USSSAToday.com for the latest USSSA News!