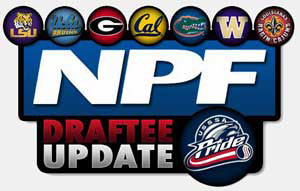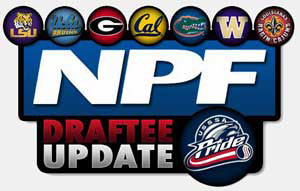 Via Calbears.com:
ASA Names Arioto, Henderson POY Finalists (5/9)
"BERKELEY – The Amateur Softball Association announced that it considers Valerie Arioto and Jolene Henderson two of the top 11 student-athletes in the country when the Golden Bear pair landed on the top-11 list of finalists for the 2012 USA Softball Collegiate Player of the Year. The award – which is considered the most prestigious honor in Division I women's collegiate softball, is designed to recognize outstanding athletic achievement by female collegiate softball players across the country – will be announced at the opening of the 2012 NCAA Women's College World Series."
To read entire article, visit Calbears.com
Vs. Arizona State University, May 10, 11, and 12
Game 1, 5/10: Cal 4, ASU 2
Game 2, 5/11: Cal 5, ASU 0
Game 3, 5/12: Cal 0, ASU 5
Batting: AB-5;R-2;H-1;RBI-2;BB-5;SO-2;PO-19;A-4;LOB-5
Pitching: W, 20-2 IP-7.0;H-6;R-0;ER-0;BB-1;SO-11;WP-0;BK-0;HBP-0;IBB-0;AB-29;BF-30;FO-4;GO-6;NP-108
Game 1:
"The No. 1 California softball team battled back from a two-run deficit to tie the game 2-2 in the bottom of the sixth against No. 2 Arizona State before senior Valerie Arioto unleashed a two-run, walk-off homer in the bottom of the seventh to defeat the Sun Devils 4-2."
Game 2:
"Senior player of the year award candidate Valerie Arioto pitched the complete-game victory, shutting out the Sun Devils as she struck out 11 of them."
About USSSA Florida Pride:
The USSSA Florida Pride is a professional franchise in the National Pro Fastpitch League that is owned and operated by USSSA. The amateur organization of USSSA has multi-sport coverage and encompasses teams and players from the United States and abroad.
About NPF:
National Pro Fastpitch is headquartered in Nashville, TN. The league, created to give elite female fastpitch players the opportunity to pursue a professional career in their chosen sport, has operated since 1997 under the names of Women's Pro Fastpitch (WPF) and Women's Pro Softball League (WPSL). NPF is the Official Development Partner of Major League Baseball in the category of women's fastpitch softball since 2002.
About USSSA:
The United States Specialty Sports Association (USSSA), headquartered in Osceola County, Florida, USSSA is the World's Largest Multi-sport Athletic Organization. Founded in 1968, USSSA has grown to over 3.7 million participants, competing in 13 nationally sanctioned sports including Baseball, Fastpitch, Slow Pitch, Karate, Basketball, Soccer and more! For more information on USSSA and to register your team visit USSSA.com. Also be sure to visit USSSAToday.com for the latest USSSA News!