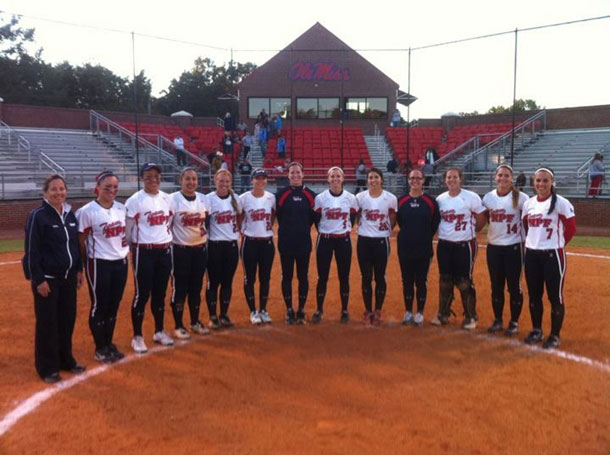 The Missouri State softball team will face its toughest test when they play the National Pro Fastpitch (NPF) All-Stars in an exhibition game tonight at Killian Softball Stadium at 7:00 p.m. as part of the 2011 NPF Back to School Tour. Admission to the game will be $5.00 and both teams will participate in a post-game autograph session.
Missouri State returns 13 letterwinners and three All-MVC selections (Caitlin Chapin, Kirstin Cutter and Natalie Rose) from the 2011 team that went 30-25, captured the school's sixth MVC Softball Championship and posted the program's first NCAA Tournament victory in 13 years in May.
A list of the NPF All-Stars that will play at Killian tonight include:
Jenn Salling (Washington)
Taryne Mowatt (Arizona)
Roya St. Clair (Michigan)
Jamee Juarez (Ohio State)
Andrea Duran (UCLA/Olympian)
Caitlin Lowe (Arizona/Olympian)
Caitlin Lever (Georgia Tech/Canadian Olympian)
Bianca Mejia (Long Island University)
Melissa Roth (Louisville)
Ashley Charters (Washington)
Jessica Bachkora (Arkansas)
Angeline Quiocho (BYU)
The team consists of two Olympic gold medal winners in Andrea Duran and Caitlin Lowe. The team also consists of four national title winners in Caitlin Lowe and Taryne Mowatt who won NCAA titles at Arizona in 2006 and 2007, and Ashley Charters and Jenn Salling at Washington in 2009.
NPF, formerly the Women's Pro Softball League, is comprised of four team with additional teams expected in 2012. NPF is intended to provide family entertainment for people of all ages and to showcase the top talent in fastpitch softball today. It is the goal of the League to entertain and provide positive role models for young people. NPF demonstrates work ethic, dedication, and love for the sport of fastpitch softball. NPF athletes exhibit this through their actions, both on-and-off the field. They are prominent people within their communities and appreciate and embrace the fans that follow their play through NPF action.
About USSSA Florida Pride:
The USSSA Florida Pride is a professional franchise in the National Pro Fastpitch League that is owned and operated by USSSA. The amateur organization of USSSA has multi-sport coverage and encompasses teams and players from the United States and abroad.
About NPF:
National Pro Fastpitch is headquartered in Nashville, TN. The league, created to give elite female fastpitch players the opportunity to pursue a professional career in their chosen sport, has operated since 1997 under the names of Women's Pro Fastpitch (WPF) and Women's Pro Softball League (WPSL). NPF is the Official Development Partner of Major League Baseball in the category of women's fastpitch softball since 2002.
About USSSA:
The United States Specialty Sports Association (USSSA), headquartered in Osceola County, Florida, USSSA is the World's Largest Multi-sport Athletic Organization. Founded in 1968, USSSA has grown to over 3.7 million participants, competing in 13 nationally sanctioned sports including Baseball, Fastpitch, Slow Pitch, Karate, Basketball, Soccer and more! For more information on USSSA and to register your team visit USSSA.com. Also be sure to visit USSSAToday.com for the latest USSSA News!