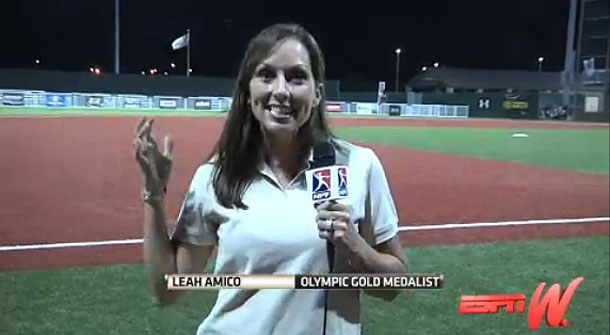 SULPHUR, La. — You could write a book about the sum total of big plays, strange turns and general oddities that occurred on a steamy Saturday night in Sulphur, but with just more than 15 hours separating Monica Abbott's pitch that Charlotte Morgan swung on and missed to the first pitch of the next game Sunday, there wouldn't be enough time to read it.
That's the thing about the postseason. There isn't much time to dwell until there's all the time in the world.
In a game in which momentum swung back and forth like the pendulum of a grandfather clock in a gale, the Chicago Bandits beat the USSSA Pride 4-3 in eight innings to take the lead in the best-of-three National Pro Fastpitch championship series.
Underdogs after finishing the regular season with a .500 record and entering the playoffs as the third of four seeds, the Bandits are a game away from their second title in franchise history because surprising sources young and old rose to the occasion, including veteran reserve Vicky Galindo punctuating her first extended appearance of the postseason with three hits, rookie Megan Wiggins hitting cleanup for the first time in weeks and slapper Amber Patton delivering the game-winning RBI rather than setting the table for a slugger behind her in the order.
They also won because of a pitcher whose claim to greatness is being at her best when the situation seems to have turned for the worst. Others rise to the occasion. Abbott apparently resides there.
Abbott surely didn't want to end up with the spotlight to herself in a highly-anticipated pitching duel against Cat Osterman in quite this manner, seeing her counterpart sink to her knees in obvious pain after throwing a pitch in the fifth inning and exit the game with an injury of unknown severity. But the show must go on, understudies or not.
And so the pitcher once traded away by the Pride offered yet another soliloquy on perseverance.
After the Pride loaded the bases with one out in the bottom of the second on an infield single, sacrifice bunt and back-to-back walks, Abbott managed to coax an easy comebacker out of Natasha Watley. Only instead of getting the force at the plate, she sailed the ball over catcher Shannon Doepking's head from point-blank range and could only watch as two runs raced home, a potentially insurmountable deficit against Osterman.
With runners now on second and third, still just one out and every opportunity for implosion, Abbott retired Caitlin Lowe and Jessica Mendoza on nine pitches to end the inning. Then she retired the side in order in the third. And the fourth. And after Wiggins laced a three-run double to put the Bandits in front in the top of the fifth, Abbott retired Watley, Lowe and Mendoza in order in the bottom of the fifth. She retired the next 16 batters she faced after the error and did so against a lineup that included six former Olympians and the past two SEC players of the year.
USSSA Pride coach Tim Walton has faced Abbott for years, dating back to the start of his tenure as coach at the University of Florida in 2006. There aren't too many people in the world who know the secrets of slugging better than Walton, but he remains as unconvinced now as ever of the existence of a magic bullet for the tall lefty.
"She's about the exact same, to be honest with you," Walton said of Abbott's makeup. "She's tough, she feeds off her stuff. She'll potentially make one mistake a game, and you've got to get her, otherwise she's going to throw you down and beat you up as the game goes on. She's got great pitches, and now she's added the off-speed pitch, which is something she hasn't had over the last couple of years, so I think she's locating her pitches better."
Others contend that as good as Abbott was while rewriting record books in college, she's even better now because of a mental focus taken to new heights. Doepking has been around Abbott as long as just about anyone, catching for her during three seasons in college and the past three seasons in various locales around NPF.
"She's very different," Doepking said. "It's crazy going through the years of how long I've been with her and seeing her grow as she has as a pitcher. She's always been good, but the way she throws now compared to college is completely different — with the exact same pitches. A lot of it is she's learned the game so well. She can throw the exact same pitch in five different locations, so I think her mental side has changed, where she is the most mentally tough person I've ever met. She is the most humble person, she is the most hard-working person."
To sum it up in a way sure to make grammarians wince, she's always been impossible to hit. It's just she's more impossible now.
Credit some of the latter development to the changeup Walton mentioned, a devastating option for a pitcher who throws as hard as Abbott. Several times Saturday it earned her big outs.
"The changeup is a pitch that I feel like I've always had, but because I've been so overpowering in the college game and been able to throw hard, it was never really used consistently," Abbott said. "I always had it, and it would be good in practice and everything, but when I would throw it in college, once every blue moon, I'd throw it like 63 miles per hour. So I finally have found something that works really well. I think the biggest part for me is just selling it and making it look just as aggressive as any hard pitch I throw."
Of course, no pitch is perfect. Doepking called for it again with two outs in the bottom of the seventh and two strikes on Pride third baseman Andrea Duran. But Duran, who once nearly single-handedly eliminated Alabama and Texas on the same day in the Women's College World Series with clutch home runs, was sitting on the change and drove it over the left-field fence.
There would be no 17th batter in a row retired. There would be extra innings.
Wouldn't you know it, after Galindo's single, Caitlin Lever's sacrifice bunt, an illegal pitch on an intentional walk and Patton's single put the Bandits back on top in the top of the eighth, Abbott retired the side in order in the eighth, striking out Mendoza and Morgan for the final two outs.
"It's the way she responds," Doepking said. "She doesn't get down. You don't see three more hits after [a bad play]. You see another strikeout. You don't see another bad throw; you see another good throw. That just shows what kind of mental grind she has with every single pitch. She'll make a mistake and it doesn't faze her. Nothing fazes her."
A championship celebration might.
About USSSA Florida Pride:
The USSSA Florida Pride is a professional franchise in the National Pro Fastpitch League that is owned and operated by USSSA. The amateur organization of USSSA has multi-sport coverage and encompasses teams and players from the United States and abroad.
About NPF:
National Pro Fastpitch is headquartered in Nashville, TN. The league, created to give elite female fastpitch players the opportunity to pursue a professional career in their chosen sport, has operated since 1997 under the names of Women's Pro Fastpitch (WPF) and Women's Pro Softball League (WPSL). NPF is the Official Development Partner of Major League Baseball in the category of women's fastpitch softball since 2002.
About USSSA:
The United States Specialty Sports Association (USSSA), headquartered in Osceola County, Florida, USSSA is the World's Largest Multi-sport Athletic Organization. Founded in 1968, USSSA has grown to over 3.7 million participants, competing in 13 nationally sanctioned sports including Baseball, Fastpitch, Slow Pitch, Karate, Basketball, Soccer and more! For more information on USSSA and to register your team visit USSSA.com. Also be sure to visit USSSAToday.com for the latest USSSA News!