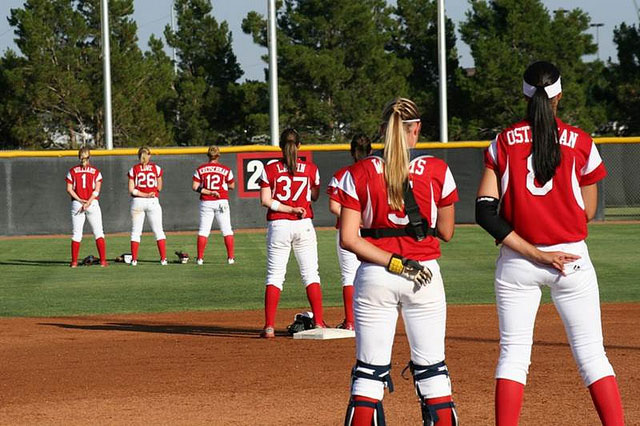 It's an exciting time for the USSSA Florida Pride! As the 2011 season continues the Pride hits the road and goes international! The team travels to Calgary, Canada for a three day series August 2-4 and finishes up the week at QuikTrip Park in Grand Prairie, TX August 5-6. The team is excited to cross the border to share their talents with our neighbors to the north. Two players native to Canada, Danielle Lawrie and Jenn Salling, are especially excited to show off their professional talents to the locals. "It is important to spread the word of fastpitch softball where ever we are welcome" says Lawrie. "The whole purpose of playing for the NPF and the Pride is to get girls excited about the sport that we love to play and give them opportunity to play professionally someday" Salling adds.
Along with the Canadians going back to their roots, a few Texans will be returning to their old stomping grounds. Big names like Cat Osterman, Megan Willis, and Sarah Pauly all began their journey to professional softball with their college careers in Texas. For Cat Osterman, Texas is part of her career as she was a part of Longhorn softball. Fast forward a few years and she is playing for the National Team and professionally  for the USSSA Pride.
We invite everyone to come out to watch truly the best women athletes in the world compete and spread the word about the NPF. If you can't make it out, don't worry! You can catch all of the action with our FREE LIVE coverage of the games at dev.usssapride.com/live 
Remember…Dream NPF, Play USSSA.
About USSSA Florida Pride:
The USSSA Florida Pride is a professional franchise in the National Pro Fastpitch League that is owned and operated by USSSA. The amateur organization of USSSA has multi-sport coverage and encompasses teams and players from the United States and abroad.
About NPF:
National Pro Fastpitch is headquartered in Nashville, TN. The league, created to give elite female fastpitch players the opportunity to pursue a professional career in their chosen sport, has operated since 1997 under the names of Women's Pro Fastpitch (WPF) and Women's Pro Softball League (WPSL). NPF is the Official Development Partner of Major League Baseball in the category of women's fastpitch softball since 2002.
About USSSA:
The United States Specialty Sports Association (USSSA), headquartered in Osceola County, Florida, USSSA is the World's Largest Multi-sport Athletic Organization. Founded in 1968, USSSA has grown to over 3.7 million participants, competing in 13 nationally sanctioned sports including Baseball, Fastpitch, Slow Pitch, Karate, Basketball, Soccer and more! For more information on USSSA and to register your team visit USSSA.com. Also be sure to visit USSSAToday.com for the latest USSSA News!