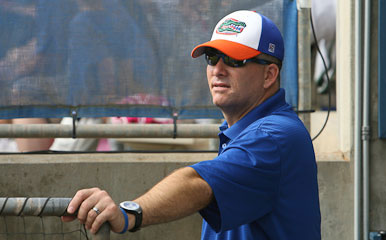 NFCA Tabs Florida Softball Coaching Staff Southeast Region Staff of the Year
STARKVILLE, Miss. – Led by co-Southeastern Conference Coach of the Year, Tim Walton, the Gator softball coaching staff was tabbed the Southeast Region Coaching Staff of the Year by the National Fastpitch Coaches Association (NFCA) Wednesday, Florida's fourth annual honor in six years with Walton at the helm of the program. Walton, assistant coaches Jennifer Rocha, Jenny Gladding and volunteer assistant Coy Adkins led the Gators to a record-breaking 2011 season as the squad became the first SEC institution to reach the Women's College World Series four consecutive years.
For the second time in the past three years, Florida competed for the national title, finishing as the national runner-up at the 2011 WCWS, turning in a record of 56-13 overall, while compiling a 21-7 SEC slate en route to the SEC Eastern Division title, UF's fourth straight and fifth overall. The Gators finished the season at No. 2 in both national polls, while 2011 SEC Player of the Year, senior Kelsey Bruder (Corona, Calif.), picked up the Honda Sports Award for softball, designating her as the top collegiate athlete in the sport in 2011.
UF paced the nation in Academic All-Americans, with four, and boasted a nation-leading six All-Americans, the most possible for a single institution, to accompany seven All-SEC honorees. Junior Michelle Moultrie (Jacksonville, Fla.) picked up WCWS co-Most Outstanding Player, highlighting the four Gators named to the WCWS All-Tournament team, including Bruder, freshman Cheyenne Coyle (West Hills, Calif.) and sophomore Brittany Schutte (Fountain Valley, Calif.).
Florida's 2011 coaching staff tutored the most successful class in UF history as five seniors, Bruder, pitcher Stephanie Brombacher (Pembroke Pines, Fla.), first baseman Megan Bush (Anaheim Hills, Calif.), catcher Tiffany DeFelice (Coral Springs, Fla.) and second baseman Aja Paculba (Wildomar, Calif.), put on a dominating four-year performance and concluded their careers boasting a 238-33 (.878) overall record and a 94-13 (.878) record in SEC play as UF tallied its fourth 50-win season in school history.
The Gators downed over 40 University of Florida and SEC single-season, game and career records this season, kicking off the campaign with a school-record 24-0 start. Statistically, Florida turned in a nation-leading performance in 2011, checking in at first in the country in home runs per game (1.8) and second in slugging percentage (.588). The Gators' 124 homers ranks fourth all-time in NCAA history and their 508 runs check in at sixth in the NCAA record books. UF paced the SEC in wins (56), slugging percentage (.588), runs (508), hits (573), RBI (479), home runs (124) and walks (322). Freshman hurler Hannah Rogers (Lake Wales, Fla.) ranked third in the NCAA in wins (36), second among freshmen, while Schutte turned in 22 homers to rank third in the NCAA. Bush, the UF and SEC career home runs leader, ranked fifth in the country with her 21 bombs in 2011, while ranking first with nine sacrifice flies.
Walton celebrated his 400th career victory on 2011 opening day and shortly thereafter eclipsed the 300-win mark as the Gator head coach. Walton is 331-80 (.804) at UF and boasts a 454-144 (. 759) career record as a head coach. He is 36-17 (.679) in the NCAA Tournament as a head coach, while the Florida program concluded the 2011 season 21-16 (.567) in NCAA Regional play, 9-2 (.818) in NCAA Super Regional play and 11-9 (.550) in the WCWS for a NCAA Tournament record of 41-27 (.602).
Not only is the impact of UF's coaching staff reflected on the collegiate softball field, but Walton, Rocha, Gladding and Adkins' success as a coaching staff has trickled to the national level as a school-record four Gators accepted invitations to participate in USA Softball's 2011 Women's National Team Selection Camp, including Bush, Coyle, Moultrie and Schutte, two of which were named to the Women's National Team – Moultrie and Schutte – and are set to represent not only the Orange and Blue, but also the Red, White and Blue through 2011.
Under Walton, Florida was also tabbed the NFCA Southeast Region Coaching Staff of the Year in 2007, 2008 and 2009.
About USSSA Florida Pride:
The USSSA Florida Pride is a professional franchise in the National Pro Fastpitch League that is owned and operated by USSSA. The amateur organization of USSSA has multi-sport coverage and encompasses teams and players from the United States and abroad.
About NPF:
National Pro Fastpitch is headquartered in Nashville, TN. The league, created to give elite female fastpitch players the opportunity to pursue a professional career in their chosen sport, has operated since 1997 under the names of Women's Pro Fastpitch (WPF) and Women's Pro Softball League (WPSL). NPF is the Official Development Partner of Major League Baseball in the category of women's fastpitch softball since 2002.
About USSSA:
The United States Specialty Sports Association (USSSA), headquartered in Osceola County, Florida, USSSA is the World's Largest Multi-sport Athletic Organization. Founded in 1968, USSSA has grown to over 3.7 million participants, competing in 13 nationally sanctioned sports including Baseball, Fastpitch, Slow Pitch, Karate, Basketball, Soccer and more! For more information on USSSA and to register your team visit USSSA.com. Also be sure to visit USSSAToday.com for the latest USSSA News!