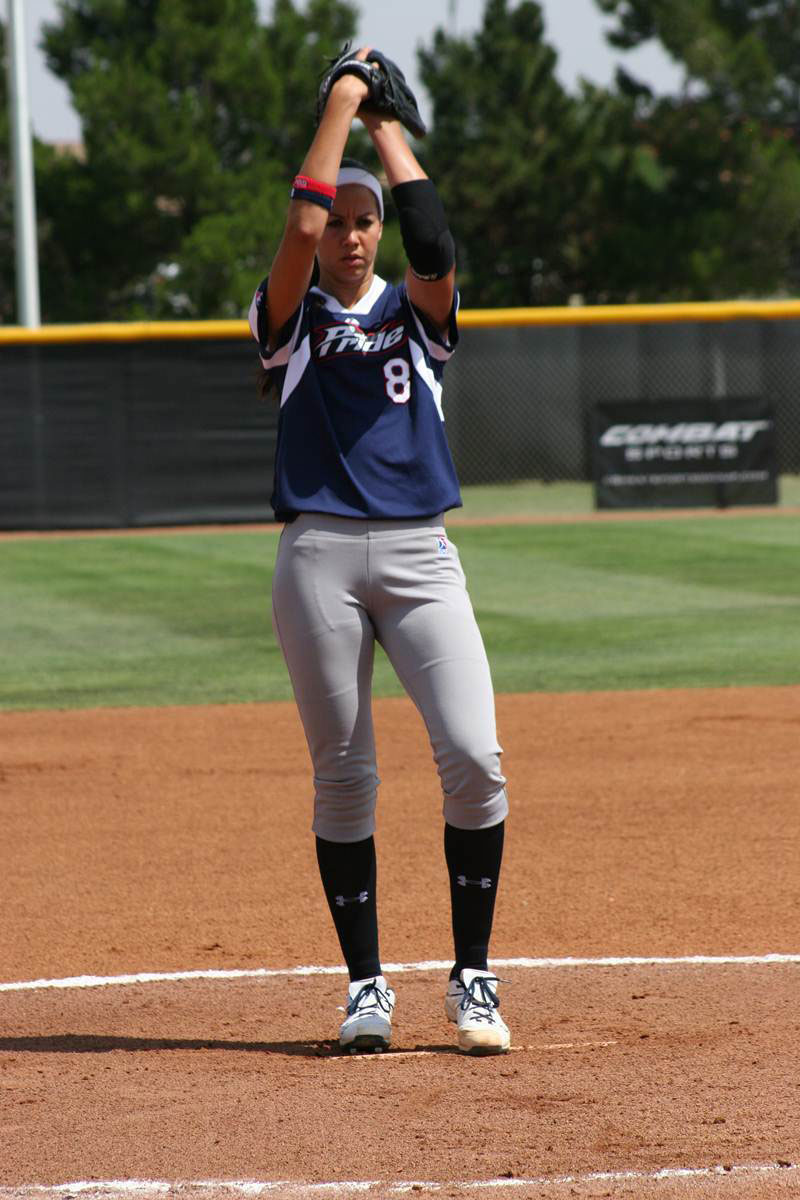 The National Pro Fastpitch (NPF) Championship Series hosted in Sulphur, La. began tonight with Game 1 between the No. 2 USSSA Florida Pride (1-0) and No. 3 Akron Racers (0-1). Despite a first inning 1-0 lead, the Racers failed to hold on losing Game 1 3-2.
The Racers had 2010 NPF Pitcher of the Year, Lisa Norris (0-1), in the pitcher's circle tonight. Norris pitched a complete game, allowing three runs on four hits in a losing effort. The Pride mixed things up in the pitcher's circle, starting the game with Danielle Lawrie (1-0) recording the win, with help in relief from Sarah Pauly, and Cat Osterman (SV 1) who came in to record the three-out save.
The Racers saw early success with their bats with Jamie Juarez hitting in Lisa Modglin to take an early 1-0 lead in the first inning. Taking the slim lead into the bottom of the third, with runners on the corners Florida's Jessica Mendoza hit an opposite field three-run homerun to put the Pride up 3-1 after three innings of play.
On the Mendoza bomb, Akron's Crystl Bustos gave it her all trying to track down the ball and rob Mendoza of the 3 RBI homerun, but barrelled through the outfield fence. Despite a leadoff homerun in the top of the fourth from Akron's Courtney Bures to bring the Pride's lead to only one, the Pride were able to hold on for the Game 1 win, behind outstanding pitching from Sarah Pauly and Cat Osterman.
The Pride look to sweep the three-game series and move onto the Championship round Friday afternoon against the Akron Racers.
About USSSA Florida Pride:
The USSSA Florida Pride is a professional franchise in the National Pro Fastpitch League that is owned and operated by USSSA. The amateur organization of USSSA has multi-sport coverage and encompasses teams and players from the United States and abroad.
About NPF:
National Pro Fastpitch is headquartered in Nashville, TN. The league, created to give elite female fastpitch players the opportunity to pursue a professional career in their chosen sport, has operated since 1997 under the names of Women's Pro Fastpitch (WPF) and Women's Pro Softball League (WPSL). NPF is the Official Development Partner of Major League Baseball in the category of women's fastpitch softball since 2002.
About USSSA:
The United States Specialty Sports Association (USSSA), headquartered in Osceola County, Florida, USSSA is the World's Largest Multi-sport Athletic Organization. Founded in 1968, USSSA has grown to over 3.7 million participants, competing in 13 nationally sanctioned sports including Baseball, Fastpitch, Slow Pitch, Karate, Basketball, Soccer and more! For more information on USSSA and to register your team visit USSSA.com. Also be sure to visit USSSAToday.com for the latest USSSA News!