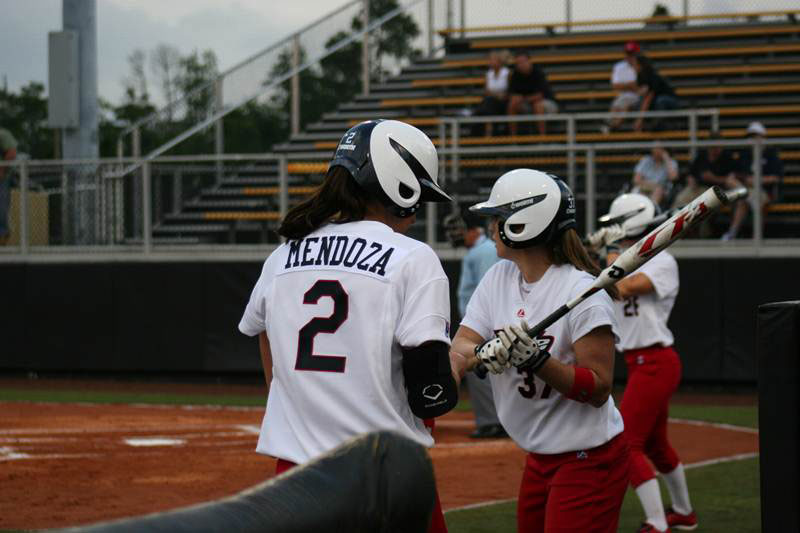 NASHVILLE, Tenn. (July 9, 2010)–A two-run, two-out home run by Chelsie Mesa lifted the Tennessee Diamonds to a 3-2 win over the USSSA Pride.
"It's a long season and we will see several people go on streaks," Diamonds coach Ernie Reynolds said. "We have been really happy in the last several games with the way Chelsie has been swinging the bat.
"She knows what it takes to win and how to step up in critical situations and make big plays. She needed some repetitions. She needed some swings and to get into a groove. She looks very comfortable right now. She is seeing the ball well right now evidently. She has a beautiful swing."
The Diamonds took a 2-1 lead in the series with the win Friday night at Draper Diamond on the campus of Lipscomb University. There were 426 fans in attendance despite the threat of rain at game time.
"I thought the team would come out and play hard," Reynolds said. "They are hard-working, blue-collar, gutsy team that will fight on every pitch. I'm so happy they got rewarded for their efforts."
Both teams were scoreless through the first three innings.
The Pride scored first with a run in the top of the fourth. Caitlin Lowe reached base on an error by the Diamonds first baseman. She advanced to second on an illegal pitch. Jessica Mendoza hit a ground ball single through the right side to score Mendoza.
The Diamonds tied the game in the fourth. Megan Gibson walked. Aubree Brattin replaced Gibson as a pinch-runner. Brattin scored when Shannon Doepking slammed a ground ball single up the middle.
In the sixth the Pride scored one run. Kelly Kretschman singled through the right side to move Andrea Duran to third base. Duran, who also reached base on a single, scored when Kretschman stole second base and Shannon Doepking's throw was short.
Gibson connected for a single over the head of the Pride's centerfielder to start the sixth inning setting the stage of Mesa's home run.
Diamonds right-hander Monica Abbott, 4-2, gave up five hits and struck out 11 batters in seven innings. She walked one hitter.
"Monica was throwing against such a top lineup from one through nine with the Pride," Reynolds said. "They are going to get their hits. She had critical strikeouts in situations where we could afford to flex at all with runners on second and third. When she struck out the side in the fifth inning with a runner on third that was classic Monica Abbott."
Desiree Serrano, also a right-hander, threw a complete game for the Pride. She allowed six hits, struck out six and walked four.
The series continues Saturday night at 7. As part of a doubleheader the Diamonds will play the Venezuelan National Team in an exhibition game at 4.
About USSSA Florida Pride:
The USSSA Florida Pride is a professional franchise in the National Pro Fastpitch League that is owned and operated by USSSA. The amateur organization of USSSA has multi-sport coverage and encompasses teams and players from the United States and abroad.
About NPF:
National Pro Fastpitch is headquartered in Nashville, TN. The league, created to give elite female fastpitch players the opportunity to pursue a professional career in their chosen sport, has operated since 1997 under the names of Women's Pro Fastpitch (WPF) and Women's Pro Softball League (WPSL). NPF is the Official Development Partner of Major League Baseball in the category of women's fastpitch softball since 2002.
About USSSA:
The United States Specialty Sports Association (USSSA), headquartered in Osceola County, Florida, USSSA is the World's Largest Multi-sport Athletic Organization. Founded in 1968, USSSA has grown to over 3.7 million participants, competing in 13 nationally sanctioned sports including Baseball, Fastpitch, Slow Pitch, Karate, Basketball, Soccer and more! For more information on USSSA and to register your team visit USSSA.com. Also be sure to visit USSSAToday.com for the latest USSSA News!