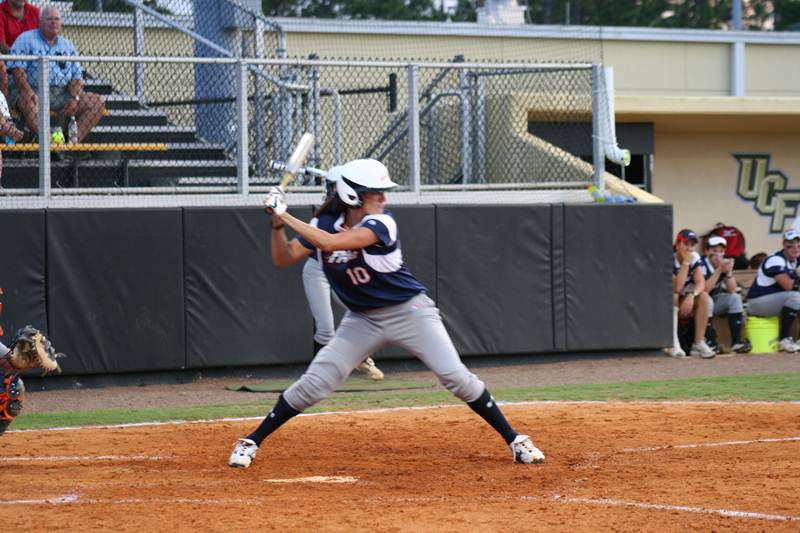 AKRON, Ohio (July 2, 2010) – The Akron Racers bats came alive in game two as the home club pounded out 13 hits at Firestone Stadium to rout the USSSA Pride, 9-1 this evening.
Akron (10-4) won its third straight to claim sole possession of first place in the NPF standings while dropping the Pride (9-5) into second. Starter Jamee Juarez (3-3) commanded all day, going the distance, limiting the visitors to just one run on four hits while fanning six batters to earn the win. Desiree Serrano (2-2) gave up nine runs-all earned on 11 hits to take the loss in four innings pitched.
Samantha Ricketts continued her offensive onslaught with a 2-for-4 performance with three RBI. Jackie Pasquerella was 2-for-3 with her second double on the season and two runs batted in. Clare Burnum contributed to the Racers' line with her first home run of the season – a two run shot to left-center.
Akron took advantage of a bases loaded situation in the bottom of the first when Juarez helped her own cause on a sac-fly RBI to plate Lisa Modglin, who singled earlier in the stanza, giving the Racers the 1-0 early lead.
The quick start continued in the second when Montalvo led off the inning with a single then, after a sac-bunt by Mackenzie Vandergeest, scored on a double by Pasquerella to put Akron in front 2-0.
The Racers broke the game open in the bottom of the third as they scored four runs on as many hits. Crystl Bustos was awarded first base after an illegal pitch by Serrano on a 3-1 count before Juarez singled to put runners at first and second. Ricketts brought them both home on a two-RBI double to left-center. Akron extended its lead to 6-0 when Kelly Montalvo doubled home Ricketts, then later scored on Pasquerella's single to center.
The Racers, with two outs, tacked on three more runs in the fourth. Ricketts tallied a RBI single to plate Bustos, who reached on a fielders choice before advancing to second on her first stolen base of the season. Burnum then delivered the Racers' final blow of the game with her first home run of the season, a two-run blast to left-center, giving the Racers a 9-0 lead.
The Pride broke up Juarez's shut-out atop the seventh inning when Melissa Roth notched a bases-loaded RBI single to score Jessica Williams. Juarez worked out the jam, getting a 4-3 doubleplay to end the contest.
Akron looks to win its third straight against the Pride tomorrow at 7:05 p.m. EST. To follow the series from home, you can catch the action live on MLB.com or stream live stats via www.pointstreak.com.
About USSSA Florida Pride:
The USSSA Florida Pride is a professional franchise in the National Pro Fastpitch League that is owned and operated by USSSA. The amateur organization of USSSA has multi-sport coverage and encompasses teams and players from the United States and abroad.
About NPF:
National Pro Fastpitch is headquartered in Nashville, TN. The league, created to give elite female fastpitch players the opportunity to pursue a professional career in their chosen sport, has operated since 1997 under the names of Women's Pro Fastpitch (WPF) and Women's Pro Softball League (WPSL). NPF is the Official Development Partner of Major League Baseball in the category of women's fastpitch softball since 2002.
About USSSA:
The United States Specialty Sports Association (USSSA), headquartered in Osceola County, Florida, USSSA is the World's Largest Multi-sport Athletic Organization. Founded in 1968, USSSA has grown to over 3.7 million participants, competing in 13 nationally sanctioned sports including Baseball, Fastpitch, Slow Pitch, Karate, Basketball, Soccer and more! For more information on USSSA and to register your team visit USSSA.com. Also be sure to visit USSSAToday.com for the latest USSSA News!