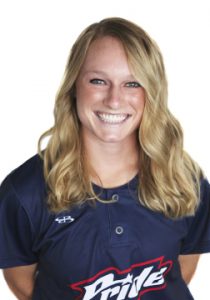 Position

Catcher

B/T

L/L

Ht

5'4"

Current Team

USSSA Pride
PROFESSIONAL: 
Sydney enters her second season with the USSSA Pride. Broderick was acquired prior to the 2017 season as a free agent. Made her professional debut on June 12, 2017.
2017 Season: Finished her rookie season hitting .200 with 3 runs, 4 hits, 1 double and 1 RBI in just 20 at-bats.
COLLEGE: 
Senior Season (2017): Earned All-ACC First Team and Second Team All-Region honors. Finished hitting .345 with 34 runs scored, 58 hits, 13 doubles, 5 home runs, 36 RBI and an OBP percentage of .446.Junior Season at FSU (2016): Named to the 2016 ACC All-Tournament Team during an impressive first season as a Seminole. Finished the season with a .343 batting average (59-for-172) with 10 doubles, 4 home runs, 47 RBI and 35 runs scored. Sophomore Season at BYU (2015): All-WCC First Team. Earned NFCA All-Pacific Region Third Team. Named College Sports Madness All-WCC First Team. Hit .358 for third on the team with seven home runs and team highs in doubles, triples and runs batted in. Freshman Season at BYU (2014): All-WCC First Team, Co-WCC Freshman of the Year and College Sports Madness WCC Field Player of the Year and Freshman of the Year. Top 10 in the WCC in every offensive category including.
ACCOLADES:
2017 All-ACC First Team
2017 Second Team All-Region
2016 ACC All-Tournament Team
2015 All-WCC First Team
2015 NFCA All-Pacific RegionThird Team
2014 All-WCC First Team
2014 WCC Co-Freshman of the Year
2014 NFCA All-Pacific Region Third Team
PERSONAL: 
Born Sydney Broderick on December 5, 1994 to Phil and Joni Broderick in Ashburn, Virginia. Has two sisters and one brother.
Batting
| Season | Team | AB | R | H | RBI | 2B | 3B | HR | SB | BB | SO | LOB | G | AVG |
| --- | --- | --- | --- | --- | --- | --- | --- | --- | --- | --- | --- | --- | --- | --- |
| Total | - | | | | | | | | | | | | | 0 |
Pitching
| Season | Team | IP | H | R | ER | BB | SO | HR | G | AVG |
| --- | --- | --- | --- | --- | --- | --- | --- | --- | --- | --- |
| Total | - | | | | | | | | | 0 |