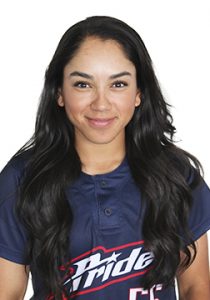 Position

OF

B/T

L/R

Ht

5'2"

Current Team

USSSA Pride
PROFESSIONAL: 
Mandie enters her second season with the USSSA Pride. Perez was picked 4th in the fourth round (19th overall) in the 2017 NPF College Draft out of Arizona by the USSSA Pride.
2017 Season: In just 19 at-bats Mandie totaled 8 runs, 3 hits, 1 double, 2 RBI with a .158 AVG to finish her rookie season.
COLLEGE:
Senior Season (2017): Named a Pac-12 All-Conference First Team selection. Finished hitting .387 in 191 at-bats with 66 runs scored, 74 hits, 10 doubles, 6 home runs, 43 RBI and an OBP percentage of .491. Junior Season (2016): First-team all-Pac-12 performer and second-team NFCA all-west region. Had 11 doubles, 11 home runs and 12 stolen bases and she hit .338 while slugging a career-high .581 and getting on base at a .416 clip. Sophomore Season (2015):  Named all-Pac-12 honorable mention. Second on the team with 13 doubles.  Got on base at a .451 clip, third best on the team. Hit .345 in 110 at-bats while hitting four home runs and driving in 21 runs. Redshirt Sophomore Season (2014): Redshirted the season while recovering from a torn ACL. Freshman Season (2013): An all-Pac-12 honorable mention selectee. Named Pac-12 all-freshman. Led all freshman with a .292 average. Hit five homers and drove in 27 runs on the season, both fifth on the squad.
ACCOLADES:
2017 All-Pac-12 First Team
2016 All-Pac-12 First Team
2016 NFCA All-West Region Second Team
2015 All-Pac-12 Honorable Mention
2013 All-Pac-12 Honorable Mention
2013 Pac-12 All-Freshman
PERSONAL: 
Born Amanda Jessie Perez on June 7, 1994 to Michael and Lucee Perez. Her father Michael was a wrestler at Penn State and a member of the Olympic and National Teams. Has one brother Brody Kai. Majored in social and behavioral science with an emphasis on health and medicine to pursue a career in nursing.
Batting
| Season | Team | AB | R | H | RBI | 2B | 3B | HR | SB | BB | SO | LOB | G | AVG |
| --- | --- | --- | --- | --- | --- | --- | --- | --- | --- | --- | --- | --- | --- | --- |
| Total | - | | | | | | | | | | | | | 0 |
Pitching
| Season | Team | IP | H | R | ER | BB | SO | HR | G | AVG |
| --- | --- | --- | --- | --- | --- | --- | --- | --- | --- | --- |
| Total | - | | | | | | | | | 0 |