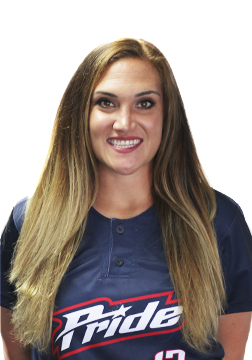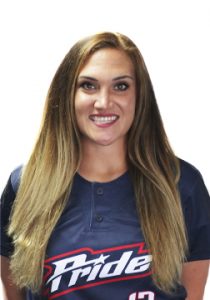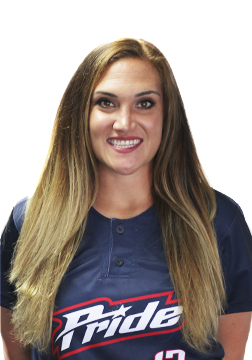 Position

Pitcher

B/T

R/R

Ht

6'1

Current Team

USSSA Pride
PROFESSIONAL: Taylor enters her 7th season in the NPF. Three times named to the All-NPF Team as a pitcher (2015-2017). Taylor was drafted to the USSSA Pride with the 3rd pick in the 3rd round of the 2011 NPF College Draft. Taylor has a career record of 17 wins and 9 losses with 40 saves. Taylor totals 265 career strikeouts over 199.6 innings pitched with a 1.68 ERA.
NPF ACCOLADES:
3x All-NPF Team Selection
2x Cowles Cup Champion (2013 & 2014)
2017 All-NPF Team P
2016 All-NPF Team P
2015 All-NPF Team P
2014 Cowles Cup Champion
2013 Cowles Cup Champion
2017 Season: Finished her 6th season leading the NPF in ERA (.98). In 21.1 innings pitched, Jordan finished with  an overall record of 2 wins, 2 losses and 12 saves. She struck out 31 batters and kept her opponents to 5 runs scored and 16 hits while only giving up one home run all season. Jordan secured a spot on the 2017 All-NPF team (P) for the third consecutive season.
2016 Season: For the second year in a row Jordan lead the league in saves (10) and earned a spot on the 2016 All-NPF pitching staff. In 40 innings pitched, Taylor kept her ERA to a league best average of .70 and led the Pride pitching staff once again in three major defensive categories: ERA (.70), Opposing Batting (.90) and saves (10). In 24 appearances, Jordan finished 22 games with 23 games in relief and struck out 54 batters.
2015 Season: Jordan Taylor took the role of closer for the 2015 season and was named to the 2015 All-NPF team for the first time in her career. With 11 saves, Jordan lead the NPF with her clutch performance that put her way past any other pitcher in the league. In 27 innings pitched Taylor kept her ERA to a league best of .51, only behind Monica Abbot. She led the Pride pitching staff in 3 major defensive categories: ERA (.51), Opposing Batting (.143) and saves (11). With no starts this season, Jordan finished 20 games with 21 games in relief and finished the regular season with 38 strikeouts. 
2014 Season: At the end of her third season, Taylor posted a 3-4 record, totaled 43 strikeouts in 36 innings pitched and 3 saves. She also lowered her ERA to 1.72.
2013 Season: After sitting out the 2012 season, Taylor rejoined the Pride pitching staff and posted a 4-1 record.  The right hander appeared in 13 games while keeping an ERA of 2.10.  In 46.2 innings she struck out 57 batters.
2011 Season: Played in her 1st season in the NPF and with the Pride. Had a 3.57 ERA, Had 3 wins and 1 loss, Pitched for 25.2 innings, Pitched for 30 strikeouts.
NATIONAL TEAM EXPERIENCE: Joined the USA National Team (2011), World Cup Champion (2011 & 2012), ISF World Championships Silver Medalist, Won a Gold medal at the Canada Cup (2011), Won a Silver medal at the Canada Cup (2012).
COLLEGE: 3-time USA Softball Collegiate Player of the Year Finalist, 3-time All-Big 10 First-Team, 2010 Big 10 Pitcher of the Year, 3-time NFCA All-American, 4-time NFCA First-Team Great Lakes All-Region. Set records in wins, shutouts, strikeouts, saves and no hitters for Michigan.
PERSONAL: Born October 24, 1988 to John and Marjorie Taylor. Has one younger brother, Hayden, and one dog, Pudge the puggle. Graduated from the University of Michigan with a degree in Literature, Science and the Arts. Graduated from Valencia High School in 2007, Honor Roll student, 3-time Scholar-Athlete (2004, '05, '07), 2-time Valencia High School Female Athlete of the Year (2006, '07). Played for the So Cal Choppers (2007). Captured the Champions Cup and claimed third place at the 2007 ASA 18U Gold Nationals. Also competed with the Gordon's Panthers and Davis Batbusters.
Batting
| Season | Team | AB | R | H | RBI | 2B | 3B | HR | SB | BB | SO | LOB | G | AVG |
| --- | --- | --- | --- | --- | --- | --- | --- | --- | --- | --- | --- | --- | --- | --- |
| Total | - | | | | | | | | | | | | | 0 |
Pitching
| Season | Team | IP | H | R | ER | BB | SO | HR | G | AVG |
| --- | --- | --- | --- | --- | --- | --- | --- | --- | --- | --- |
| Total | - | | | | | | | | | 0 |