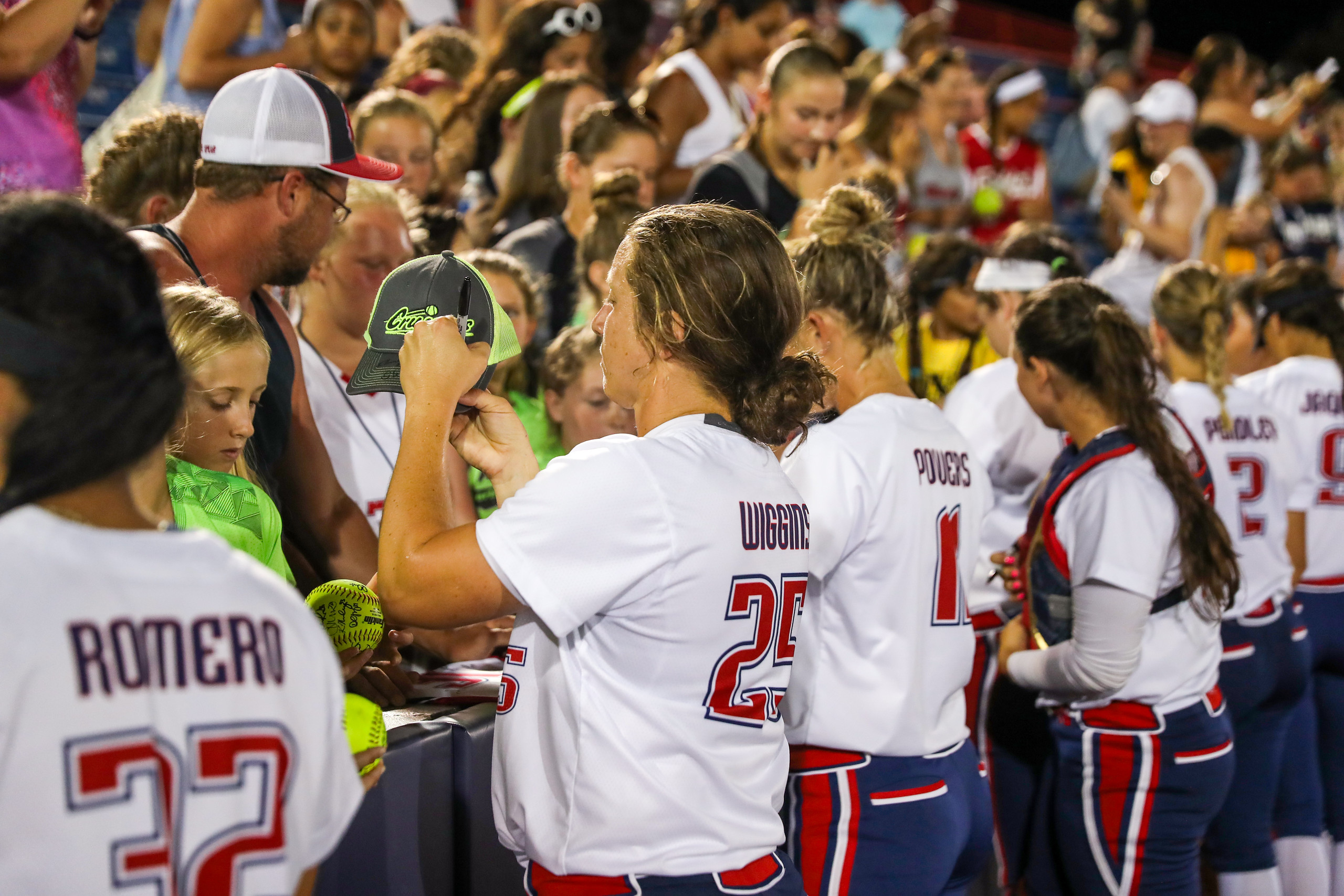 VIERA, FL (July 4th, 2018) – Game three of the series versus the Beijing Eagles followed in the footsteps of game two. A pitchers duel between Delanie Gourley and Beijing's Allie Walljasper was scoreless through the sixth inning.
The Pride started the game with two back-to-back singles from Sierra Romero and Megan Wiggins but Walljasper closed the door.
Gourley got the start in the circle for the Pride, scattering four hits through six innings. Paige Parker pitched a nearly perfect seventh inning, striking out one to finish the game.
Gourley was named the Vaultz Lock It up Player of the Game after an impressive six inning performance in the circle, striking out ten Eagles.
The Pride threatened in the bottom of the fourth after two back-to-back singles from Jessie Warren and Shelby Pendley, but once again Walljasper comes up with two big outs.
The Pride broke it open in the bottom of the sixth with a pinch hit single from Kirsti Merritt to plate Warren and score their only run of the contest.
Warren had the only multi-hit performance of the contest for the Pride. Hallie Wilson had the only extra base hit, a double in the bottom of the second.
There was a record crowd at the Space Coast Stadium of 5,528 for our Fourth of July match-up.
Tomorrow night, Thursday July 5th, the Pride hosts the Eagles for the fourth game of the series. Game time is 7:35 P.M. EST, come out and support your Pride!
Quick Facts:
Game time: 1 hout 56 mins
Attendance: 5528!!
About USSSA Florida Pride:
The USSSA Florida Pride is a professional franchise in the National Pro Fastpitch League that is owned and operated by USSSA. The amateur organization of USSSA has multi-sport coverage and encompasses teams and players from the United States and abroad.
About National Pro Fastpitch (NPF)
National Pro Fastpitch (NPF), an Official Development Partner of Major League Baseball since 2004 provides elite female athletes with an opportunity to pursue a professional career in fastpitch softball beyond their collegiate and amateur success. The NPF affiliate teams consist of the Aussie Spirit, Beijing Shougang Eagles, Chicago Bandits, Cleveland Comets and USSSA Florida Pride for the 2018 season. National Pro Fastpitch players hail from the United States, Australia, Canada and China among which are the most accomplished and talented athletes in the sport of women's softball.