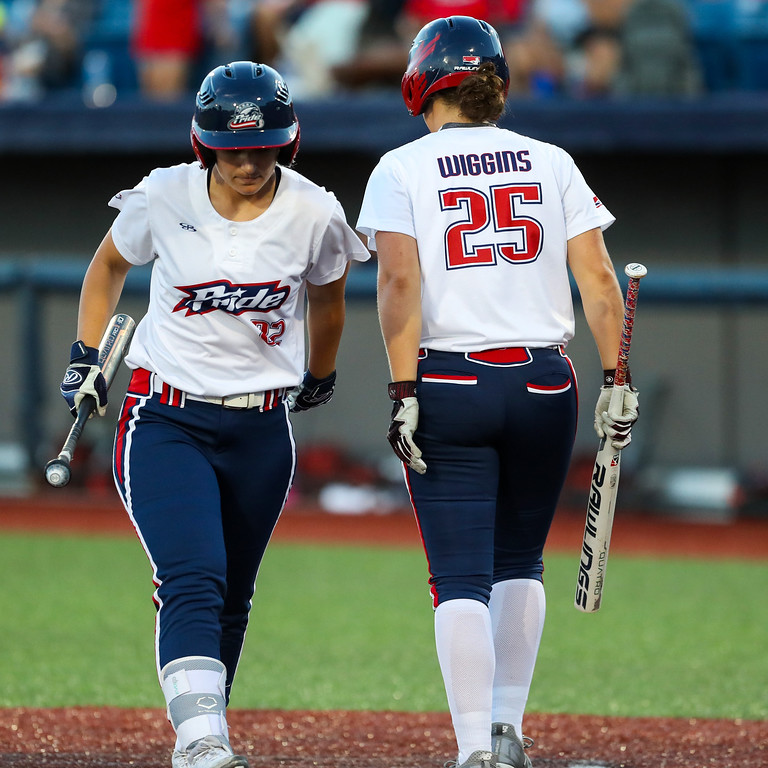 VIERA, FL (June 27, 2018) – The USSSA Pride out of the Space Coast Stadium remain undefeated on the 2018 season as they swept the second-best team in the NPF, the Chicago Bandits.
The Pride improve their overall season record to an incredible 16-0.
Kelsey Nunley got the start for the night's game. She threw a total of three innings allowing only one hit and struck out two. Jessica Burroughs came in for two innings and held the Bandits down to one hit and struck out one.
Jailyn Ford came in to close the game and struck out four and didn't allow a single hit in her two innings in the circle.
Ford was named Vaultz Player of the Game for her efforts in the circle and shutting the Bandits down.
The Pride scored their first and only run of the game in the bottom of the first.
Megan Wiggins got it started for the Pride with a leadoff single up the middle, Sierra Romero then beat out a fielder's choice to put two runners on base for Kelly Kretschman.
Kretschamn hit one deep and almost over the centerfield fence until Sammy Marshall climbed the wall and caught what would have been Kretschman's first homerun of the 2018 season.
After Marshall caught the ball, Wiggins tagged on second base to advance to third. There was a mishandling of the ball from Bandits short stop Delaney Spaulding allowed Wiggins to take home and score the run.
The pitching staff for USSSA Pride only gave up two hits and kept the Bandits fighting for baserunners the entire game.
The Pride are on the road again and will face the Bandits for the next game on June 29 at 8:30 p.m. EST tune into NPFTV to catch your favorite game for free all summer long.
Quick Facts:
Time: 1hr 55m
Attendance: 494
About USSSA Florida Pride:
The USSSA Florida Pride is a professional franchise in the National Pro Fastpitch League that is owned and operated by USSSA. The amateur organization of USSSA has multi-sport coverage and encompasses teams and players from the United States and abroad.
About National Pro Fastpitch (NPF)
National Pro Fastpitch (NPF), an Official Development Partner of Major League Baseball since 2004 provides elite female athletes with an opportunity to pursue a professional career in fastpitch softball beyond their collegiate and amateur success. The NPF affiliate teams consist of the Aussie Spirit, Beijing Shougang Eagles, Chicago Bandits, Cleveland Comets and USSSA Florida Pride for the 2018 season. National Pro Fastpitch players hail from the United States, Australia, Canada and China among which are the most accomplished and talented athletes in the sport of women's softball.