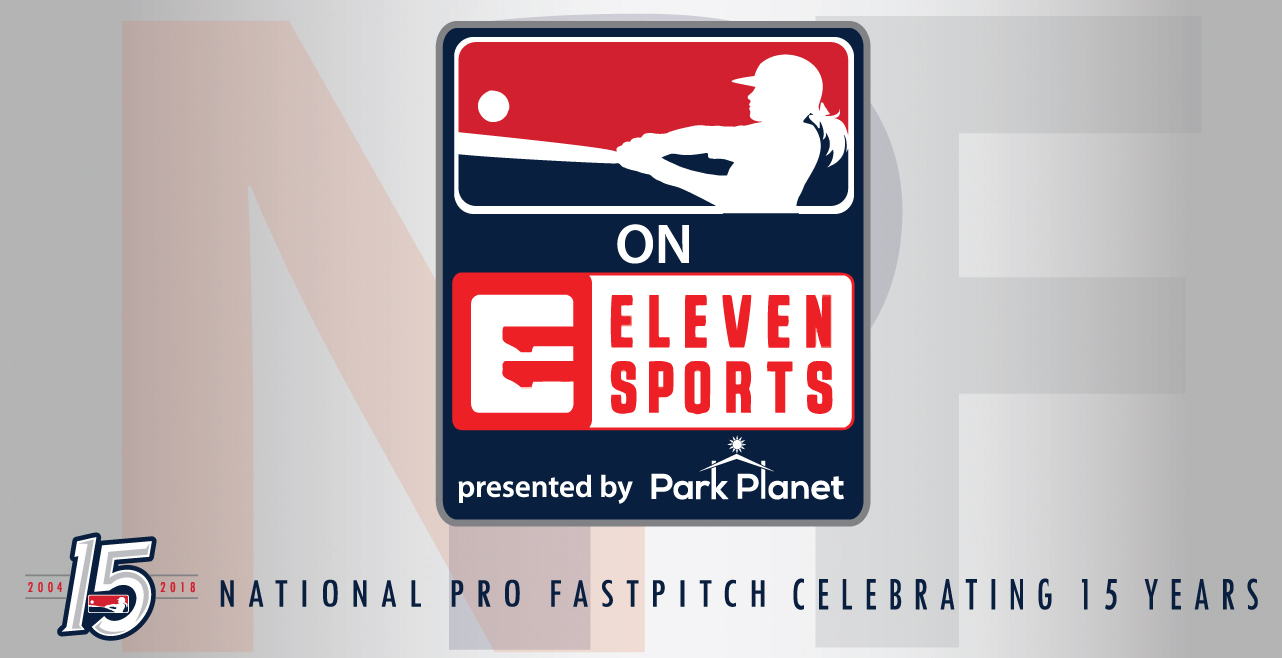 NASHVILLE, Tenn. (May 25, 2018) – Eleven Sports and National Pro Fastpitch (NPF), the premier women's pro softball league, have announced an agreement for 12 games regular season games to air on the digital platform, Eleven Prime, throughout the summer.
The 12 games will begin with a May 30 match-up of Aussie Spirit and USSSA Pride from the USSSA Space Coast Complex in Viera, FL. It will be the first match up of the decorated Pride team and the league's newest affiliate team, Spirit. The coverage continues featuring a Game of the Week throughout the following 11 consecutive weeks of regular season action.
"The league is looking forward to introducing softball to the avid audience of Eleven Sports fans, as well as to bringing avid NPF fans to the platform," commented NPF Commissioner, Cheri Kempf. "We know the action of the league is an engaging and entertaining option and we look forward to seeing the fan base grow through this relationship."
"ELEVEN SPORTS is thrilled to be adding NPF to our weekly line-up on Eleven Prime on Twitch.tv", said Anthony Bailey, SVP Managing Director for ELEVEN SPORTS in the U.S. "We are excited to introduce new fans to our network and continue to grow our global fan base".
Coverage will include all five NPF affiliate teams competing in league action in 2018 and will take place from the home markets and locations of each team in Viera, FL (USSSA Pride); Columbia, MO and Hutchinson, KS (Aussie Spirit); Daytona Beach, FL (Beijing Shougang Eagles); Rosemont, IL (Chicago Bandits);  Akron, OH and Avon, OH (Cleveland Comets).
The NPF games can be found streaming on Eleven's digital channel ELEVEN PRIME,found on the digital platform Twitch.tv.
About National Pro Fastpitch (NPF)
National Pro Fastpitch (NPF), an Official Development Partner of Major League Baseball since 2004, provides elite female athletes with an opportunity to pursue a professional career in fastpitch softball beyond their collegiate and amateur success.  The NPF affiliate teams consist of the Aussie Spirit, Beijing Shougang Eagles, Chicago Bandits, Cleveland Comets, and USSSA Florida Pride for the 2018 season. National Pro Fastpitch players hail from the United States, Australia, Canada and China among which are the most accomplished and talented athletes in the sport of women's softball.
About ELEVEN SPORTS 
ELEVEN SPORTS is an award-winning global sports provider delivering world-class international and domestic sports and lifestyle entertainment to dedicated fans everywhere. Expanding globally, and with a deep understanding of the local fan, ELEVEN is challenging how live sport is packaged and delivered.
ELEVEN SPORTS delivers more than 25,000 LIVE hours of top class sporting action per year to over 17 million paying customers worldwide in Belgium, Italy, Luxembourg, Poland, Singapore, Taiwan and the United States. ELEVEN's platform agnostic approach ensures that fans are engaged at all times; on-air, online including social media. ELEVEN's OTT platform is at the core of its long-term strategy, offering fans a flexible viewing experience across all digital devices. ELEVEN delivers live coverage of premium sports in local languages, supplemented with news, comprehensive pitch-side and in-studio analysis, digital content and local programming. ELEVEN's services are 24/7, multiscreen, full HD or 4K and locally produced to the highest international production standards.
Like us on Facebook: Eleven Sports USA
Follow us on Twitter: @ElevenSportsUSA
Follow us on Instagram: @ElevenSportsUSA