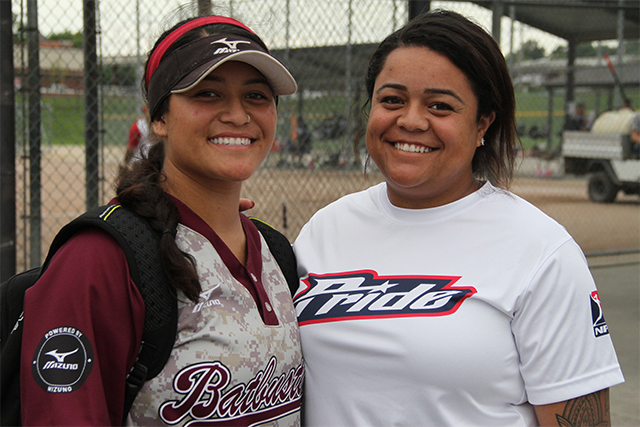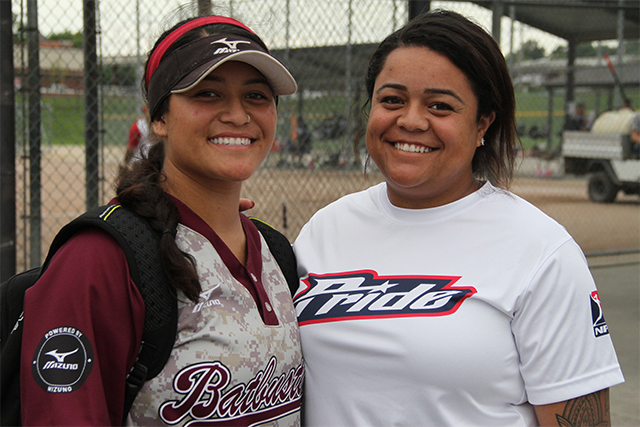 Kansas City, KS-July 14th, 2016- It has been a busy week for USA Elite Select. Teams from all around the U.S. have come to Kansas City for the World Fastpitch Championship experience to claim the top spot in its inaugural year but the WFC has more to offer than just softball. Beyond the scope of fastpitch, the WFC has brought two family members together: Missy and Vanessa Taukeiaho.
"I was really looking forward to coming to Kansas City because I knew my sister was coming out here to play. It's been a crazy summer for me so I haven't been able to see her play at all and it has definitely been the highlight of this trip."
Eighteen-year-old Vanessa plays for the OC Batbusters under Head Coach Mike Stith, the same travel ball team players like GiOnna DiSalvatore and Sierra Romero were a part of during their travel ball days. Stith was also one of the featured speakers during the WFC coaches seminar on Monday night alongside Florida softball Head Coach Tim Walton.
Vanessa, much like other siblings, is following her own path, and will be attending the University of Oklahoma this fall. Missy made her mark at Cal State University and played for the Gold Worth Firecrackers under Head Coach Tony Rico. Vanessa will complete the trio of Pride siblings who represent the Sooners next season alongside Sydney Romero and Nicole Pendley, younger sisters of Sierra Romero and Shelby Pendley.
Sierra and Nicole were recently named 2016 Women's College World Series Champions this past June and have a promising future ahead of them if they continue their careers in the NPF. Vanessa isn't so far behind and it will be fun to watch her mesh with the current roster of Oklahoma, a very young team that competes with grace and dominance under Head Coach Patty Gasso.
Missy and Vanessa also have a third sibling, Jessica Taukeiaho, who took a different route and chose to continue a soccer career at Vanguard University in Costa Mesa, CA.
"My relationship with both of my sisters is a very close one and anytime I get to spend with them is always special. All of us consider each other best friends and the fact that I've gotten to watch some of Vanessa's games and spend time with her off the field is great."
Though four years away, tournaments like the World Fastpitch Championship are preparing future players of the NPF, such as Vanessa, and in time there is the possibility that Vanessa and Missy compete against each other for the coveted Cowles Cup.
"Me and Ness have always talked about how cool it would be to play on the same team and how awful it would be to play against each other just because we are both so competitive and neither one of us would want to lose."
With Missy being a rookie, she hasn't had the chance to see USSSA Fastpitch in action beyond the professional level but this week was different.
"I think that this event and being able to be a part of it through my involvement with Pride is actually pretty awesome. I think it's a great way to get girls seen as well as educate them on what the NPF is and what we are about and give them the opportunity to experience what we get to do every day and watch us play."
The World Fastpitch Championship USA Elite Select has certainly given the Pride the platform and the right audience to "Dream NPF. Play USSSA." The inaugural tournament ends this Sunday but that did not stop it from hosting various activities for the teams and their families.
On Wednesday, USA Elite Select hosted a tailgate party right outside CommunityAmerica Ball Park that attracted over 6,000 fans to the Pride vs Charge match-up. It goes to show that the interest for fastpitch at all levels is large and growing and it's up to the people who support the sport to grow the sport.
"This event alone will be one of the major ways NPF grows and more girls will be inspired to go pro later on in their careers. I think it's so cool to see how many great teams there are out here and realizing that one day these girls will get to be a part of this league is just crazy because there's so much talent," added Missy.
Although a short reunion, these two best friends enjoyed the moment to support one another doing what they love. Hopefully we'll see more of the Taukeiaho's at our Disney series this coming week. The Pride will be hosting the Chicago Bandits, Akron Racers and the Pennsylvania Rebellion this coming week starting July 16th through July 25th.
Follow Your Pride!
About USSSA Florida Pride: The USSSA Florida Pride is a professional franchise in the National Pro Fastpitch League that is owned and operated by USSSA. The amateur organization of USSSA has multi-sport coverage and encompasses teams and players from the United States and abroad.
About USSSA: The United States Specialty Sports Association (USSSA), headquartered in Osceola County, Florida, USSSA is the World's Largest Multi-sport Athletic Organization. Founded in 1968, USSSA has grown to over 3.7 million participants, competing in 13 nationally sanctioned sports including Baseball, Fastpitch, Slow Pitch, Karate, Basketball, Soccer and more! For more information on USSSA and to register your team visit USSSA.com. Also be sure to visit USSSAToday.com for the latest USSSA.
About National Pro Fastpitch (NPF): National Pro Fastpitch (NPF), an Official Development Partner of Major League Baseball since 2002, provides elite female athletes with an opportunity to pursue a professional career in diamond sports beyond their collegiate success. The 2016 NPF season will be televised on CBS Sports Network. Coverage includes the NPF College Draft presented by Bownet on Thur., April 14, followed by 23 regular-season games, a Championship Series Preview Special and the 2016 NPF Championship Series. The NPF recently announced that the Scrap Yard Dawgs, located in The Woodlands, Texas, will join the Akron Racers, Chicago Bandits, Dallas Charge, Pennsylvania Rebellion and USSSA Florida Pride for the 2016 season. National Pro Fastpitch players hail from the U.S., Australia, Canada, Japan, the Netherlands and New Zealand, representing the most accomplished and talented athletes in the sport of women's softball.