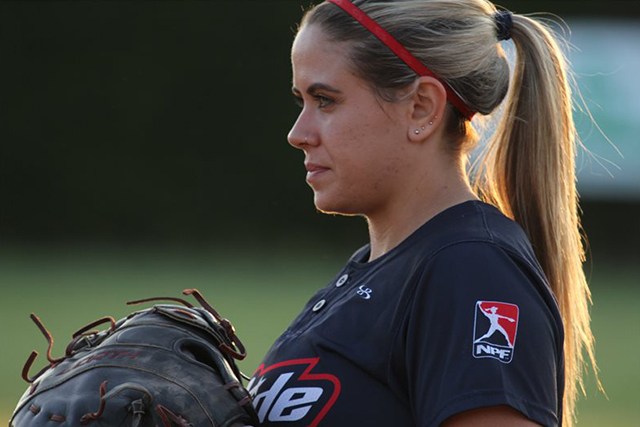 Bussolengo, Italy-May 5, 2016-The USSSA Florida Pride end their four game series with Italia in walk-off fashion with Lindsay Ziegenhirt's two-run single in the seventh. Italian pitchers held a perfect game going into the seventh until Shelby Pendley led off with a triple to left. GiOnna DiSalvatore followed with a RBI single to left field. A Lauren Chamberlain single and fielding error by Italia set the stage for Ziegenhirt who laced a line drive to left.
The Pride hitters were kept off balance in the first six innings as the Italia pitching staff struck out four and sat down the first 18 hitters of the game.
Italia used the short game to take a 1-0 lead in the third. Cecchetti was hit by a pitch to start the inning then forced out at second on a sac bunt attempt. Avanzi Sara then pushed a bunt single to put runners at first and third. Andi Williamson struck out the next hitter but a dropped third strike and errant throw to third, allowed Cecchetti to score.
In the top of the fourth, Ricchi Beatr homered to left center to put Italia up 2-0. Williamson then shut down the next three hitters to end the inning.
Williamson got the win after throwing all seven innings. She allowed two runs on five hits while striking out four. Alice Ronchetti got the loss after 1.1 innings of work giving up 3 runs on four hits.
The 3-2 victory concludes the exhibition series between the Pride and Italia where the Pride finish with 3 wins and a tie. This exhibition series in Italy marks the first time a National Pro Fastpitch (NPF) team has traveled to another country to play a National Team. The entire Italy trip is an effort by USSSA to help grow the sport of softball internationally.
The Pride's NPF season begins June 10th in Conroe, TX against the Scrap Yard Dawgs. You can also follow the USSSA Pride throughout their season on Facebook, Instagram, Twitter, and Snapchat.
Game Stats
http://cnc.fibs.it/cnc/softball/2016/IPS/confstat.htm