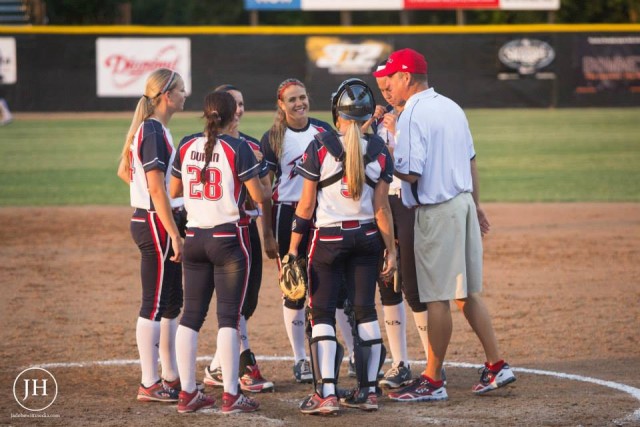 Kissimmee, FL – For National Pro Fastpitch's (NPF) USSSA Pride, it's a trip to Peoria, Illinois to play softball, but for head coach Mike Davenport, it's a trip back home. "…For me to go home and to be able to take a professional team back to Peoria, IL – it means a lot to me…it's where my coaching profession started."
Davenport, a native of central Illinois, played basketball and baseball at Peoria's Richwoods High School before graduating from Guthrie High School in Guthrie, Oklahoma.
"The city of Peoria, IL has been a big part of my life. It's where I grew up and where I got my start in athletics…My freshman year of high school I got cut from the basketball team, and after that the basketball coaches at Richwoods asked me to help out with the varsity team in a managerial role. I think at that young of an age, getting to see the 'behind the scenes' and what those coaches do on a daily basis kind of laid the ground work for my coaching profession," says Davenport.
After heading back to Illinois to play one year of junior college baseball at Parkland College, he re-focused his attention to coaching. His passion led him to Gainesville, Florida where he spent three years as an assistant baseball coach at Santa Fe Community College while completing his undergrad at University of Florida.
After graduating from UF in 1994, Davenport began his coaching career two years later at the University of North Georgia (UNG) as the Assistant Coach of the women's basketball team and served in that role until 2000 when he took on the role as Head Softball Coach.
"I have a little bit of a baseball coaching background, so the transition for me was more from baseball to softball [rather than basketball to softball.] It was kind of the best of both worlds – I wanted to stay in the intensity of the fast pitch game, and in doing so, I also got to continue coaching the female student athlete. When I was at UF, I had a lot of friends that played female athletics at the D1 level, so I got to see how hard those student athletes worked and kind of just fell in love with the sport of women's basketball, and then propelled into fast pitch softball," says Davenport.
The five time Peach Belt Conference Coach of the Year just capped his 15th season as head coach of the UNG softball program as well as his 18th year with the school's athletic department.  He has built a culture of championships during his leadership at UNG, winning eight conference titles, seven conference tournament titles, three regional championships, and five World Series trips.  He and his coaching staff were named UNG's first-ever NFCA National Coaching Staff of the year after leading the Nighthawks to a 54-8 record (a program best for wins in a season) and the school's first-ever National Championship title last Spring.
Coaching professionally hadn't always been on Davenport's to-do list…
"I've always had the opportunity to hear Pat Summit speak at the University of Tennessee, and she's always preached, "It's not where you coach, it's why you coach." I've really held true to that as much as I could, and what level you're at hasn't always been an enticement to me. I want to make the best of what I have, and where I'm at…" But two years ago, he was given the opportunity to continue to do what he loves at the most elite level fast pitch softball has to offer, and he welcomed it with open arms.    
Continuing his collection of titles, Davenport joined the NPF's USSSA Pride coaching staff in 2014 as assistant coach under the leadership of Georgia Bulldog's head coach Gerry Glasco where he helped lead the team to their third regular season title and their third Cowles Cup Championship.
Not much has changed for NPF coach Mike Davenport since his first season in 2014, except the 'Head Coach' title that now precedes his name, so when the opportunity to coach this professional team for a second time presented itself, he thankfully welcomed the challenge.
"I think the biggest pro to coming back was already being familiar with everything…with what the girls want and need, the towns and cities that we play in, the structure of the NPF and USSSA and especially with the expectations of the Pride program.  I would have never passed up the opportunity to coach this professional team one more time. Especially with Cat's retirement coming up and the talent of these athletes, it's a blessing," adds Davenport.
The talent Davenport speaks of is deep with a roster that's comprised of Olympic gold medalists, NCAA Champions, and numerous All-Americans including Cat Osterman and the newly crowned NCAA Home-run Leader Lauren Chamberlain.
Davenport and the league leading Pride head to Illinois to take on the second place Chicago Bandits for the third time this season.  The Pride (26-10) and Bandits (23-10) have been battling for first place since the two saw each other at ESPN Wide World of Sports in Kissimmee, Florida during the Pride's home stand last week.
"It's going to be a challenge, for sure. Obviously you want to play well, and win the series. I think this 2nd half of the season, we've positioned ourselves in a good spot, so now it's just going out and winning one game at a time."
This year marks the 7th season for the USSSA Pride in the NPF and they are looking to add a fourth NPF Championship title to their already esteemed accolades.
The Pride is headed to Peoria, Illinois for the first time, and its going to be under the wing of Peoria home-town native, Mike Davenport.  Head to the EastSide Centre at 8:00 pm (ET) Wednesday July 29th and Thursday July 30th and support professional fast pitch softball as the USSSA Pride take on the Chicago Bandits.
About USSSA Florida Pride:
The USSSA Florida Pride is a professional franchise in the National Pro Fastpitch League that is owned and operated by USSSA. The amateur organization of USSSA has multi-sport coverage and encompasses teams and players from the United States and abroad.
About NPF:
National Pro Fastpitch is headquartered in Nashville, TN. The league, created to give elite female fastpitch players the opportunity to pursue a professional career in their chosen sport, has operated since 1997 under the names of Women's Pro Fastpitch (WPF) and Women's Pro Softball League (WPSL). NPF is the Official Development Partner of Major League Baseball in the category of women's fastpitch softball since 2002.
About USSSA:
USSSA is headquartered in Osceola County, Florida. USSSA is the World's Largest Multi-sport Athletic Organization. Founded in 1968, USSSA has grown to over 3.7 million participants, competing in 13 nationally sanctioned sports including Baseball, Fastpitch, Slow Pitch, Karate, Basketball, Soccer and more! For more information on USSSA and to register your team visit USSSA.com. Also be sure to visit USSSAToday.com for the latest USSSA.