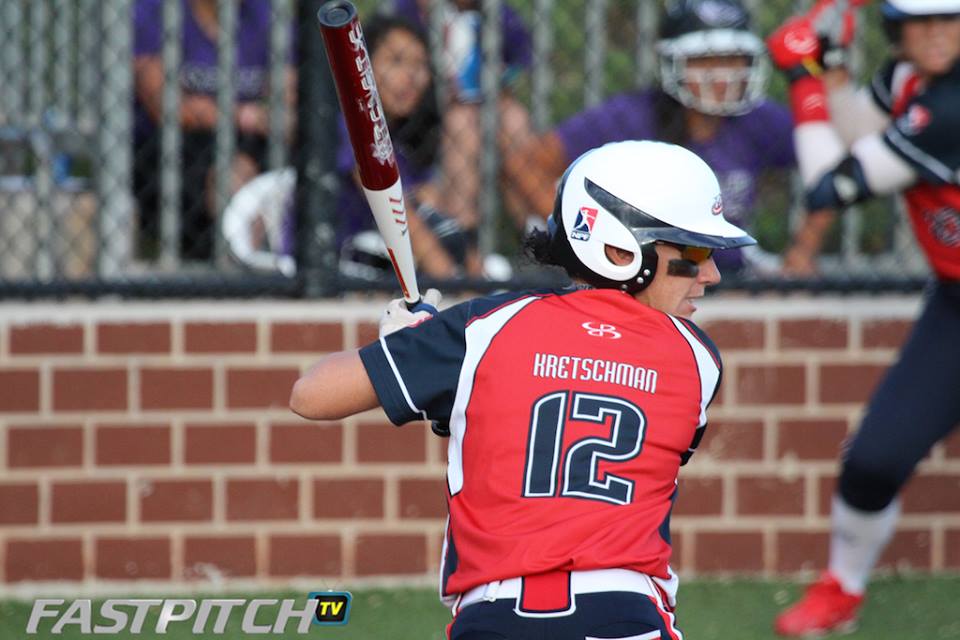 Kissimmee, FL-November 12, 2014-After defeating Wallace State 8-0 last night, the Pride continue the Alabama stretch of their Fall Tour as they take on the alumni of UAB. First pitch tonight is set for 7:00 PM between the Pride and Blazer alums. The last time the Pride were in the city of Birmingham, they took home their third National Pro Fastpitch (NPF) championship in team history.
UAB competed in their fifth consecutive NCAA Tournament in 2014, making them one of 23 teams in the NCAA to accomplish that feat. UAB, who finished second in Conference USA last season, sent their first player to the NPF in 2014—Lannah Campbell of the Akron Racers. Campbell is one of several UAB alums who will be playing in the game against the Pride. Other alums include Leigh Streetman, Kristen McGrath Megan McGrath, Lauren Webster, Kate Armstrong, Whitney Fletcher, Anna Kimbrell, Erica Sisson, and Amanda Ellis.
Thus far on the Fall Tour, the Pride have played on the campuses of the University of Georgia, Georgia Tech, and Wallace State Community College. Preceding yesterday's game, Pride and Wallace State players hosted a clinic with over 100 youth players from Alabama. Additionally, the Pride took part in two All-Star games hosted by USA Elite Select which featured some of the top high school softball players in the country. These players were participating in the Champions Fall Showcase in Georgia and teamed up to take the field with several of our Pride players.
Pride players participating in tonight's game against UAB alumni include NPF Player of the Year Andrea Duran, University of Alabama legend and two-time Olympian Kelly Kretschman, 2013 NPF Offensive Player of the Year GiOnna DiSalvatore, and the 2014 NCAA Batting Champion Courtney Ceo. Other Pride players include Brigette Del Ponte (Arizona), Alexa Peterson (Oregon), Jordan Taylor (Michigan), Chelsea Thomas (Missouri), Cassie Tysarczyk (Texas A&M), and Megan Willis (Texas).
Two games remain on the Fall Tour schedule:
Thursday, November 13th @ Mercer University 7:00 PM
Saturday, November 15th  @ Florida State          6:00 PM
This marks the second consecutive year the Pride have featured a Fall Tour with exhibition games against college teams. Additionally, USSSA helped sponsor the NPF Back-to-School Tour from 2010-2012 where players from all NPF teams traveled across the country taking on various college programs. The Fall Tour offers the USSSA Pride and the NPF a chance to play in front of crowds who may not have been previously exposed to professional softball. It also offers future and current stars of the game to come together in dynamic college atmospheres as well as the local communities.
Tickets will be available at the gate. To follow all of the action, visit www.dev.usssapride.com or follow the Pride on Facebook and Twitter with the hashtag #PrideFallTour.
About USSSA Florida Pride:
The USSSA Florida Pride is a professional franchise in the National Pro Fastpitch League that is owned and operated by USSSA. The amateur organization of USSSA has multi-sport coverage and encompasses teams and players from the United States and abroad.
About NPF:
National Pro Fastpitch is headquartered in Nashville, TN. The league, created to give elite female fastpitch players the opportunity to pursue a professional career in their chosen sport, has operated since 1997 under the names of Women's Pro Fastpitch (WPF) and Women's Pro Softball League (WPSL). NPF is the Official Development Partner of Major League Baseball in the category of women's fastpitch softball since 2002.
About USSSA:
The United States Specialty Sports Association (USSSA), headquartered in Osceola County, Florida, USSSA is the World's Largest Multi-sport Athletic Organization. Founded in 1968, USSSA has grown to over 3.7 million participants, competing in 13 nationally sanctioned sports including Baseball, Fastpitch, Slow Pitch, Karate, Basketball, Soccer and more! For more information on USSSA and to register your team visit USSSA.com. Also be sure to visit USSSAToday.com for the latest USSSA News!