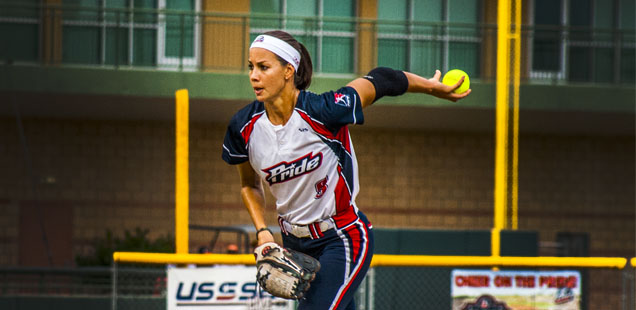 Kissimmee, FL, August 14, 2014-It was a pitcher's duel Thursday night as the USSSA Florida Pride and Pennsylvania Rebellion combined for four hits and one run at Osceola County Stadium in Kissimmee, FL. In the end, it was Cat Osterman and the Pride who took home the 1-0 victory. An Andrea Duran sacrifice fly in the bottom of the fourth proved to be the game winner as the Pride improved to 31-14 on the season.
In the bottom of the fourth, Natasha Watley singled to lead off the inning. After Caitlin Lowe reached on an error and Madison Shipman walked, Duran stepped up to deliver a fly ball to right field to score a tagging Watley. Lowe was called out at home on a close play at the plate. Starter Angel Bunner would then get Amanda Kamekona to fly out to end the threat. The Pride threatened in the bottom of the fifth as Kelly Kretschman walked with one out. After Courtney Ceo singled, pinch runner Breja'e Washington was thrown out at home to end the threat.
Osterman had a no-hitter going until Bianca Mejia singled to center field to lead off the seventh inning. Osterman improved to a NPF-best 16-0 after going the complete seven innings and striking out 13 Rebellion hitters. Bunner suffered the loss as she threw four innings and allowed one earned run on one hit. Anna Miller threw two innings for the Rebellion giving up two hits and striking out one.
Lowe's single in the sixth inning extended her hit streak to 20 games. Watley ended the day going 1-2 with a run scored.
The Pride and Rebellion return to action Friday night at 7:05 PM at Osceola County Stadium. For tickets to the game, visit www.dev.usssapride.com. The game will be live streamed on usssalive.com/usssapride.
Site: Osceola County Stadium
Score: Rebellion 0, Pride 1
Records: Rebellion 8-37, Pride 31-14
Next Game: Friday, August 15, 2014 at 7:05 PM (ET)
About USSSA Florida Pride:
The USSSA Florida Pride is a professional franchise in the National Pro Fastpitch League that is owned and operated by USSSA. The amateur organization of USSSA has multi-sport coverage and encompasses teams and players from the United States and abroad.
 About NPF:
National Pro Fastpitch is headquartered in Nashville, TN. The league, created to give elite female fastpitch players the opportunity to pursue a professional career in their chosen sport, has operated since 1997 under the names of Women's Pro Fastpitch (WPF) and Women's Pro Softball League (WPSL). NPF is the Official Development Partner of Major League Baseball in the category of women's fastpitch softball since 2002.
About USSSA:
The United States Specialty Sports Association (USSSA), headquartered in Osceola County, Florida, USSSA is the World's Largest Multi-sport Athletic Organization. Founded in 1968, USSSA has grown to over 3.7 million participants, competing in 13 nationally sanctioned sports including Baseball, Fastpitch, Slow Pitch, Karate, Basketball, Soccer and more! For more information on USSSA and to register your team visit USSSA.com. Also be sure to visit USSSAToday.com for the latest USSSA.