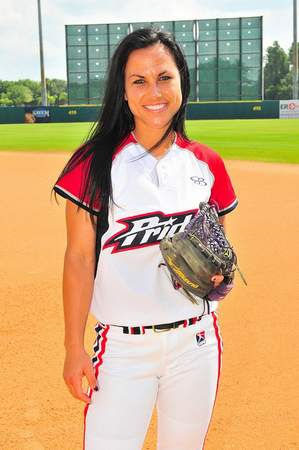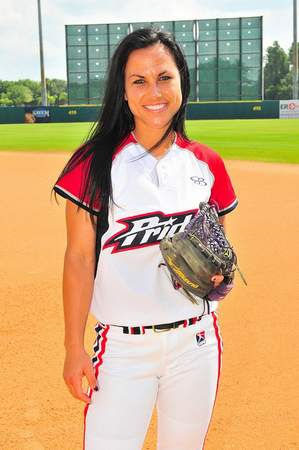 Written by Jen Salling
Kissimmee, FL- April 17, 2014- The Pennsylvania Rebellion have acquired USSSA Pride infielder Jenn Salling and a player to be named later in a trade announced Wednesday.
Salling, a member of last season's National Pro Fastpitch championship team, will join former Pride teammates Lauren Lappin, Sarah Pauly and Nikia Williams on the Rebellion's inaugural roster.
The former first round pick and third overall selection by the Pride in the 2011 NPF Draft, Salling was a mainstay at shortstop for USSSA the last three seasons. In 2013, Salling batted .305.
"Getting another veteran and Olympian to make up the Rebellion's infield and help our offense is a huge acquisition for us," Rebellion manager Rick Bertagnolli said. "We are looking forward to Jenn's leadership in assisting the new players and draftees as we go through the 2014 inaugural season."
A native of Port Coquitlam, British Columbia, Salling was a member of the Canadian national team at the 2008 Olympic Games in Bejing and played for her country during the World Championships in 2009 and 2010.
Salling spent her freshman season at the University of Oregon, where she hit .481 and was named Pac-10 Newcomer of the Year and was a first team All-American.
She then played three years at the University of Washington and was a two-time All-American for the Huskies. She was Pac-10 Defensive Player of the Year in 2011 and was awarded the Female Athlete of the Year at the 2011 WESPYs.
To get Salling, the Rebellion gave up the rights to second baseman Amanda Kamekona, who played last year for the New York/New Jersey Comets.
About USSSA Florida Pride:
The USSSA Florida Pride is a professional franchise in the National Pro Fastpitch League that is owned and operated by USSSA. The amateur organization of USSSA has multi-sport coverage and encompasses teams and players from the United States and abroad.
About NPF:
National Pro Fastpitch is headquartered in Nashville, TN. The league, created to give elite female fastpitch players the opportunity to pursue a professional career in their chosen sport, has operated since 1997 under the names of Women's Pro Fastpitch (WPF) and Women's Pro Softball League (WPSL). NPF is the Official Development Partner of Major League Baseball in the category of women's fastpitch softball since 2002.
About USSSA:
The United States Specialty Sports Association (USSSA), headquartered in Osceola County, Florida, USSSA is the World's Largest Multi-sport Athletic Organization. Founded in 1968, USSSA has grown to over 3.7 million participants, competing in 13 nationally sanctioned sports including Baseball, Fastpitch, Slow Pitch, Karate, Basketball, Soccer and more! For more information on USSSA and to register your team visit USSSA.com. Also be sure to visit USSSAToday.com for the latest USSSA News!