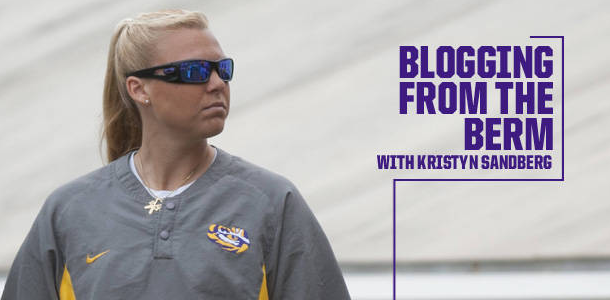 By Clyde Verdin from LSU Sports
BATON ROUGE, La.– April 12, 2014- In today's special edition of the Blogging from the Berm series, we hear from LSU student manager and former Georgia standout Kristyn Sandberg as the Tigers begin their SEC series against the Bulldogs tonight at 6 p.m. at Tiger Park.
Sandberg, a former All-American and draftee of the USSSA Pride of National Pro Fastpitch, the Long Island, N.Y. native hit .324 for her career and finished with 117 RBI and 33 home runs in college and was drafted fifth overall by the Pride in the 2012 NPF Draft.
"Tiger Fans!
It's Kristyn Sandberg here for your latest edition of "Blogging from the Berm." Just curious, is anyone else still enjoying the series win over Tennessee? It was a great one for sure! However, this weekend's series is sure to bring the same excitement and competitive spirit as last, if not more, and not to mention Geaux Teal is finally here!
The girls have been hard at work all week. They've been 'Locked In' on what they need to do and I can't wait to see them BEAT THE DAWGS!!!! Wait did I really say that? Yes, yes I did. For those of you who don't know, I played my college career at Georgia under current head coach Lu Harris-Champer. If there's one thing I learned, she's a HUGE competitor and a GREAT teacher. She and the other coaches there taught me much of what I know about our game. Without them, I wouldn't have had this wonderful opportunity to join the LSU staff, become a Tiger and work with all these talented athletes every day. It's been nothing short of spectacular so far. As much as I love my Dawgs, don't worry…I'll be wearing PURPLE and GOLD and cheering the Tigers on to victory with you!
Of other importance, besides getting to play against my Alma Mater, this weekend is the second annual Geaux Teal event here at LSU. Last year's event was a huge success, and this year's is projected to be even better! The Geaux Teal walk starts at 10am Saturday with registration beginning at 9am. Can you find a better reason to be at Tiger Park that early? I can't and I'm ready to take part in this great cause that affects so many people nationwide. The other manager's and I have those snazzy teal jerseys hanging and ready to be worn Saturday. Do you have yours ready to go in support of Striking Out Ovarian Cancer?
Hope to see you all in Tiger Park this weekend. We love the support of our fans and the energy you bring. You make it incredibly hard to play here, I can tell you from first-hand experience. Be here. Be loud. Get crazy. And BEAT GEORGIA!
Geaauuuuuxxx Tigers,
Sandberg"
About USSSA Florida Pride:
The USSSA Florida Pride is a professional franchise in the National Pro Fastpitch League that is owned and operated by USSSA. The amateur organization of USSSA has multi-sport coverage and encompasses teams and players from the United States and abroad.
About NPF:
National Pro Fastpitch is headquartered in Nashville, TN. The league, created to give elite female fastpitch players the opportunity to pursue a professional career in their chosen sport, has operated since 1997 under the names of Women's Pro Fastpitch (WPF) and Women's Pro Softball League (WPSL). NPF is the Official Development Partner of Major League Baseball in the category of women's fastpitch softball since 2002.
About USSSA:
The United States Specialty Sports Association (USSSA), headquartered in Osceola County, Florida, USSSA is the World's Largest Multi-sport Athletic Organization. Founded in 1968, USSSA has grown to over 3.7 million participants, competing in 13 nationally sanctioned sports including Baseball, Fastpitch, Slow Pitch, Karate, Basketball, Soccer and more! For more information on USSSA and to register your team visit USSSA.com. Also be sure to visit USSSAToday.com for the latest USSSA News!