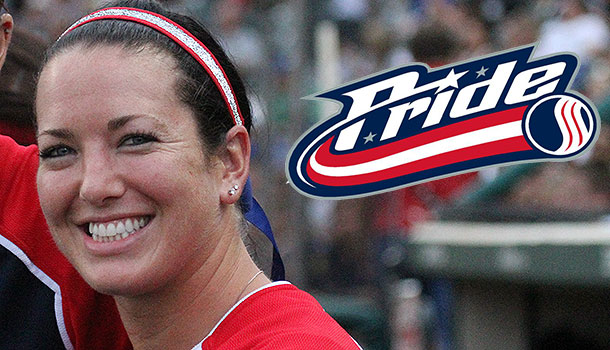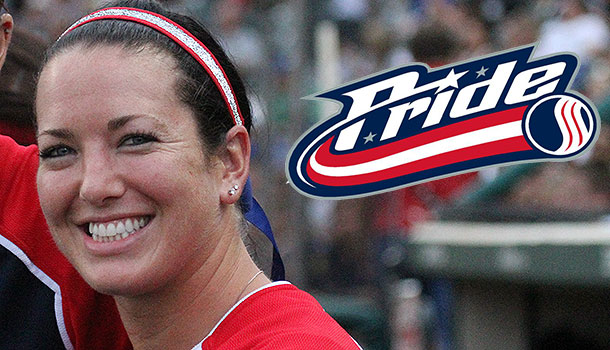 Kissimmee, FL- February 11, 2014-After an illustrious career playing the top level of ball, USSSA Pride player, Ashley Charters has announced  that she is retiring from playing in the National Pro Fastpitch League.
Charters calls Beaverton, Oregon home and is is a graduate of the University of Washington in 2009, majoring in Sociology and minored in Education, Learning and Society. Her softball career was filled with many accolades, including being named a 3 time All-American, a member of the Women's College World Series All Tournament Team two times, in 2007 and 2009 respectively as well as playing for the USA National Team, winning a World Cup Championship in 2010. At the professional level she helped the Pride secure the Cowles Cup in their 2013 win against the Chicago Bandits in the NPF Championship Series.
"It is with a heavy heart that I announce my retirement from professional fastpitch. It has been a great few years and my career in the sport, from playing in my youth all the way through college has taught me so many things about myself and life. The skills I have learned along the way and the friendships I have made will stay with me for many years to come"
Charters went on to say: "I hope that I have helped grow the sport and be an inspiration to the young hearts and minds who love to play the game and that it has helped show them that they can, through hard work and perseverance achieve their dreams of playing at the pro level"
Fans may have seen her retirement announcement via her social media outlets on Facebook, Twitter & Instagram and can send her well wishes there.
All the USSSA Pride staff and players wish her well in her current and future endeavors.
About USSSA Florida Pride:
The USSSA Florida Pride is a professional franchise in the National Pro Fastpitch League that is owned and operated by USSSA. The amateur organization of USSSA has multi-sport coverage and encompasses teams and players from the United States and abroad.
About NPF:
National Pro Fastpitch is headquartered in Nashville, TN. The league, created to give elite female fastpitch players the opportunity to pursue a professional career in their chosen sport, has operated since 1997 under the names of Women's Pro Fastpitch (WPF) and Women's Pro Softball League (WPSL). NPF is the Official Development Partner of Major League Baseball in the category of women's fastpitch softball since 2002.
About USSSA:
The United States Specialty Sports Association (USSSA), headquartered in Osceola County, Florida, USSSA is the World's Largest Multi-sport Athletic Organization. Founded in 1968, USSSA has grown to over 3.7 million participants, competing in 13 nationally sanctioned sports including Baseball, Fastpitch, Slow Pitch, Karate, Basketball, Soccer and more! For more information on USSSA and to register your team visit USSSA.com. Also be sure to visit USSSAToday.com for the latest USSSA News!