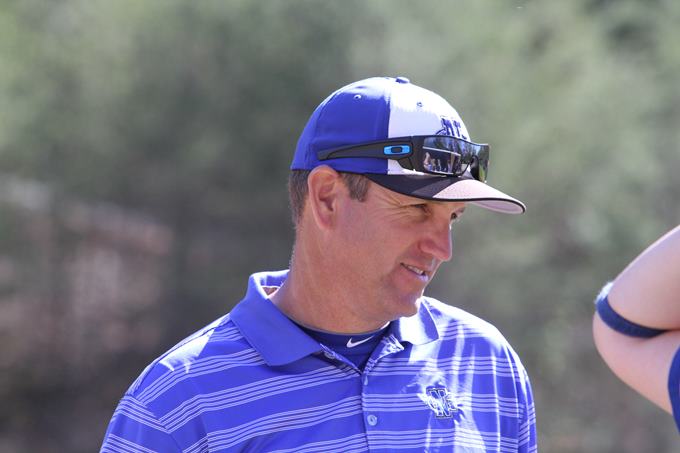 Kissimmee, FL– January 24, 2014-The USSSA Florida Pride is excited to announce the appointment of the University of North Georgia Fastpitch Softball Coach, Mike Davenport to the staff as the Assistant Coach for the 2014 season.
Mike Davenport is a native of DuQuoin, Illinois and graduate of the University of Florida. Now in his 14th season as head coach of the University of North Georgia softball program and is in his 17th year with the school athletic department. Davenport began his career at North Georgia with the women's basketball team in 1996 as Assistant Coach and served in that role until 2000 when he took over the roll as Head Softball Coach. His leadership at UNG has fostered a strong team building atmosphere with an emphasis on trust and respect. In his 13 years as head coach, Davenport has accumulated an overall record of 550-173. That record includes seven conference titles, six conference tournament crowns, three region championships and five World Series trips. In addition in 2010 North Georgia won 51 consecutive games which is second best at all levels of collegiate softball.
Davenport joins the Pride coaching staff under the leadership of Georgia Bulldog's Coach Gerry Glasco, who expressed his excitement at the hiring of such a high quality coach:
"We are thrilled to add Coach Davenport to our staff as he is not only a first class coach, but a first class individual that has always been a great communicator with his players! We want to be a team that thrives on competition and a staff that takes great pride helping our athletes to be prepared, and Coach Davenport will be a huge asset in helping us achieve those goals!"
Gordon Glennie, Assistant General Manager to the Pride is equally delighted at the appointment and had this to say:
"We are elated to be able to add Assistant Coach Mike Davenport to our staff . With his knowledge of the game and the respect and trust that Head Coach Glasco has in Mike, it will be an awesome staff "
Davenport is a member of the NFCA and outside of his official duties coaching at UNG he runs youth camps at the University over the summer, hosts a Heroes Game for Special Needs Individuals, coaches his daughters 10U Fastpitch team, the North Georgia Express, as well as his son's 8U baseball team, Tigers Baseball. The entire USSSA Pride staff is excited for him to be a part of the staff and help the Pride continue to gain more wins in the 2014 NPF season.
About USSSA Florida Pride:
The USSSA Florida Pride is a professional franchise in the National Pro Fastpitch League that is owned and operated by USSSA. The amateur organization of USSSA has multi-sport coverage and encompasses teams and players from the United States and abroad.
About NPF:
National Pro Fastpitch is headquartered in Nashville, TN. The league, created to give elite female fastpitch players the opportunity to pursue a professional career in their chosen sport, has operated since 1997 under the names of Women's Pro Fastpitch (WPF) and Women's Pro Softball League (WPSL). NPF is the Official Development Partner of Major League Baseball in the category of women's fastpitch softball since 2002.
About USSSA:
The United States Specialty Sports Association (USSSA), headquartered in Osceola County, Florida, USSSA is the World's Largest Multi-sport Athletic Organization. Founded in 1968, USSSA has grown to over 3.7 million participants, competing in 13 nationally sanctioned sports including Baseball, Fastpitch, Slow Pitch, Karate, Basketball, Soccer and more! For more information on USSSA and to register your team visit USSSA.com. Also be sure to visit USSSAToday.com for the latest USSSA News!