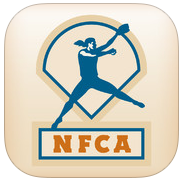 The National Fastpitch Coaches Association and NCSA Athletic Recruiting have joined together to develop the NFCA Recruiting App, now available for iPhone download through the Apple App Store for free.  The app allows student-athletes to manage their college recruiting process on-the-go so that coaches can find them easily and on a timely basis.
"We are excited to work with NCSA to bring this recruiting app to the softball community.  There is no cost to the prospective student-athlete to build her profile, and once doing so, college coaches across the country will be able to access her recruiting information," said Lacy Lee Baker, NFCA Executive Director.  "This new concept should help streamline recruiting for the player, her coach and her future coach in the college ranks."
Besides allowing student-athletes to build their recruiting profile, they'll be able to access and edit it as their information changes, in addition to receiving free education on the game and the recruiting process. They can include their own video and transcripts with the touch of a button, as well as learn from softball greats like Jessica Mendoza, former college coach and NFCA Hall of Famer Sue Enquist and the NFCA's network of some of the best teachers in the game.
For the first time in softball history, the collaboration between NFCA and the NCSA provides a centralized location to host a softball athlete's important key athletic measurables. In the future, youth athletes will be able to compare their times against national standards, which are currently being developed by a collaborative partnership of club, high school and college coaches. The app's connected web presence provides the location for college coaches to then access and filter the information in what's being referred to as a "National Digital Dashboard."
Softball Excellence, the NFCA's partner for softball education in the "Softball University" section on the app, had this to say, about the new state-of-the-art offering: "Softball Excellence is proud to be partnering with the NFCA and the NCSA to provide content for this brand new groundbreaking app. It will make life easier for the future collegiate student-athlete, and Softball Excellence is excited to be a partner in their behavioral, mental and softball education."
The NFCA has also been meeting with and asking for feedback from many national softball organizations on the idea, all the while keeping them informed of the progress.
"USSSA is excited to see the new NFCA Recruiting App.  A tool such as this will be of great benefit to all of the players that participate in our fastpitch program," stated USSSA Chairman/CEO Don DeDonatis.  "This application will certainly heighten and expand the opportunity for both athletes and coaches alike with clear, concise and up-to-date information that brings together these talented individuals and college coaches of all levels," DeDonatis continued. "It's a winner."
In addition, Triple Crown President David King said that "NFCA and NCSA are dead-on with this application … on-site, at-event mobile tools for players, parents and colleges, partnered and supported by the right people."
The NFCA Recruiting App is available to download for free through the iTunes Store – register now to be included in the sport's first centralized location for student-athletes to get connected with college coaches.
FAQs on the New NFCA Recruiting App
Will there be any cost to download or use the app?  No, downloading and then building your profile is free, in addition to accessing educational information on the game and recruiting through the Softball University tab in the app.
Can I use the mobile app on my Android device? No, not at this time, although it's being discussed as a future option.  However, players can access the same "build-your-own-profile" platform through NCSA.
Can my travel ball/high school coach or my parents open the app?  They can if they're building the profile with you on one phone; however, the app is just for prospective student-athletes to provide their information.  The NFCA and NCSA do have information on the app on their respective web sites so parents, youth coaches and players can see how the app works and learn more about it if there are questions.
How will college coaches see my information? College coaches will be able to access a search platform through NCSA's Recruiting Management System online, and will be able to search for players by many different factors: name, state, year in school, position, event, etc.  The player will be able to update her information as many times as she wants or needs to.  Examples of this may be a field location change at a major tournament, a new cell number and/or improved athletic measurable (e.g., timing on the 20-yard dash or throwing speed).
What is the NFCA?
The National Fastpitch Coaches Association (NFCA) is the professional growth organization for fastpitch softball coaches for all competitive levels of play. Founded in the early 1980s by collegiate softball coaches, today the organization also includes high school coaches, travel ball/club coaches and individuals who support the sport. Founded by coaches for coaches, the Association is built on strong values and continually instills within its members a deep sense of responsibility for developing programs that enrich the lives of all those involved. In addition, the Association provides educational training; encourages sportsmanship and high standards of competition; promotes the sport both nationally and internationally; identifies and pursues issues relevant to the fastpitch coaching profession and provides a forum to discuss those issues; honors excellence through awards programs for coaches and players, and keeps members informed of current coaching techniques, equipment innovations and fastpitch news.
Who is NCSA Athletic Recruiting? Each year, NCSA identifies, evaluates, activates and connects more than 600,000 student-athletes with more than 42,000 college coaches, leveraging proprietary technology and a team of more than 300 former athletes.
Driven by the mission of athleadership, NCSA is the exclusive athletic recruiting network that educates, assists, and connects families, coaches, and companies so they can save time and money, get ahead and give back.
NCSA has been working with student athletes in the softball community for over a decade, and of the more than 850 softball graduates from the class of 2013 in NCSA's network, 100% of them had the opportunity to play at the next level.
About USSSA:
The United States Specialty Sports Association (USSSA), headquartered in Osceola County, Florida, USSSA is the World's Largest Multi-sport Athletic Organization. Founded in 1968, USSSA has grown to over 3.7 million participants, competing in 13 nationally sanctioned sports including Baseball, Fastpitch, Slow Pitch, Karate, Basketball, Soccer and more! For more information on USSSA and to register your team visit USSSA.com. Also be sure to visit USSSAToday.com for the latest USSSA News!