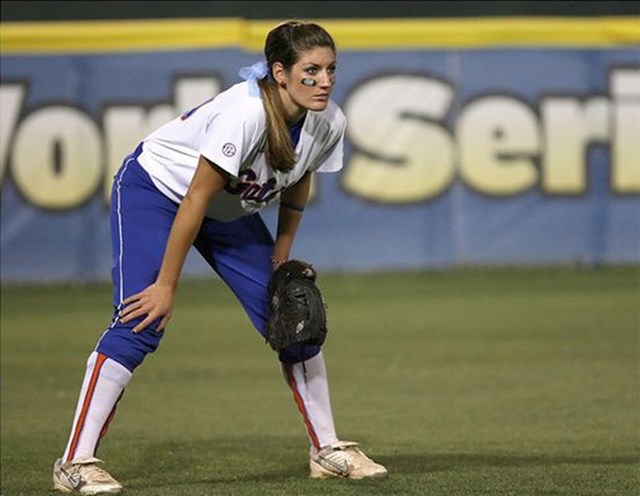 Courtesy of sportstalkflorida.com
By Eric Lopez  – @EricLopezELO
Producer,Host 
On this edition ELOOnline,  Eric Lopez caught up recently with former Florida Gator and current USSSA Pride Softball  outfielder Francesca Enea to talk about the NPF, the Gators, Broadcasting and more.
Why you should listen : Francesca Enea is finishing up her 4th season with the USSSA Pride,  Enea is looking for her 2nd NPF Championship  this weekend   (Won in 2010)  when the Pride compete in the NPF Championship series this weekend. Enea was a Softball star  at University of Florida (2007-2010) help lead the Gators to the Women's College World Series in her last three years (2008-2010) including a runner-up finish at the Women's College World Series where the Gators lost to Danielle Lawrie and the Washington Huskies.  Enea  also was part of the Gators SEC Championships in 2008 and 2009. Enea was a three -time 2nd team all-american (2008-2010) and set 7 records during her time at Florida: single-season home runs (20), single-season RBIs (70), single-season sacrifice flies (6), single-season slugging percentage (.713; tied), career home runs (61), career RBIs (221) and career sacrifice flies (11).
I recently caught up with Enea during the Pride's home game to discuss about playing in the NPF and with the Pride,  Enea also touched on the former Gators playing in the NPF,  as well Enea doing some broadcasting during the off season as she has done some college softball color commentating for ESPN3.com  and  High School softball for BHSN.
Bonus :
Current Florida Gators Softball players in the NPF
Francesca Enea – USSSA Pride
Kelsey Bruder – USSSA Pride
Kristen Butler – Chicago Bandits
Aja Paculba – Akron Racers
Read more & hear the full interview here at http://www.sportstalkflorida.com/francesca-enea-interview-on-eloonline/
About USSSA Florida Pride:
The USSSA Florida Pride is a professional franchise in the National Pro Fastpitch League that is owned and operated by USSSA. The amateur organization of USSSA has multi-sport coverage and encompasses teams and players from the United States and abroad.
About NPF:
National Pro Fastpitch is headquartered in Nashville, TN. The league, created to give elite female fastpitch players the opportunity to pursue a professional career in their chosen sport, has operated since 1997 under the names of Women's Pro Fastpitch (WPF) and Women's Pro Softball League (WPSL). NPF is the Official Development Partner of Major League Baseball in the category of women's fastpitch softball since 2002.
About USSSA:
The United States Specialty Sports Association (USSSA), headquartered in Osceola County, Florida, USSSA is the World's Largest Multi-sport Athletic Organization. Founded in 1968, USSSA has grown to over 3.7 million participants, competing in 13 nationally sanctioned sports including Baseball, Fastpitch, Slow Pitch, Karate, Basketball, Soccer and more! For more information on USSSA and to register your team visit USSSA.com. Also be sure to visit USSSAToday.com for the latest USSSA News!