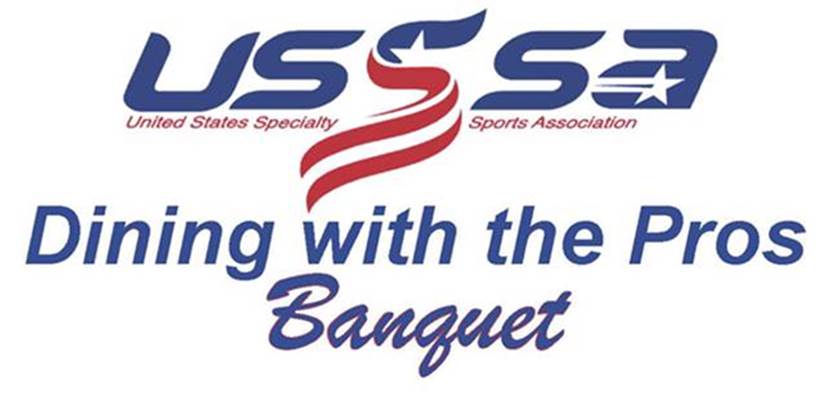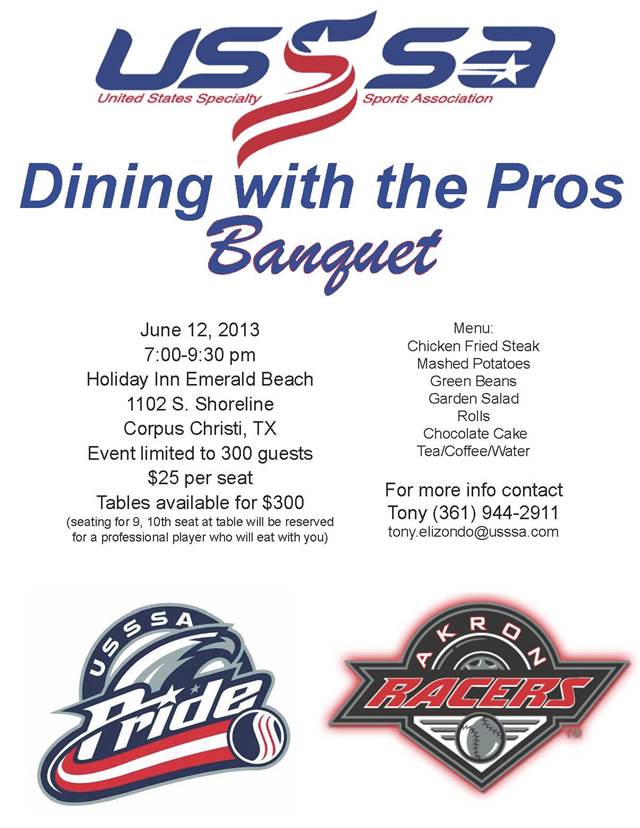 THAT'S RIGHT PRIDE FANS! Have dinner with the USSSA pride in Corpus Christi Texas on Wednesday, June 12th 2013 at 7:00 pm-9:30 pm.
Location:
Holiday Inn Emerald Beach
1102 S. Shoreline
Corpus Christi, TX 78401
Please get this out to your families as soon as possible.
This is an opportunity for players, coaches, and families to dine with the Professional players. Sit at the same table with the Pro's. Ask them one-on-one questions and get to know them.
Dinner with the Pros
Cost: $25 per person. or $300 per table of 9 (1 pro player is 10th guest)
Dinner Menu: Garden Salad w/House Dressing
Chicken Fried Steak
Garlic Mashed Potatoes
Green Beans
Warm Dinner Rolls w/Creamery Butter
Iced Tea, Coffee, Iced Water
Chocolate Cake
Iced Tea, Salads & Dessert would be pre-set at tables.
Key Note Speakers, motivational speaking by Coaches and Players, Silent Auction, Entertainment, and more.
Seating is limited to 300 so act fast.
For more information or send payment to:
Tony Elizondo
361-944-2911
tony.elizondo@usssa.com
About USSSA Florida Pride:
The USSSA Florida Pride is a professional franchise in the National Pro Fastpitch League that is owned and operated by USSSA. The amateur organization of USSSA has multi-sport coverage and encompasses teams and players from the United States and abroad.
About NPF:
National Pro Fastpitch is headquartered in Nashville, TN. The league, created to give elite female fastpitch players the opportunity to pursue a professional career in their chosen sport, has operated since 1997 under the names of Women's Pro Fastpitch (WPF) and Women's Pro Softball League (WPSL). NPF is the Official Development Partner of Major League Baseball in the category of women's fastpitch softball since 2002.
About USSSA:
The United States Specialty Sports Association (USSSA), headquartered in Osceola County, Florida, USSSA is the World's Largest Multi-sport Athletic Organization. Founded in 1968, USSSA has grown to over 3.7 million participants, competing in 13 nationally sanctioned sports including Baseball, Fastpitch, Slow Pitch, Karate, Basketball, Soccer and more! For more information on USSSA and to register your team visit USSSA.com. Also be sure to visit USSSAToday.com for the latest USSSA News!
v\:* {behavior:url(#default#VML);}
o\:* {behavior:url(#default#VML);}
w\:* {behavior:url(#default#VML);}
.shape {behavior:url(#default#VML);}

Normal
0
false
false
false
false
EN-US
X-NONE
X-NONE
/* Style Definitions */
table.MsoNormalTable
{mso-style-name:"Table Normal";
mso-tstyle-rowband-size:0;
mso-tstyle-colband-size:0;
mso-style-noshow:yes;
mso-style-priority:99;
mso-style-parent:"";
mso-padding-alt:0in 5.4pt 0in 5.4pt;
mso-para-margin:0in;
mso-para-margin-bottom:.0001pt;
mso-pagination:widow-orphan;
font-size:10.0pt;
font-family:"Times New Roman","serif";}