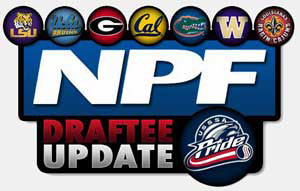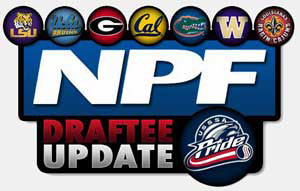 Via calbears.com:
Vs. Santa Clara, April 18
Cal 10, Santa Clara 2
Arioto, 4/18 Hitting: AB-3;R-2;H-2;RBI-2;BB-0;SO-1;PO-0;A-0;LOB-0
Pitching: W,18-1;IP-5.0;H-3;R-2;ER-2;BB-2;SO-13;WP-0;BK-0;HBP-1;IBB-0;AB-17;BF-21;FO-0;GO-2;NP-93
"Valerie Arioto led Cal to victory on both sides of the ball – striking out a season-high 13 batters and driving in two runs off two hits."
Vs. Oregon, April 20, 21, and 22
Game 1, 4/20: Cal 8, Oregon 1
Game 2, 4/21: Cal 0, Oregon 1
Game 3, 4/22: Cal 10, Oregon 0
Arioto, 4/20-22: Hitting: AB-6;R-2;H-2;RBI-1;BB-5;SO-2;PO-14;A-4;LOB-2
Pitching: L,18-2;IP-6.0;H-5;R-1;ER-1;BB-1;SO-2;WP-1;BK-0;HBP-0;IBB-0;AB-21;BF-23;FO-4;GO-11;NP-73
Game 2:
"On an Arioto wild pitch, Howard went to third and barely beat the tag on the throw from home. With two outs and 1-0 count, Cuico singled to right, driving in Howard from third.
"The Ducks outhit the Bears 5-4 with Jamia Reid, Valerie Arioto, Danielle Henderson and Elia Reid all producing one hit apiece.
"Arioto (18-2) took the loss after allowing the sole earned run on five hits and one walk. Moore (22-7) gave up four hits and one walk but fanned eight."
Game 3:
"With her 20th homer of the season, Valerie Arioto breaks her own single-season record for home runs.
"… After walking Arioto, Kostreba and Cheyenne Cordes, Kovinga entered the circle, but it was to little avail for Danielle Henderson doubled to right center, plating Arioto and Kostreba.
"…Arioto homered to left, Jace Williams singled to right, bringing up Kostreba, who homered to center."
About USSSA Florida Pride:
The USSSA Florida Pride is a professional franchise in the National Pro Fastpitch League that is owned and operated by USSSA. The amateur organization of USSSA has multi-sport coverage and encompasses teams and players from the United States and abroad.
About NPF:
National Pro Fastpitch is headquartered in Nashville, TN. The league, created to give elite female fastpitch players the opportunity to pursue a professional career in their chosen sport, has operated since 1997 under the names of Women's Pro Fastpitch (WPF) and Women's Pro Softball League (WPSL). NPF is the Official Development Partner of Major League Baseball in the category of women's fastpitch softball since 2002.
About USSSA:
The United States Specialty Sports Association (USSSA), headquartered in Osceola County, Florida, USSSA is the World's Largest Multi-sport Athletic Organization. Founded in 1968, USSSA has grown to over 3.7 million participants, competing in 13 nationally sanctioned sports including Baseball, Fastpitch, Slow Pitch, Karate, Basketball, Soccer and more! For more information on USSSA and to register your team visit USSSA.com. Also be sure to visit USSSAToday.com for the latest USSSA News!